That is the information released by Tam Anh General Hospital in Ho Chi Minh City on September 11.

The latest case is a baby boy, NVH (7 months old, in Tan Binh district), who was brought to the clinic by his family in a state of swollen lymph nodes in the left armpit with signs of purulent discharge. Baby H. was vaccinated against tuberculosis at 2 months of age, after 5 months, a large lymph node mass with the size of 2×3.5 cm had "eaten" deep into the axillary cavity.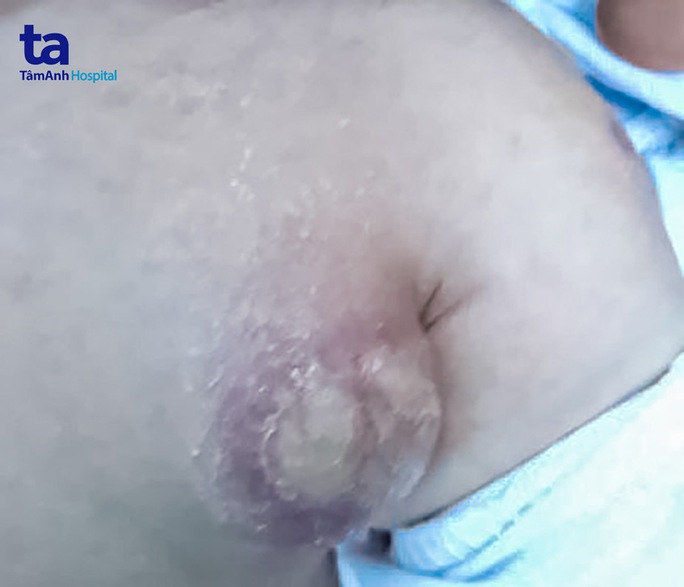 The large lymph node is deeply embedded in the armpit of the boy
BSCK2 Nguyen Do Trong, Department of Pediatric Surgery – Cardiovascular Surgery at Tam Anh General Hospital, said that the patient had a rather large lymph node tumor that ate the left armpit. For these benign nodules, there are two treatment options: aspiration or excision. In this case, purulent incision may collapse the lymph node mass, but it does not eliminate the root of the lymph node. Therefore, the doctors decided to surgically remove the baby's lymph nodes.
After a few hours, the incision is dry, heals quickly, and the chance of recurrence is very low. The patient returned to normal activities and was able to go home the same day.
"During surgery, we found that the cluster of lymph nodes was deeply rooted in the armpit cavity. Therefore, the team must be very careful in each operation to remove the whole lymph node block without causing injury to the surrounding area" – Dr. Trong Thong believe more.