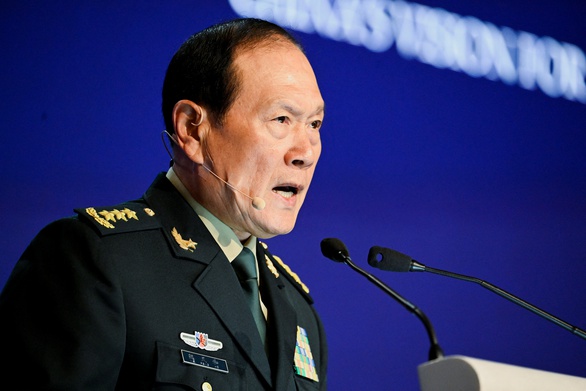 Chinese Defense Minister Wei Fenghe at the Shangri-La Dialogue 2022 on the morning of June 12 in Singapore – Photo: REUTERS
In a speech titled "China's Vision for the Regional Order" in Singapore on the morning of June 12, Wei called the statements of US Defense Secretary Lloyd Austin on June 11 "accusations". smear" and "threate China".
"Not afraid to fight to the end"
The head of China's Ministry of National Defense accused the US Indo-Pacific strategy of "a disturbance and will bring instability to the region".
He described US efforts to bring together countries in the region in groups that do not include China, such as the AUKUS consisting of the US, UK and Australia or the Quadrilateral Security Dialogue (QUAD) consisting of the US, Australia, and India. India and Japan both aim to contain China.
"For the US, this strategy is an attempt to build a separate subgroup in the name of a free and open Indo-Pacific. They really want to engage the nations of their region. us to target a specific country. It is a strategy of creating conflict and confrontation, used to contain and encircle other countries," Wei said.
On June 11, in his first speech at the Shangri-La Dialogue 2022, US Defense Secretary Austin affirmed that the US does not seek confrontation but will be prepared to defeat aggressive forces. Washington will seek to strengthen security cooperation with countries, upgrade exercises and develop new weapons to create "integrated deterrence."
The head of the Pentagon also described China as a force of concern in the region with unreasonable territorial claims and ambitions to change the status quo around the Taiwan Strait. He pledged that the US would stand with Taiwan and support the island to be able to defend itself.
"If you want dialogue, we can talk, but we have to respect each other. If you want confrontation, we will fight to the end," Wei said of US-China relations at the Dialogue. Shangri-La 2022.
According to Wei, no country can stand in the way of China's reunification of Taiwan.
Asked if Beijing would change the status quo if Taipei did not declare its separation, Wei said it would "peacefully reunify" but that if Taiwan seceded, China would act "in a different way". .
"If someone dares to separate Taiwan from us, China will not hesitate to fight and will fight to the end, fighting at all costs," the Chinese defense minister warned at the event on the morning of 12. -6.
According to Mr. Wei, the US interference in China's internal affairs will push the bilateral relationship down further, and the improvement of relations lies in the US's attitude and actions, not China's.

"China wants peace, does not attack anyone"

Also in his speech on the morning of June 12, China's defense minister continued to say that China will not seek hegemony and has never been a country to launch an attack on another country.
According to Wei, although China has made "impressive progress" in developing nuclear weapons, it is only for self-defence purposes and will not attack any country first with this destructive weapon.
He stressed Beijing's position that all countries are equal, whether large or small, and therefore should respect each other.
He also reassured that the country's development is not a threat, but a contribution to world peace and stability as evidenced by the support for countries during COVID-19.
On the issue of the East Sea, where China makes unreasonable claims occupying most of the area, he said that Beijing "respects freedom of navigation in accordance with international law" in the East Sea and wants to make this place. into "a sea of ​​peace, friendship and cooperation".
"Let's resolve the maritime disputes in the South China Sea through friendly consultations," he said.
The Shangri-La Dialogue is an annual event that brings together senior defense and security officials from many Asian countries, so it is also known as the "Asian Security Summit".
Global Times describes the event as a gathering of slander against China, but Beijing still participates to show its willingness to listen to and respond to other countries' "false" claims.
US Defense Secretary: There will be no 'Asian NATO'