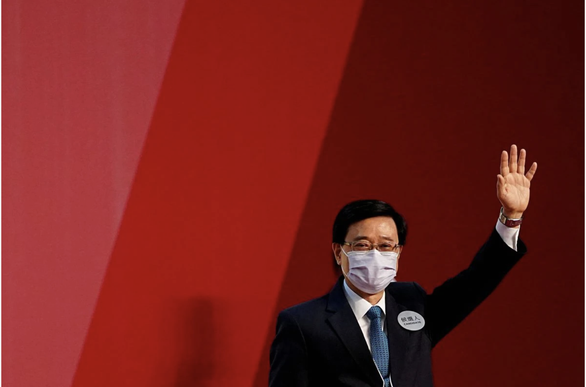 Mr. Ly Gia Sieu was elected chief of the Hong Kong special administrative region on May 8 – Photo: REUTERS
According to Xinhua, among those appointed to the senior positions are Mr. Paul Chan, who will be in charge of the financial department, and Mr. Paul Lam, who will be in charge of the judicial branch of the special zone.
Before that, there was a lot of speculation that Mr. Paul Lam would be the head of Hong Kong's judiciary, the daily newspaper said. Sing Tao news. Mr. Paul Lam was vice president of the Hong Kong Bar Association from 2014-2016 and then held the position of chairman of this association from 2017.
The judiciary and the financial authorities are two important agencies in the new Hong Kong government under Mr. Lee. Mr. Lee will officially take office on July 1, and his term will last for five years.
On May 8, Mr. Ly Gia Sieu was elected chief of the Hong Kong special administrative region, replacing his predecessor, Ms. Carie Lam (Lam Trinh Nguyet Nga).
Mr. Sieu (64 years old) has joined the Hong Kong police force since 1977. He has participated in handling many major Hong Kong cases and held positions such as deputy director of the Department of Security in 2012 and the department. Head of Security Department since 2017.
During his tenure as director of the Security Department, Mr. Sieu strongly promoted the National Security Law on Hong Kong. From June 2021, he is the secretary general of the Hong Kong government.
In the election platform, he said he would focus on solving four main issues, including: increasing the governance capacity of the government of the special zone; increase housing supply; improve competitiveness; and social concern.
Connecting with Mainland China is the top mission

2022 marks the 25th anniversary of Hong Kong's return to China and is a historic moment in the implementation of the "one country, two systems" policy.
Earlier, in a press conference in May this year, Mr. Lee said that in order to maintain Hong Kong's competitiveness, economic activities should be promoted. Therefore, Hong Kong needs to actively connect the world and mainland China.
Mr. Li said connecting with mainland China was the top task after he was elected as the leader of Hong Kong.