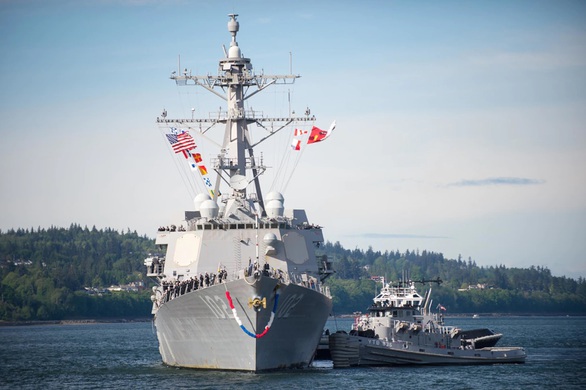 The guided-missile destroyer USS Sampson of the US Navy – Photo: AMERICA'S NAVY
"The United States regularly carries out such provocative actions, sends false signals to the pro-Taiwan independence forces, and deliberately undermines the peace and stability of the Taiwan Strait. firmly opposes such action," the Eastern Theater Command of the People's Liberation Army said.
A day earlier, the US Navy's guided-missile destroyer USS Sampson conducted a passage through the Taiwan Strait that it said was routine, fully in accordance with international law.
According to Reuters news agency, the US makes such trips about once a month. This move by the US angered China because Beijing saw it as a signal of Washington's support for Taiwan.
The Eastern Theater Command of the People's Liberation Army said its forces had closely monitored and warned the USS Sampson as it passed through the Taiwan Strait.
US Navy 7th Fleet spokesman Nicholas Lingo said the US military will operate wherever international law allows.
"The passage of the ship through the Taiwan Strait demonstrates the US commitment to the free and open Indo-Pacific strategy," Lingo said.
Meanwhile, Taiwan's defense ministry said the USS Sampson had sailed north of the Taiwan Strait and that the situation in the waterway remained "normal".
The United States, like most other countries, does not have formal diplomatic relations with Taiwan but is an arms supplier and an active supporter of the island in the international arena. The US's support for Taiwan also caused Sino-US relations to escalate tensions for a long time.
China has always considered Taiwan an inalienable part of its territory.