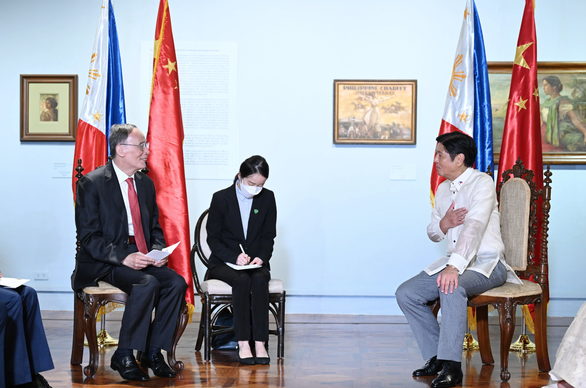 Chinese Vice President Wang Qishan meets Philippine President Ferdinand Marcos Jr in Manila on June 30 – Photo: Xinhua News Agency
On June 30, Mr. Wang attended the inauguration of the new Philippine President Ferdinand Marcos Jr. Wang affirmed that the Philippines is a priority for China's diplomacy.
Xinhua quoted Mr. Wang: "The Chinese side has always placed the Philippines in a priority position in its diplomatic relations with neighboring countries; Looking forward to continuing to work with the new Philippine government to continue the friendship, strengthen the trust between the two sides, and continue to cooperate to usher in a new 'golden era' for China-Philippines relations." .
July 1, newspaper South China Morning Post Wang attended the ceremony as a special envoy of Chinese President Xi Jinping. There he also met with the predecessor Rodrigo Duterte of the new Philippine President Ferdinand Marcos Jr.
Wang said that both countries should "adhering to the reasonable handling of disputes and jointly safeguarding peace and calm in the South China Sea".
Beijing has kept a "warm" relationship with Manila for the past six years, thanks to former President Duterte's China-friendly policy. This Asian power has invested billions of dollars in the Philippines through rail, bridge and road projects.
However, last week, the Philippine government announced the termination of negotiations on an energy exploration agreement in the South China Sea that it signed with China in 2018. Manila said the reason stemmed from the problems. constitutional binding and sovereignty issues.
The move could allow Marcos to pursue energy exploration opportunities with other countries.
Mr. Marcos said he would apply the ruling of the Arbitral Tribunal in July 2016 to assert the country's territorial rights in the East Sea. The ruling rejects Beijing's historic claims to the disputed waters.
The new Philippine president also pledged his administration would not compromise with China on sovereignty issues.