"During the days in Phu Tho, U20 Vietnam practiced hard. The main goal of the whole team is towards the upcoming Asian U20 qualifiers. Today's match, I am not satisfied with the players in terms of play, fitness as well as skills, the players also passed a lot wrong. In the first half, the players who were still physically fit should play better, but in the second half, their fitness showed signs of decline, which affected expertise. Many positions of U20 Vietnam are not confident and can't hold the ball yet", coach Dinh The Nam shared.
U20 Vietnam drew goalless against U20 Palestine in the context that the players squandered many opportunities in the first half. In the second half, U20 Vietnam no longer pressed the opponent. Even an expected player like Khuat Van Khang can't show many things.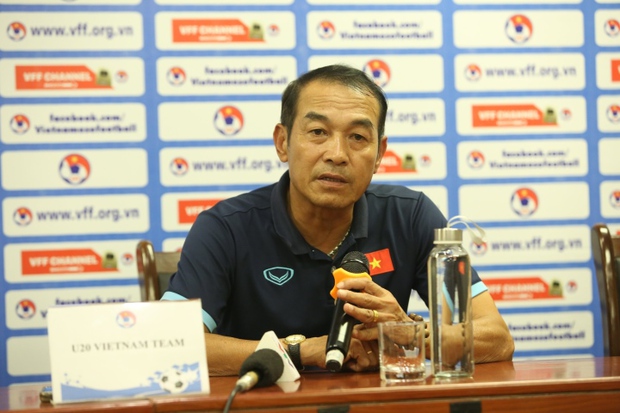 Coach Dinh The Nam is not satisfied with his students.
Assessing the students, coach Dinh The Nam said: "Khuat Van Khang today has not shown his full potential. In the coming period, I hope to be able to add some players to prepare for the 2023 AFC U20 qualifiers. Basically, these players have played in the First Division so they will definitely integrate. very fast with the gameplay that I built".
But it should also be recognized that U20 Palestine is a team that is not easy to play. They have an impressive physique. Mr. Nam analyzed: "I watched Palestine U20 in the last Arab tournament, they played better. Today may be due to the weather that affects their play. In the first half, they only kicked long behind their defense but the individuals of Palestine U20 have good skills, agility and flexibility. However, the influencing weather conditions may have affected them".
Meanwhile, head coach of Palestine U20, Mr. Husam Younis assessed: "In general, U20 Vietnam is a strong team, knowledgeable and knows how to play football. Not only the player Khuat Van Khang, but the whole team showed a good level. Both teams played well, the game was even. However the weather affected our ability to score. U20 Vietnam has impressive technical processing phases".