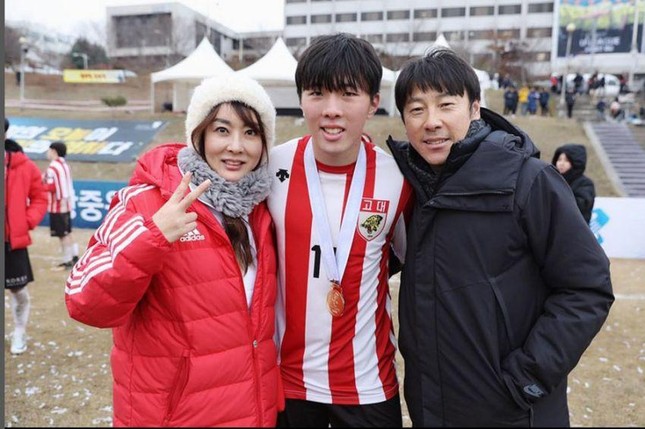 Coach Shin Tae-yong and his wife and their son follow the career of a player
After helping Indonesia U20 beat Vietnam U20 and win a ticket to the 2023 AFC U20 Finals, coach Shin Tae-yong was invited by PSSI to sign a new contract. The reputation of the Korean coach in the land of thousands of islands continued to increase sharply when the Indonesian team defeated Curacao in the past 2 consecutive matches.
Many rumors suggest that Shin Tae-yong has given the green light to PSSI, but on the condition that he will not lead the Indonesian U23 team to next year's SEA Games. Currently, the two sides have not agreed on a specific salary and contract term, but negotiations are going on actively.
In that context, Shin Tae-yong's wife – Cha Young-joo accidentally revealed that this coach would stick with Indonesia for a long time. In the past few days, she continuously posted articles about Shin Tae-yong signing a new contract with PSSI. Not stopping there, Ms. Cha Young-joo also flew to Indonesia to meet her husband to discuss the possibility of moving here.
This information has just been revealed by his son Shin Jae-hyuk. Share on Sports GAnsan Greeners FC player said: "There is a lot of news in my family chat these days. My mother put up a lot of news about my dad renewing his contract with PSSI."
"I'm not sure if that's true, but my mother flew to Indonesia to see my father. As of now, I have not received any other information, I will ask my parents directly at the appropriate time."
The contract between Shin Tae-yong and PSSI is still valid until December 2023. However, the Indonesian side wants to tie the 52-year-old coach as soon as possible after what he has shown.