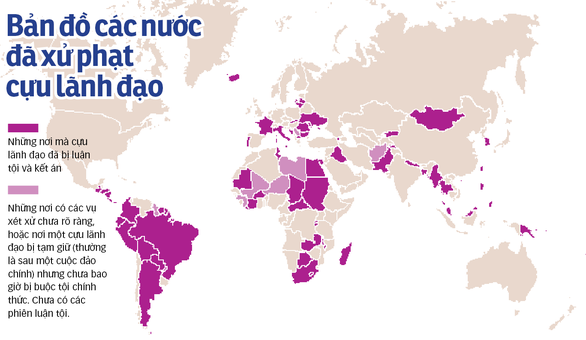 Data: Nicki Camberg/Axios Research – Graphics: N.KH.
In the past two decades, many former world leaders have been tried, sentenced, imprisoned for corruption, abuse of power, tax evasion, etc. The severe punishments given to them have partly strengthened trust with people. that "no one is above the law".
Last week, after unsuccessful appeals, on August 23, former Malaysian prime minister Najib Razak was sentenced to 12 years in prison and fined tens of millions of dollars for a corruption scandal that drained billions of dollars from the Housing Fund. 1MDB water. In the US, former President Donald Trump is also facing many legal troubles, most recently when FBI agents suddenly raided his home in Florida and seized many classified documents.
Retirement still can't escape
In early 2021, former French president Nicolas Sarkozy was sentenced to 3 years in prison, including 2 years of probation, for corruption and using personal influence to gain profit during his time in office. During his time as leader of France from 2007 to 2012, Mr Sarkozy is accused of bribing judge Gilbert Azibert in exchange for inside information about the investigation into allegations he received illegal payments. from Liliane Bettencourt, heir to the L'Oreal Group, during the 2007 presidential campaign.
French judges found Mr Sarkozy's actions "particularly grave" because he violated the constitution by using executive power to interfere in the judiciary. In the past, Mr. Sarkozy has also been accused of accepting money from the government of Libyan leader Moammar Gaddafi as well as manipulating an elderly female tycoon to obtain election campaign contributions, according to the Washington Post this month. April 2021.
However, Mr. Sarkozy is not the first European leader to be accused and found guilty after leaving office. Previously, in 2011 Jacques Chirac, who served two terms as French president from 1995 to 2007, was also found guilty of embezzlement of the budget, abuse of public trust and abuse of power by creating fake jobs at City Hall. Paris itself. However, his 2-year prison sentence was suspended due to his old age and weakness, difficult to execute the sentence.
"Sky Net"
The longest-running and largest-scale corruption scandal in Europe was uncovered in 1999 as the "Schwarzgeldaffäre" (Black Money Scandal) case involving former German chancellor Helmut Kohl and a series of German politicians and politicians. France, including former French president François Mitterrand.
Former chancellor Kohl has been instrumental in the unification of Germany and has been the longest serving prime minister since the late 1800s, so his political clout is completely solid and seemingly untouchable. . However, right after the end of his term, Mr. Kohl and his subordinates were immediately investigated on a large scale, including illegal donations to the election campaign, receiving kickbacks from sales and real estate transactions. private property, ambiguity of party funds and tax evasion, according to the newspaper Spiegel (Germany). Although Mr. Kohl died in June 2017, the matter is still under investigation.
The long list of former prime ministers and associates accused of corruption, with leaders found guilty in Austria, Belgium, Spain, Estonia and elsewhere set the atmosphere on fire in Europe. hotter than ever. In fact, the anti-corruption campaign is not only aimed at those who have "returned to the garden", but even those who are incumbents and still have strong political influence, they are not easy to evade scrutiny. independence of the judicial branch.
In Austria, Mr. Sebastian Kurz was investigated while sitting as prime minister and forced to resign for the second time because of corruption and bribery. According to the Spiegel newspaper, "very serious charges of treason, bribery and corruption, full of real prison sentences" have been brought against Prime Minister Kurz and his associates in connection with the period. 2016-2018, when Mr. Kurz's career took off.
Or most recently, in mid-August, incumbent German chancellor Olaf Scholz was heard in connection with the tax fraud of Warburg Bank when he was the first mayor of Hamburg. Bild newspaper said that although the matter has not been conclusive, Scholz's reputation has been seriously reduced compared to when he took office eight months ago.
Clearly, the impeachment of heads of state and their associates during or after their terms strengthens the independence and integrity of the nation's judiciary and greatly increases people's confidence in the country's judiciary. fairness and transparency of the political system. There is no "no-go zone" in the fight against corruption, this is the strongest warning for politicians when facing many temptations of money.
In Asia, corruption has cost many leaders both incumbent and retired, typically in South Korea. Roh Moo-hyun, South Korea's leader from 2003 to 2008, committed suicide a year after leaving office while being investigated for corruption.
Mr. Roh's successor, Mr. Lee Myung-bak, 78, was also sent back to prison after the court upheld his 17-year prison sentence for corruption. Mr. Lee's replacement, Ms. Park Geun-hye, despite being in office and having a strong political background, was still tested for a year and was dismissed in 2017. Ms. Park was sentenced to 24 years in prison for accepting bribes. revealed in 2018, according to the site Axios.