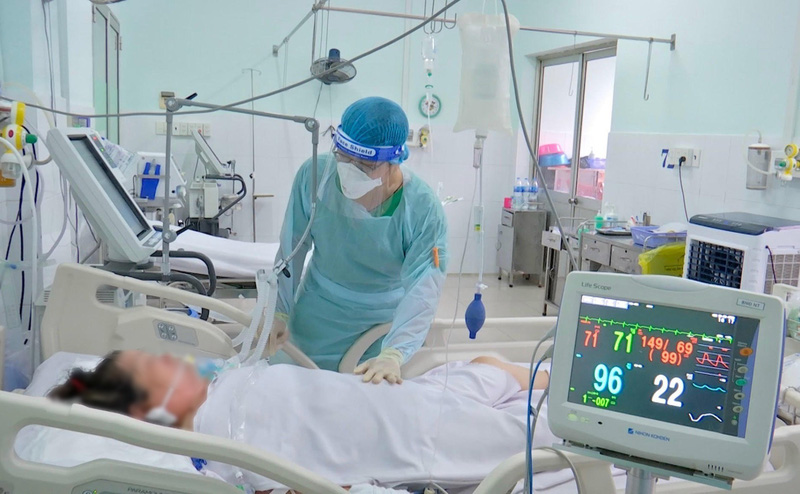 Photo: Doctors of Cho Ray Hospital monitor and treat severe COVID-19 patients. Photo: VNA
Notably, the majority of the total number of recorded COVID-19 cases are people who have not been vaccinated or have not received enough shots. Doctors warn that people's subjective psychology and not vaccinating will increase the risk of the COVID-19 epidemic breaking out again.
Severe cases of COVID-19 spike
In August, 2022, the Department of Tropical Diseases, Cho Ray Hospital in Ho Chi Minh City recorded 41 cases of COVID-19 hospitalized. Doctor Ton That Quang Thang, Department of Tropical Diseases, said that if from May to July, the unit did not receive any COVID-19 cases, from the beginning of August until now, the number of patients has increased dramatically. There are new cases almost every day. Out of 41 COVID-19 cases, 21 were severe and critical, 60% of patients were transferred from neighboring provinces with severe underlying disease. Every day there are 3-4 severe cases requiring mechanical ventilation, treatment pressure is increasing again..
Recently, the Faculty received a female patient with very severe COVID-19 and was admitted to the hospital in a state of being unable to breathe, very low oxygen in the blood. The patient also has a background of diabetes, high blood pressure and has never been vaccinated against COVID-19. Two days after admission, the patient's lungs lost function. The patient was on a ventilator and dialysis. Dr. Le Quoc Hung – Head of the Department of Tropical Diseases said that 100% of the severe cases hospitalized here have chronic underlying diseases or other diseases. Notably, 7 cases of COVID-19 have died, including 4 people with terminal cancer.
Similarly, the number of children infected with COVID-19 coming for examination and treatment at Children's Hospital 2 in Ho Chi Minh City has also increased rapidly in the past two months. Doctor Vo Thanh Luan, Deputy Head of the COVID-19 Resuscitation Department, Children's Hospital 2 said that on average, every month, about 30 children with COVID-19 come for examination and treatment. The majority of children with COVID-19 had upper respiratory tract infections, had underlying medical conditions, and were transferred from the Outpatient Department and other departments. A few children with pneumonia require oxygen, but fortunately, there are no children on ventilators or running ECMO.
Information from the Department of Health of Ho Chi Minh City, from August 19 to 25, the whole city had 1,114 new cases of COVID-19 (an increase of 258 cases compared to the previous week), of which 78 were severe, 15 had to be hospitalized. ventilator and 1 case of dialysis. Tang Chi Thuong – Director of the Department of Health of Ho Chi Minh City, said that the number of COVID-19 cases in the area is increasing rapidly, an average of about 160 new cases per day, the number of hospitalized cases increased by 74 cases. /day. Notably, all patients with COVID-19 who required mechanical ventilation were in the high-risk group and had not received a booster dose of the vaccine.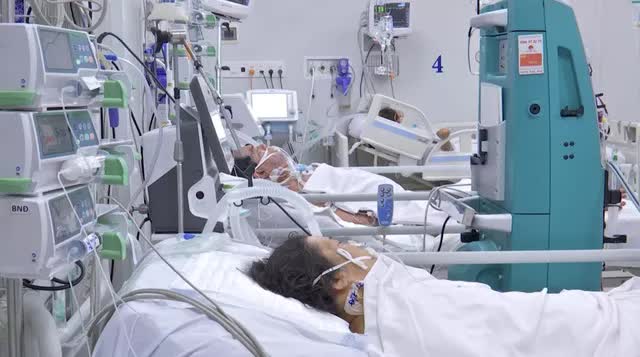 Many severe COVID-19 patients are being actively treated at Cho Ray Hospital. Photo: VNA
Fear of vaccine "gap"
At the beginning of August 2022, an 89-year-old female patient, living in Ho Chi Minh City, was transferred to Cho Ray Hospital in a state of severe respiratory failure, positive for SARS-CoV-2. Patients with diabetes, high blood pressure, chronic obstructive pulmonary disease. Doctors at Cho Ray Hospital performed active resuscitation, after a period of treatment, the SARS-CoV-2 test turned negative, but the patient died soon after due to the fibrosis of the lungs. The patient's family said that the patient did not receive the COVID-19 vaccine due to fear of complications. "Unfortunately, even though patients in the high-risk group when they are older, they have many underlying diseases, but they refuse to get vaccinated against COVID-19," said Dr.
Another female patient, born in 1965, living in Ho Chi Minh City is being actively treated at Cho Ray Hospital due to COVID-19. This case has a background of diabetes but has not been treated and has not been vaccinated against COVID-19. At the time of admission, the female patient had difficulty breathing, fell into a "cytokine storm", lung damage, kidney damage. The patient was ventilated and dialysis several times. Up to now, the patient's condition has improved, temporarily weaned from the ventilator and passed the critical crisis. However, the doctors said that because the patient's lungs were fibrous, he would suffer long-term sequelae.
Dr. Le Quoc Hung warned: The current mortality rate due to COVID-19 is 30%, the general characteristic is that people over 70 years old, 100% have underlying diseases, have not been vaccinated or have not received enough vaccines. Elderly people with underlying medical conditions are common features of critically ill patients. In this group, only 28% of patients received 3 or more vaccines, 72% received 2 or less, of which about 25% had not received any COVID-19 vaccine. This is extremely dangerous because elderly patients, with many underlying diseases, when infected with COVID-19 will become severe and likely to die if not fully vaccinated.
According to Dr. Le Quoc Hung, most current vaccines against COVID-19 lose their effectiveness after 6 months, causing the amount of antibodies in the body to decrease if the vaccine is not repeated. Meanwhile, people are subjective because the epidemic has stabilized. However, getting vaccinated will help reduce the severity of the disease if you get the disease. Besides 2K, the vaccine is the most optimal weapon today, especially the elderly, with underlying diseases. In the context that SARS-CoV-2 is mutating continuously, people need to get vaccinated as soon as possible.