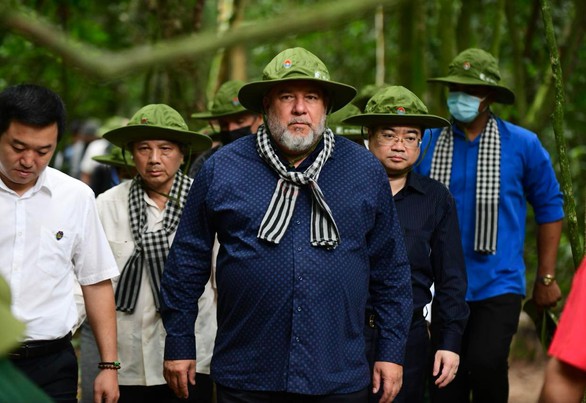 Cuban Prime Minister Manuel Marrero Cruz at the Cu Chi Tunnels on the morning of October 1 – Photo: QUANG DINH
Cu Chi Tunnels is a wonder of Vietnam's unique military art, expressing the resilient and indomitable will of the people of the "land of steel," one of the symbols of revolutionary heroism.
After being introduced to Cu Chi steel soil and the tunnel project with a total length of nearly 250km, Cuban Prime Minister Manuel Marrero Cruz said:
The Vietnamese people were not prepared to confront modern American means. But the wisdom of the Vietnamese people ensured the final victory. Although the US has dropped bombs and chemicals to destroy everything that exists on the ground, but our Vietnamese brothers have written a heroic history for all mankind. There is no architect in the world who can design a unique tunnel system like the Cu Chi tunnels. The Vietnamese people have created a very unique tunnel work and created many weapons from rudimentary tools. In the hearts of Cu Chi guerrillas, there is an absolute belief that the footprints of American soldiers cannot trample this land.
Cuban Prime Minister Manuel Marrero Cruz
At the end of the visit, the Cuban Prime Minister wrote in the scrapbook in Cu Chi:
"Thank you Vietnam. A people who are ready to stand up to fight for the Fatherland. After many difficulties, despite being completely destroyed by enemy bombs on the ground, the Vietnamese people fought underground. fight with patriotism, establish feats and go to victory. Long live Vietnam".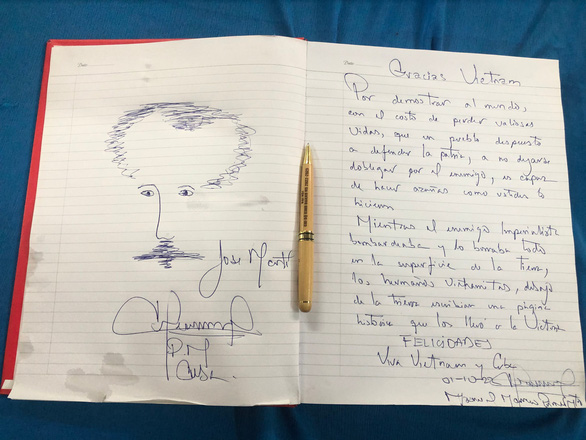 Souvenir lines of Cuban Prime Minister Manuel Marrero Cruz when visiting Cu Chi tunnels on October 1 – Photo: HONG VAN
In the afternoon of October 1, the Cuban Prime Minister and his entourage will visit the High-Tech Park of Thu Duc City, and have a meeting with the Secretary of the Ho Chi Minh City Party Committee at the Reunification Hall on the same evening.
Cuban Prime Minister Manuel Marrero Cruz and a high-ranking delegation pay an official friendship visit to Vietnam from September 28 to October 2.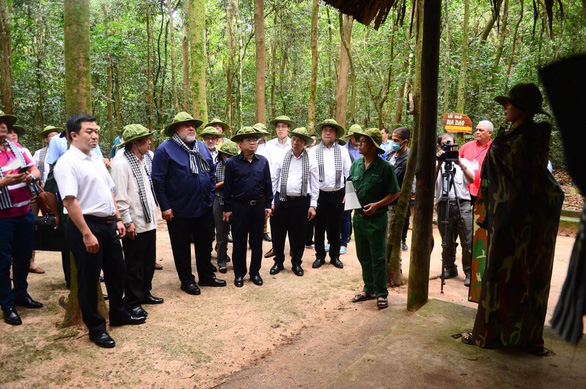 Prime Minister Manuel Marrero Cruz and a delegation visited the Cu Chi tunnels, Ho Chi Minh City on October 1 – Photo: QUANG DINH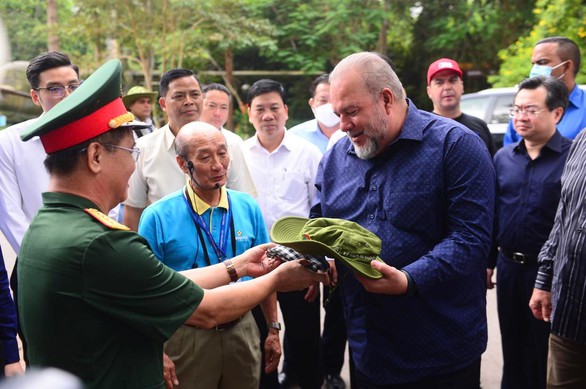 Colonel Nguyen Tuan Bao – deputy political commissar of the Ho Chi Minh City Command – presented a beanie hat and bandana to Prime Minister Manuel Marrero Cruz – Photo: QUANG DINH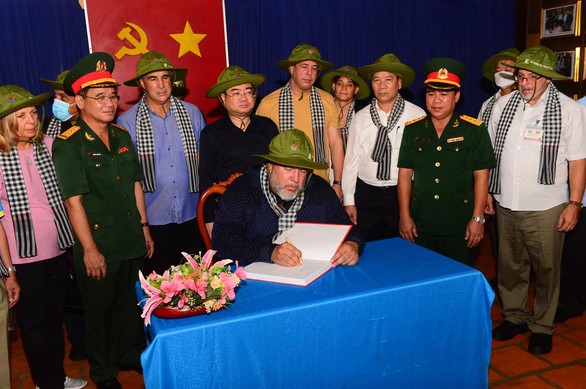 Prime Minister Manuel Marrero Cruz writes a scrapbook at the Cu Chi tunnels – Photo: QUANG DINH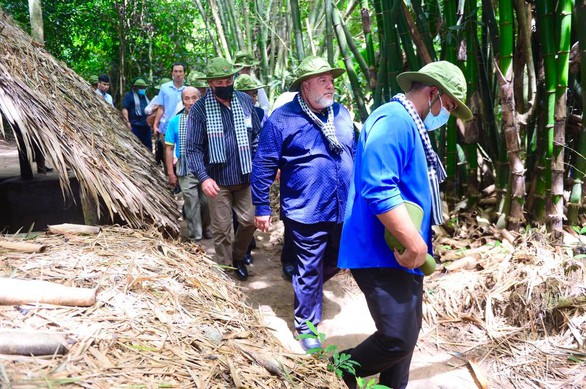 Prime Minister Manuel Marrero Cruz and a delegation visited the Cu Chi tunnels, Ho Chi Minh City on October 1 – Photo: QUANG DINH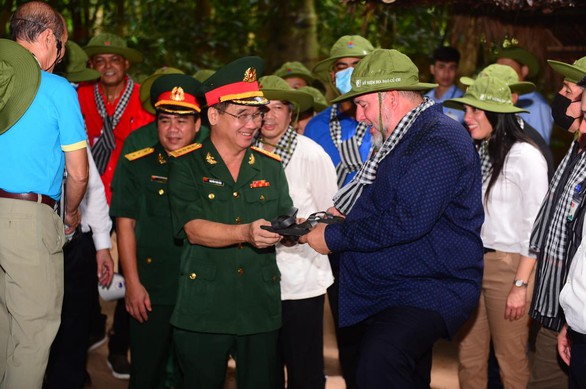 Colonel Nguyen Tuan Bao presents rubber sandals to Prime Minister Manuel Marrero Cruz – Photo: QUANG DINH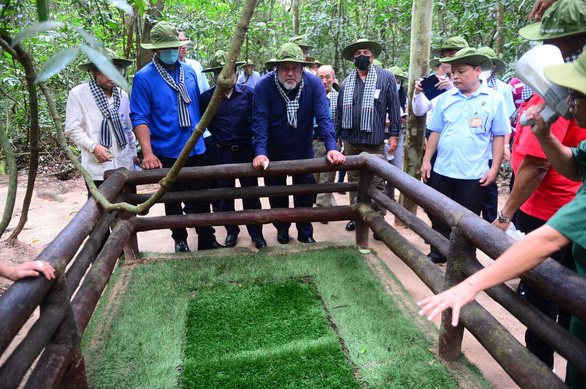 The delegation of Prime Minister Manuel Marrero Cruz listened to the explanation about the tunnel – PHOTO: QUANG DINH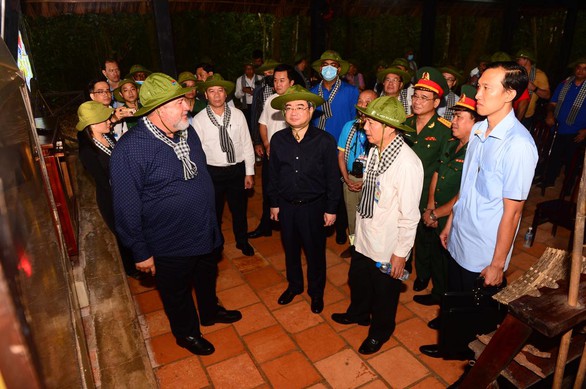 Prime Minister Manuel Marrero Cruz heard an introduction to the Cu Chi tunnel system – Photo: QUANG DINH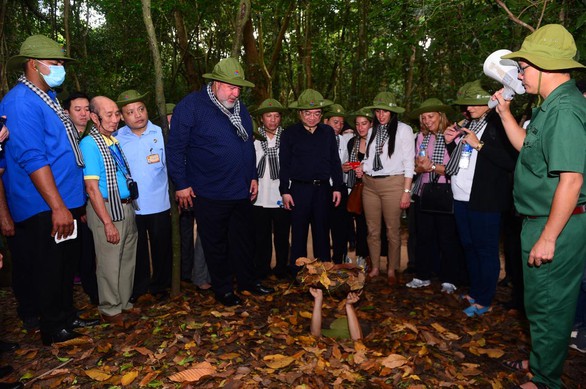 Prime Minister Manuel Marrero Cruz observes how to get into the tunnel guide's tunnel – Photo: QUANG DINH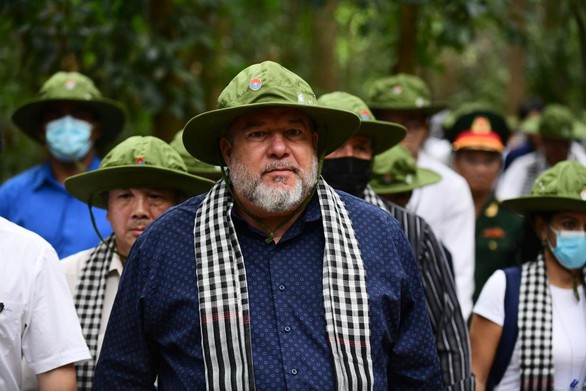 Prime Minister Manuel Marrero Cruz at the Cu Chi tunnels on the morning of October 1 – Photo: QUANG DINH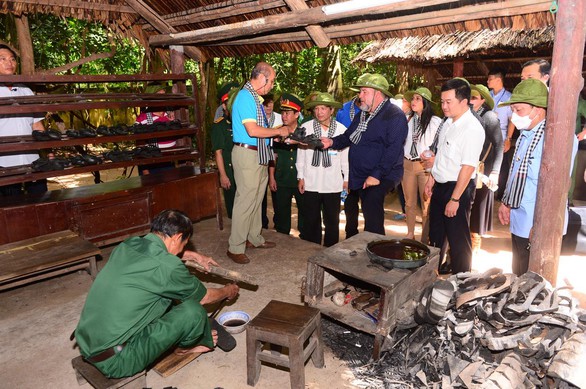 Cuban Prime Minister Manuel Marrero Cruz watched Cu Chi tunnel workers make rubber sandals