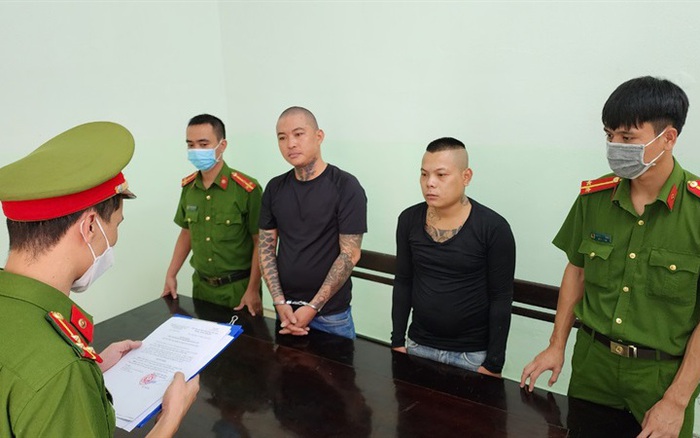 Executing the arrest warrant for Viet (handcuffed) and the ban on leaving the residence for Phu
On September 17, the Hai Chau District Police Department said that it had decided to prosecute the case and prosecute the accused against Nguyen Thanh Viet (born in 1991, residing in Hoa Tien commune, Hoa Vang district, Da Nang city) and Ha Duc Phu (1994, Vinh Trung Ward, Thanh Khe District, Da Nang City) on the behavior: "Deliberately damaging property".
According to the investigation documents, in 2007, Mr. NMDL (born 1982, resident of Hoa Cuong Bac Ward, Hai Chau District, Da Nang City) borrowed from Mr. TVT (SN 1959, resident of Khue Trung Ward, Cam District) Le, Da Nang City) amount of VND 200 million. However, Mr. L. has not yet paid Mr. T. After 15 years of unsuccessful debt collection, Mr. T. asked Viet.
At dawn on May 28, 2022, after a drink, with a little yeast in his body, Viet decided to go to Mr. L's house to collect "terrorist" overseas debt. Viet bought 20 thousand dong of shrimp paste and put it in a plastic bag and then drove a motorbike to Mr. L's house to perform the act. Then, late on May 30, after drinking with Ha Duc Phu, Viet continued to have the intention of throwing shrimp paste into Mr. L's house, so he invited Phu to come along. Phu agreed and drove Viet to buy shrimp paste.
Going to many places but could not buy shrimp paste, when they came to the intersection of Tran Huu Trang – Nguyen Cu Trinh, both discovered an old 5-liter can of paint next to the trash can. Seeing this, Viet had the intention of using paint to splash on Mr. L's house. When he arrived at Mr. L's house, Phu sat in his car and waited for the engine to start up. Viet walked to Mr. L's front door and slammed the paint can from the gate inside. home. After finishing, Viet threw away the paint can and got into Phu's car to leave.
Mr. L's house was "terrorized" with shrimp paste and paint at that time, causing a stir and discontent among the public, seriously affecting the local security and order situation. The incident was then reported by Mr. L.'s family to the police for settlement.
Through investigation, the Hai Chau District Police Investigation Agency determined that Nguyen Thanh Viet and Ha Duc Phu were the subjects who intentionally threw paint into other people's houses, causing damage of nearly 22 million VND. The police agency determined that Nguyen Thanh Viet was the mastermind, had a bad character, had a criminal record, so the police agency arrested the accused for temporary detention. And Ha Duc Phu was banned from leaving the place of residence.