Mr. Quang said: Preliminary statistics show that in Tho Quang lock ship (Son Tra district) there are about 100 crew members, while in Dong No (Ngu Hanh Son district) more than 30 people refuse to disembark. Mr. Quang directly went to check, but the people questioned on the contrary that if they go ashore, the ship sinks, who is responsible.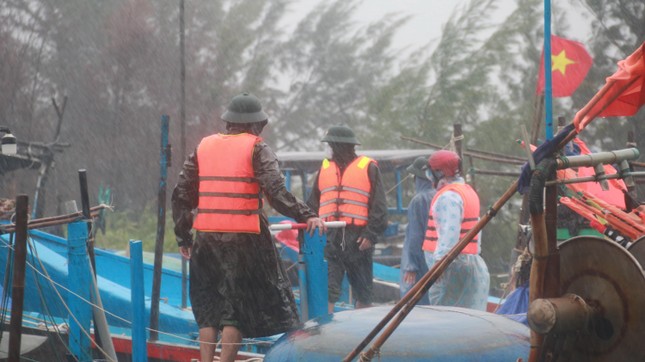 According to Mr. Quang, people's concern and protection of property is an obstacle to migrants leaving the ships at this time. There were even cases when they were brought ashore and then they snuck off the ship again.
"By 7 p.m., all 34 people in Dong No were forcibly ashore, arranged for accommodation, clothes, blankets and food for them," Quang said.
According to the Secretary of Da Nang, more than 90 people in Tho Quang lock are still under the ship. The authorities agreed to let them pump the water out of the ship before forcibly disembarking. At the same time, assign the Department of Transport to work and make a record with the ship owners about leaving people on the ship.
"If there is an accident or a fatal incident, criminal responsibility will be handled. The border guard force was also assigned to make a record and force all people to go ashore," Quang informed.
Secretary of the Da Nang City Party Committee also said: Currently, the city's difficult problem is the time the storm makes landfall, which is expected to be around 10pm tonight, right at the time of high tide. While the water level in the Han River was on the edge of the bank.
It is forecasted that there is a very high risk of strong winds, high waves, along with high tides, the coastal areas of Da Nang are at risk of being hit by waves, causing great danger. Therefore, after surveying, Da Nang decided to migrate more along the river and sea, pushing deeper inwards. At the same time, the city asked Military Region 5 and forces stationed in the area to coordinate in handling unexpected situations occurring during and after the storm.