At 5:30 p.m. on August 7, functional forces were still examining the scene and investigating the cause of the fire that occurred at the house at 459 Trung Nu Vuong Street (Hai Chau District, Da Nang City), causing the death of three mothers and children. .
Recorded by VTC News, after the fire happened, along Trung Nu Vuong Street (the section near the scene of the fire) many people gathered to watch and discuss the incident. Many people living near the victim's house are still shocked by the tragic incident.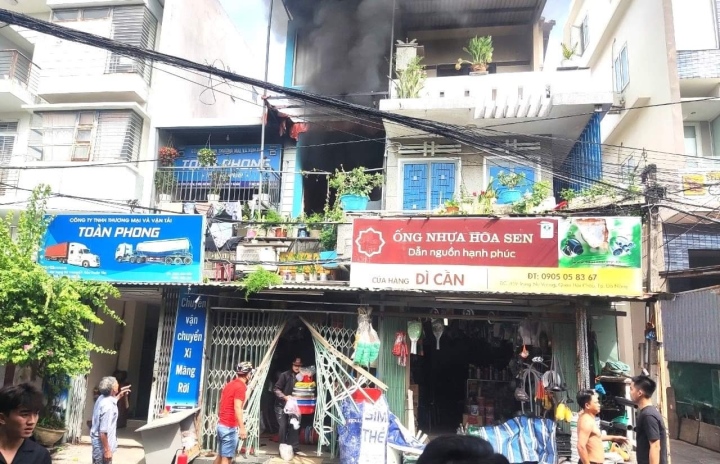 The house where the fire happened
Ms. Thao (who lives about 20m away from the victims' houses) said, around 2pm on the same day, she was selling water in front of her house when she heard a huge explosion, so she ran out to observe and saw the second floor of house No. 459 black smoke and flames. up suspiciously. Discovering the house fire, Ms. Thao shouted but no one answered inside.
"After the explosion, the glass on the 2nd floor door shattered and spilled onto the street. At this time, the neighbors around were closed, so I urged everyone to call the fire department. The house that burned at that time also locked the door."Ms. Thao said that the family in trouble was trading in plastic and paper money.
As a grocer opposite the victims' homes, Mr. (50 years old), said: "Early afternoon, I just woke up when I heard an explosion, thinking that the electric pole had exploded. I went to the street to look at the house opposite and saw fire and smoke on the 2nd floor. I immediately called my neighbors to call the fire brigade to put out the fire. What happened today is so sad.".
As VTC News reported, on the afternoon of August 7, people discovered that the second floor of the house at 459 Trung Nu Vuong (Hoa Thuan Tay ward, Hai Chau district) was smoking.
The house was locked, people and local militiamen quickly broke down the door to access and call the fire department.
The Fire Department of Da Nang City arrived at the scene to put out the fire. When the fire was brought under control, authorities discovered three people dead on the second floor.
Through verification, 3 people died including Ms. NTHL (49 years old) and 2 sons, D.QP (14 years old) and D.QT (11 years old). At the time of the fire, Mr. Do Quang Th. (49 years old, her husband L.) is away.