On the afternoon of August 30, Da Nang City People's Committee said that Ms. Ngo Thi Kim Yen – Vice Chairman of Da Nang People's Committee had signed 2 decisions to impose a fine of 210 million VND, suspending operation for 18 months for Anh Dieu Nguyen Beauty Salon. (New Seoul TMV Co., Ltd, 80 Phan Thanh, Da Nang City).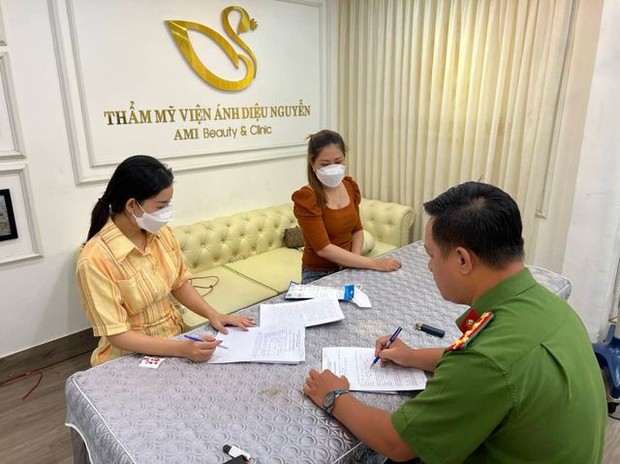 Beauty salon suspended for 18 months
Previously, on July 23, the Economic Police Team, Thanh Khe District Police suddenly checked Anh Dieu Nguyen beauty salon, discovered that 2 customers had just had their nose lifted and eyelids cut. At the time of inspection, beauty salon owner Anh Dieu Nguyen could not present a license to practice and documents proving full conditions to provide cosmetic services.
At the same time, many invoices were found to collect fees for services such as rhinoplasty, rhinoplasty, filler injection, eyelid surgery, but the establishment could not present any documents on eligibility to provide cosmetic services of the Department of Health. economy of Danang city.
In addition, the police also seized hundreds of medical products such as needles, fillers, antibiotics… for cosmetic services. All these products have no proof of origin, origin…
Therefore, the Chairman of the People's Committee of Da Nang City fined this business 90 million VND for providing cosmetic services at a cosmetic service facility when there was no written notice of eligibility to provide cosmetic services sent to him. to the competent authority as prescribed by law.
At the same time, this enterprise was also fined an additional VND 50 million for the act of using drugs, substances and devices to interfere with the human body to change the color, shape, weight, and defects of the organs. body parts; tattooing, spraying or embroidering on the skin with the use of injectable anesthetics at establishments other than hospitals with cosmetology specialties or specialized cosmetology clinics or other medical examination and treatment establishments within the scope of operation. Specialization in Cosmetology.
In addition to illegal practice, Ms. NTAD – Director of this beauty salon was also fined 70 million VND for acts related to the field of culture and advertising. In addition, business owners must be forced to remove incorrect ads on their personal Facebook. Specifically, the act of advertising falsely or causing confusion about the business ability, ability to provide products, goods and services of organizations and individuals trading in products, goods or services.