Goalkeeper Dang Van Lam has returned to the V-League with a 3.5-year contract with Binh Dinh club. The goalkeeper born in 1993 will play for the Vo football team from the second leg, ending a period of more than 3 years of playing in Thailand and Japan.
Van Lam is the Vietnamese player with the longest consecutive time playing abroad (3 years, 8 months). He is also a rare name to win a starting position at an international club. But unfortunately, the 29-year-old temple keeper could not survive the dream environment.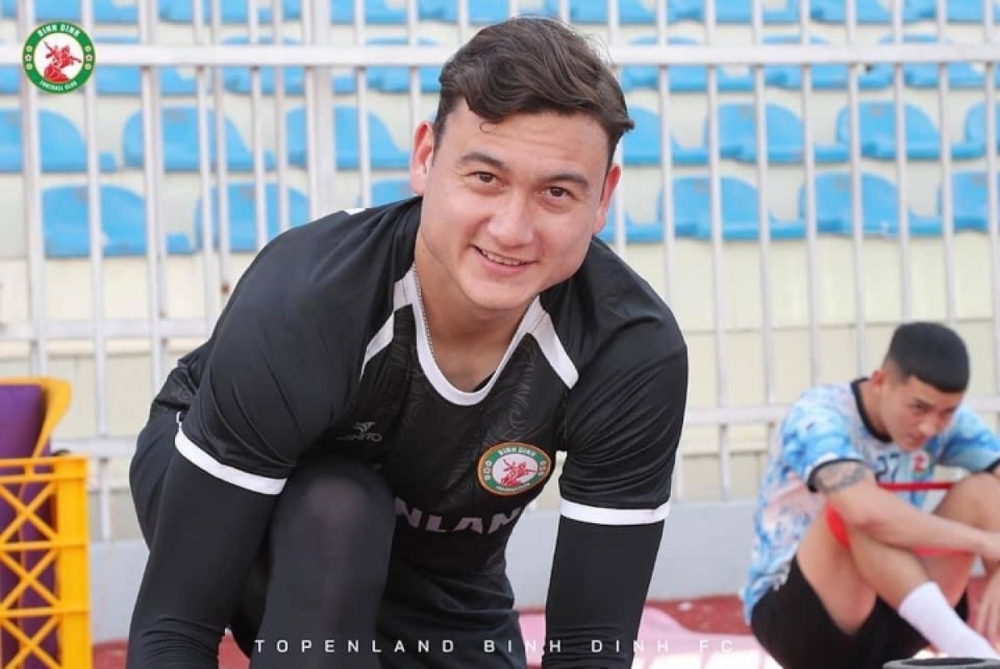 Van Lam returned to Vietnam to play for Binh Dinh Club. (Photo: Binh Dinh FC).
How does Van Lam play?
Van Lam's time abroad is associated with two teams: Muangthong United and Cerezo Osaka. In 2019, Muangthong paid a fee to release Van Lam's contract with Hai Phong, thereby winning the signature of the goalkeeper of two Russian – Vietnamese bloodlines.
Van Lam is not the first player to go abroad, but his business is highly anticipated. If Cong Phuong, Xuan Truong, Van Hau or Tuan Anh had previously gone on loan to learn, Van Lam was bought by the Thai club to play.
In the first season in Thai League, Van Lam took the main spot with 30 appearances. The goalkeeper born in 1993 has excellent saves and maintains a stable form, rarely making mistakes.
However, in the 2020 season, Van Lam's number of matches decreased to 12. He became the number 2 goalkeeper, entangled in a dispute with Muangthong. Van Lam took a break from practice, then moved to Cerezo Osaka in early 2021.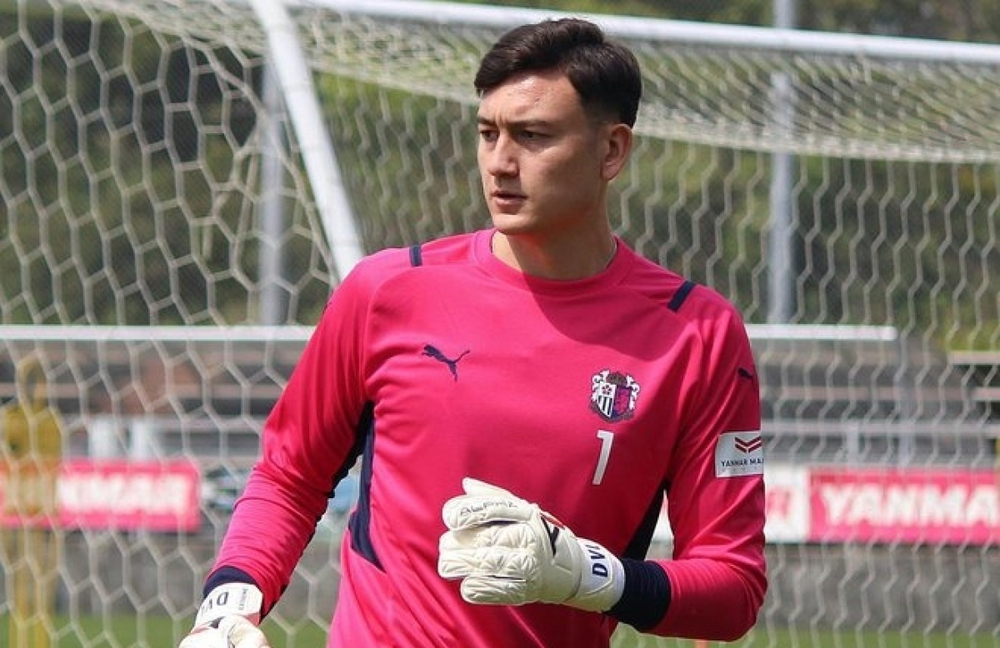 Van Lam cannot compete in Cerezo Osaka. (Photo: Cerezo Osaka).
Cerezo is an upgrade of Muangthong, both in stature and class. Van Lam became the first Vietnamese goalkeeper to wear a J-League 1 team.
However, the competition in Japan quickly pushed Van Lam into a difficult spiral. In the land of the rising sun, Van Lam could not take the main catch of veteran goalkeeper Kim Jin-hyeon – who has played the main role of Cerezo since 2009 with 464 matches in J-League 1 and J-League alone. 2.
In front of a very experienced and stable opponent, Van Lam only played 2 matches in the Emperor's Cup of Japan and the AFC Champions League. Unfortunately, both of Cerezo's opponents in these matches were too weak, so Van Lam did not have the opportunity to show. In September 2021, Van Lam was injured, making the chance to catch the main player even more blurred.
When Cerezo brought in goalkeeper Keisuke Shimizu (with 12 years of playing in Japan), Van Lam probably understood that his chance was over. He parted with Cerezo to repatriate.
Reality
The football environment in Japan and Korea is still a challenge beyond the reach of Vietnamese players. Van Lam has full experience in competition, is well trained, is good at foreign languages ​​and has gone abroad in his nine career years, but still fails at a J-League 1 team.
When signing with Cerezo, Van Lam was expected to replace Kim Jin-hyeon – a player who was on the other side of the slope of his career. However, Kim's performance is too stable and Cerezo has no reason to change.
Cruel for Van Lam, because the reserve goalkeeper means that the opportunity to play is much less than other positions. Perhaps Van Lam and his team have not calculated all the risks when going to Japan to compete.
The level gap cannot be bridged overnight, but a player's career is finite. Therefore, Lam's decision to leave "West" is correct.
In his farewell letter to Cerezo, Van Lam affirmed that the competitive environment in Japan was very professional and learned a lot from it. But everything will be meaningless without playing. In the past 3 years, Van Lam has only played 12 matches. In the period when he needed to play regularly to break through, Lam "Tay" was immersed in a series of days of reserve and injury treatment.
Van Lam needs to play regularly. (Photo: Binh Dinh FC).
Returning to Binh Dinh is not a bad choice for Van Lam. He reunited with many teammates in the national team such as Duc Chinh and Tan Tai. The rumored remuneration of up to $20,000/month that Binh Dinh pays Van Lam is also very ideal. At this time, it is difficult for Lam "West" to find a team that agrees with the above level of treatment.
4 nm playing in the V-League also ensures Van Lam the ability to adapt immediately. As a result, Binh Dinh Club is guaranteed both in terms of image and expertise.
Compared to the route Van Lam set out before, leaving Cerezo without a match and returning to the V-League is clearly a step backwards. However, the 29-year-old goalkeeper chose the right thing for his career. Van Lam needs to be competitive, instead of prioritizing experience and learning. That is the only way to stay in shape and regain the starting position in the team.
Van Lam's journey in Thailand and Japan left many regrets. If there were no events in the second half of 2020 in Muangthong or injuries in Cerezo, Lam "West"'s chances would have been brighter. However, Van Lam still has at least 5 years of peak career to regain confidence, in the immediate future is to play well to help Binh Dinh return to the championship race.
Bau Hien made a surprise move, recruiting the SEA Games champion to compete for the V.League crown