The big controversy about the referee in the first leg made the match between Thanh Hoa Club and Binh Dinh Club in the 17th round of the V-League become remarkable. Despite being underestimated quite a lot, the message of the Thanh team is still to get 3 points to soon complete the goal of relegation as well as claim the "debt" of losing the match against the opponent.
Thanh Hoa Club suddenly increased the speed of the match right after the opening whistle. Coach Tanasijevic's teachers and students soon got what they needed. In the second minute, Quoc Phuong was fouled by Huu Quy in the penalty area. Referee Hoang Ngoc Ha decided to blow a penalty for the home team. On the 11-meter mark, Paulo Pinto easily beat Dang Van Lam to open the match. This is the first goal of the goalkeeper born in 1993 since returning to the V-League.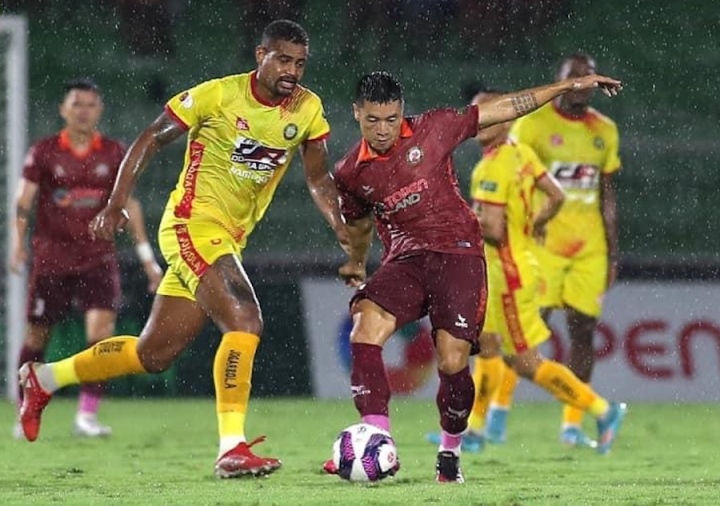 Thanh Hoa Club beat Binh Dinh Club at home.
Having an early advantage, it is not surprising when Thanh Hoa Club actively retreats to the home field and plays defensively. That style of play is even more effective in very bad weather conditions on Thanh Hoa stadium. It was raining heavily, causing the short ball coordination phase of Binh Dinh Club to fall into a stalemate. The first half ended with no more goals scored.
The scenario of the second half is somewhat similar to the first half when Thanh Hoa club has an early goal. In the 53rd minute, from Le Pham Thanh Long's corner kick, Dinh Tien Thanh shot up to double the lead for the home team. This goal pushed Binh Dinh Club into great difficulty, but coach Nguyen Duc Thang's students remained calm. They tried to attack and got a goal to shorten the score to 1-2 thanks to Jermie Lynch.
In the remaining time, many stars of Binh Dinh Club could not have one more time to penetrate the opponent's net. Even Thanh Hoa Club squandered many favorable counterattack opportunities. Anyway, the important victory at home helped the Thanh team rise to 7th place with a distance of 8 points compared to the relegation position of the HCMC club.