For the first time since Xuan Truong and Tuan Anh came to play in the V-League, HAGL has just faced Hanoi FC in the context of both teams competing for the championship. The Capital team is at the top of the table, and HAGL is at the top. Both teams are also preparing for the great war with a series of 5 consecutive victories in the V-League.
The 10-year period without winning against Hanoi FC at Hang Day Stadium did not discourage HAGL. The Nui team started the match confidently when they flooded the squad to put pressure, making the opponent unable to deploy the ball from home.
In the 5th minute, Van Toan poked a slot for Bruno Henrique, but HAGL's foreign soldiers could not defeat Tan Truong in the face-to-face situation. 2 minutes later, Hanoi FC responded. Van Quyet kicked the free-kick correctly so that Tuan Hai could head in backwards, sending the ball narrowly over the bar.
After about 15 minutes of tit-for-tat, the two teams reduced the tempo and played calculated. Because the players already understood each other too well, the rest of the first half took place evenly, with no professional highlights.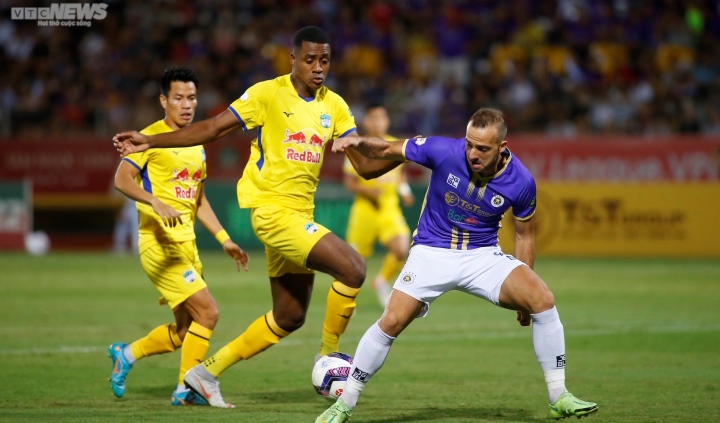 HAGL (yellow shirt) plays confidently. (Photo: Ngoc Anh)
The only controversial situation in the first half was Duy Manh's footstep with Bruno in the Hanoi FC penalty area, but referee Ngo Duy Lan did not give HAGL a penalty.
In the second half, Hanoi FC pushed up the pace of attack and HAGL's defense collapsed. In the 55th minute, Mujan Tonci had a cross like he was placed with his left foot for Van Quyet to overtake Van Thanh and then finish close to the wall accurately, giving Hanoi FC the lead.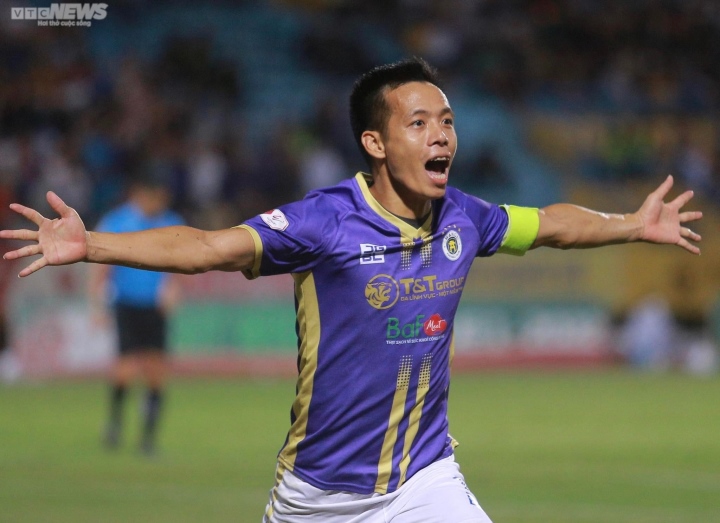 Van Quyet scored. (Photo: Nghi Lam)
1 minute later, HAGL's net vibrated again. Van Hau climbed the border very quickly on the left wing and then threw the ball to gently touch the HAGL defender's feet to change direction. Tuan Hai entered extremely quickly to finish close to the wall to raise the score to 2-0.
However, HAGL quickly removed 1 table to rekindle hope. In the 61st minute, Van Toan made a very flexible cross for Bruno Henrique to head into a difficult corner, making goalkeeper Tan Truong unable to save.
Hanoi FC slow down after the goal. Coach Chun Jae-ho launched into Viet Anh's field to kick 5 defenders, in order to protect a fragile goal difference.
The defense of the Capital team did not make any mistakes for the rest of the time. Beating HAGL with a score of 2-1, Hanoi FC has 26 points after 11 matches, 6 points more than the second team of SLNA group. Coach Chun Jae-ho's teachers and students became champions of the first leg one round early.
Final results: Hanoi FC 2-1 HAGL (Van Quyet 55′, Tuan Hai 56′, Bruno Henrique 61′)