Final result: U18 Vietnam women 1-0 U18 Thailand women
Scored:
Vietnam women's U18: Nhu Quynh (49′)
Before the last match took place, the situation in Group A was over when it was determined that the two teams that went on were U18 Vietnam women and Thailand U18 women when both won absolutely 3 matches played. Meanwhile, host Indonesia was officially eliminated from the group stage after losing 2 consecutive matches against Vietnam (1-2) and Thailand (0-3).
Therefore, the match between Thailand and Vietnam will only determine who will be the leading team after the group stage. The advantage belongs to teacher and coach Akira Ijiri when U18 Vietnam only needs to draw to be ranked above Thailand because our difference is better than the opponent (+17 compared to +13).
The two teams created a relatively attractive game in the first 45 minutes and each side had certain scoring opportunities. Although Thailand tried to push high to create pressure, the Vietnamese girls still played very confidently and kept the net. The first half ended without a goal.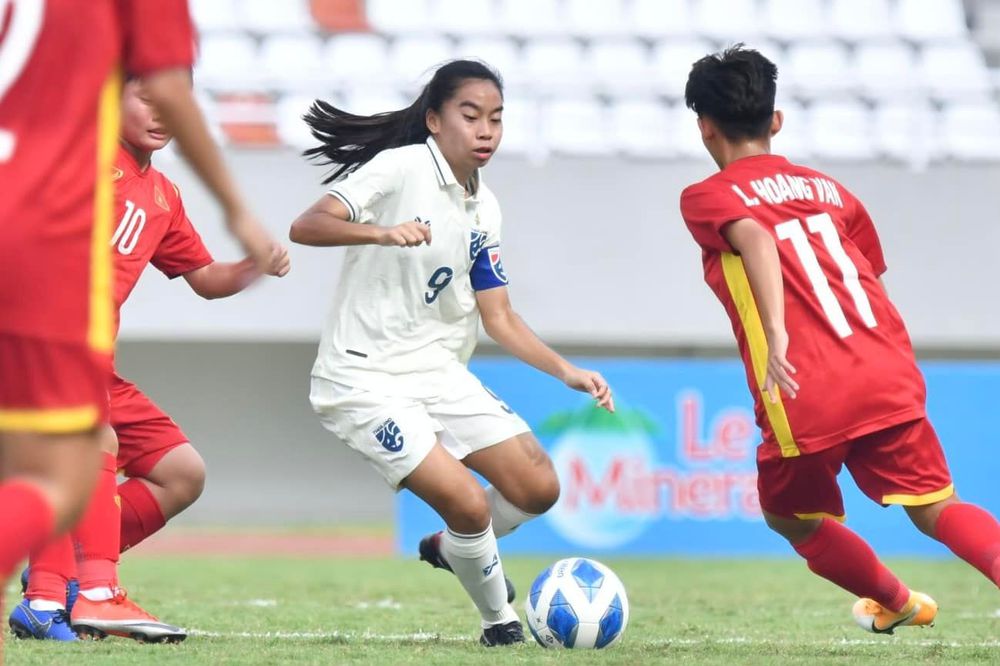 Entering the second half, it was still Thailand that wanted to find the opening goal because only 3 points helped them get the first place and "dodge" a strong opponent, Australia in Group B. However, they did was immediately splashed with cold water by Vietnam when the clock only reached the 4th minute of the second half.
Nguyen Thi Nhu Quynh, a player born in 2004 of the Vietnam Coal and Mineral Team, is the scorer for coach Akira Ijiri's team. This is Nhu Quynh's first goal for Vietnam U18 at this year's AFF U18 Championship.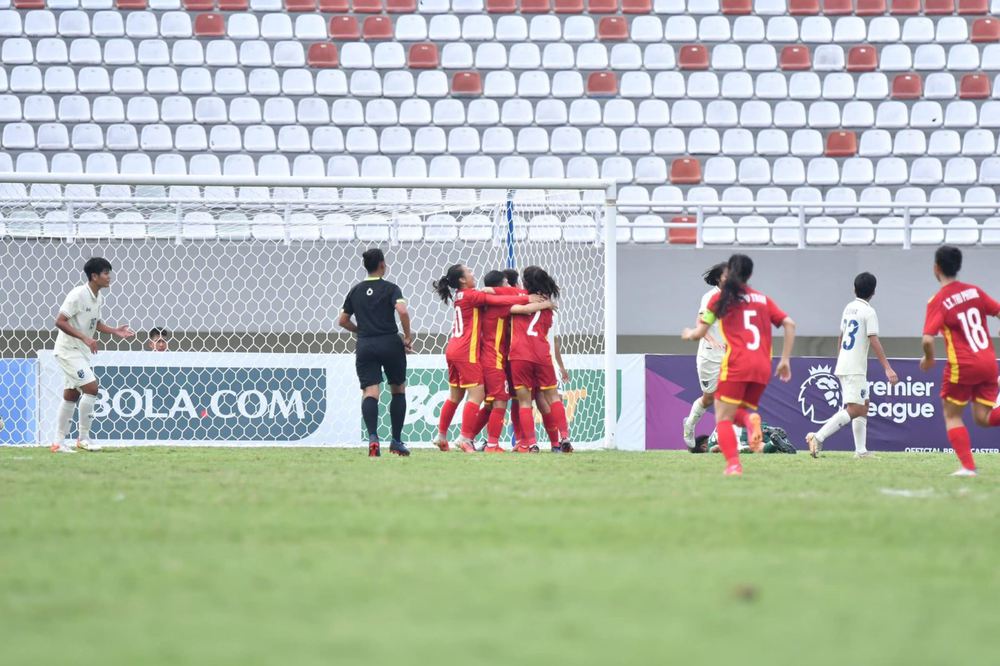 During the rest of the time, Thailand tried to attack but all their efforts failed to defeat goalkeeper Phuong Thao. The match ended with a minimum result of 1-0 in favor of the Vietnamese women's U18s.
With this result, U18 Vietnam completed the group stage with a winning record and led Group A. Our team scored a total of 19 goals in 4 matches and conceded only 1 goal. Coach Akira Ijiri's army will meet the second team of Group B, Myanmar in the semi-finals. As for Thailand, they will face Australia. Both semi-finals will be played on August 2 at Gelora Jakabaring Stadium.
Starting lineup:
Vietnam women's U18: Nguyen Phuong Thao, Ho Thi Thanh Thao, Ly Linh Trang, Le Thi Bao Tram, Nguyen Thi Nhu Quynh, Tran Nhat Lan, Vu Thi Hoa, Dang Thi Duyen, Ngoc Minh Chuyen, Luu Hoang Van, Nguyen Thi Thuy Nhi
U18 nőh Thái Lan: Phrueksa Maliwan, Thanchanok Cheunarom, Saranya Lamee, Jeena Thongpan, Thawanrat Promthongmee, Kantisa Inchamnan, Nualanong Muensri, Sakunkan Chumphusaeng, Natticha Sarakan, Sasithon Dima, Praewa Nudnabee.
https://soha.vn/danh-bai-thai-lan-u18-viet-nam-dat-thanh-tich-cuc-ky-an-tuong-huong-den-tran-ban-ket-20220730174016181.htm