Referring to Thai Binh, the first thing that people think of is the vast fields of storks flying. But if you look carefully, this place also owns many beautiful beaches "moving people's hearts".
About 100km from Hanoi, Thai Binh is quite convenient for a day trip or weekend. However, not everyone knows the unique and picturesque beaches. This place is famous for its unspoiled scenery and eye-catching stretches of gentle beaches.
The beach is located in Thuy Xuan commune, Thai Thuy district, Thai Binh province, about 38 km from the city center. This place is a destination that attracts many photographers to hunt because it is famous for its sunset and sunrise. In particular, this beach is also beautiful at low tide, the water surface with sand mixed with alluvium at eye level forming a shimmering surface in the sunlight.
Because it is still wild, there are almost no obstacles around, so the sky and the beach seem to merge into one. Because of this special feature, some people call this place "infinity beach".
"Infinity beach" in Thai Binh
Thuy Xuan beach is not a resort or resort like other beaches in Vietnam. To see the unique scenery as shown in the photo, visitors have to go through a stretch of mangrove forest.
When you come here, what you will receive will be the experiences of the salty sea life of fishermen following the tide. Coming here, visitors will be able to see firsthand the clam fields, because the sand is muddy, the beach is also suitable for aquaculture.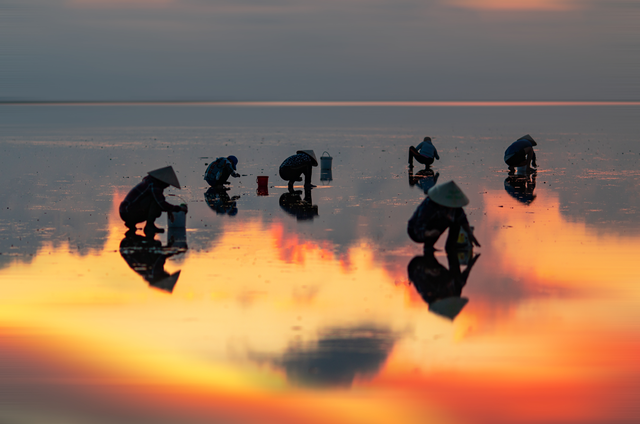 Doan Ngoc Anh is a freelance photographer currently living and working in Tien Hai, Thai Binh. In recent days, his sharing clips about the sea in Thai Binh have received special attention.
Contacting the character, we learned that when it gradually turned to summer, in addition to his main job, the 9x guy brought a camera to take pictures of his hometown. Because her house is 32km from Thuy Xuan beach, Ngoc Anh has to get up early to "hunt beautiful pictures". It takes about 30-40 minutes to get to the parking lot.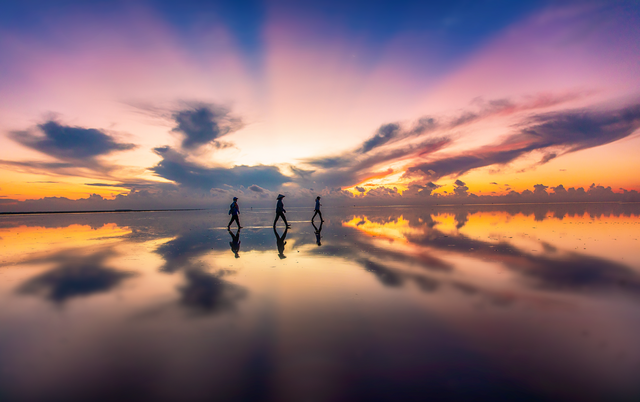 Beside the famous Con Vanh, Con Den … of Thai Binh, recently Thuy Xuan has emerged in the community of photography enthusiasts because of the beauty that is not found everywhere.
He said, this is an alluvial ground that stretches and is 5-7km wide. Here, people mainly catch fingernails manually, only holding iron rods to fish. People in the coastal areas often go to work early in the morning, when it is sunny, there will be buyers in the parking lot. Every day they catch 3-5kg, each kg costs about 60-70 thousand VND.
Because it is a wild place, you have to go through the mangrove forest and stretch the mudflats. The water is just ankle-high. Especially on calm sea days without wind, the water surface creates a large mirror. If you wade out about 3-4km, you will admire a very unique scene.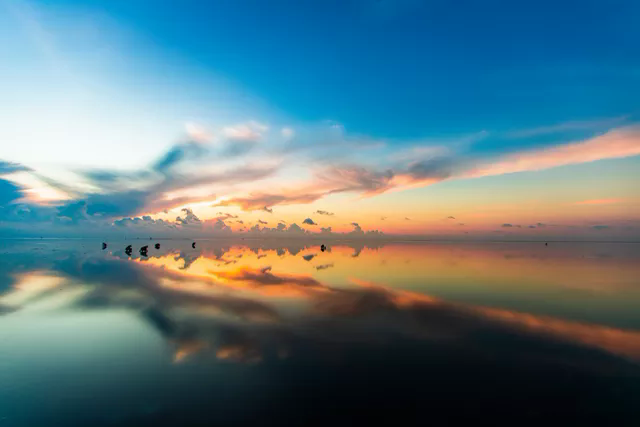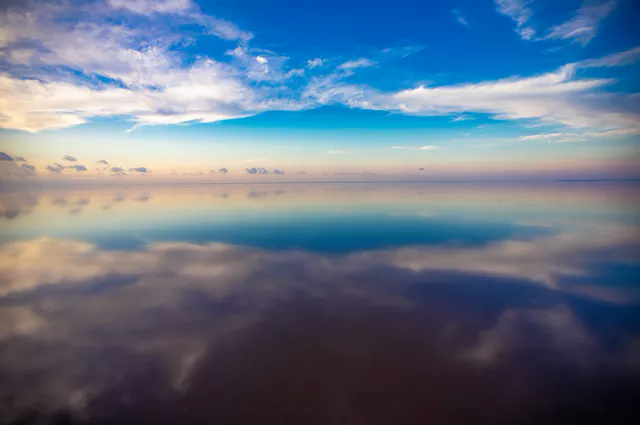 Sharing about the unique photos, Doan Ngoc Anh shared "To save the beautiful scenery, I have to rely on low tide water and beautiful sunny days to go".
With his long experience, Mr. Ngoc Anh said that the most beautiful seasons for sightseeing are spring and autumn because the sun is softer at this time. Summer is hot, so there are light rays.
Although not too famous as a tourist city, Thai Binh is probably a bright spot when it comes to owning so many wild and poetic beaches. If you are too bored with crowded places, you can go to Thai Binh to enjoy gentle summer days.
Photo: Doan Ngoc Anh