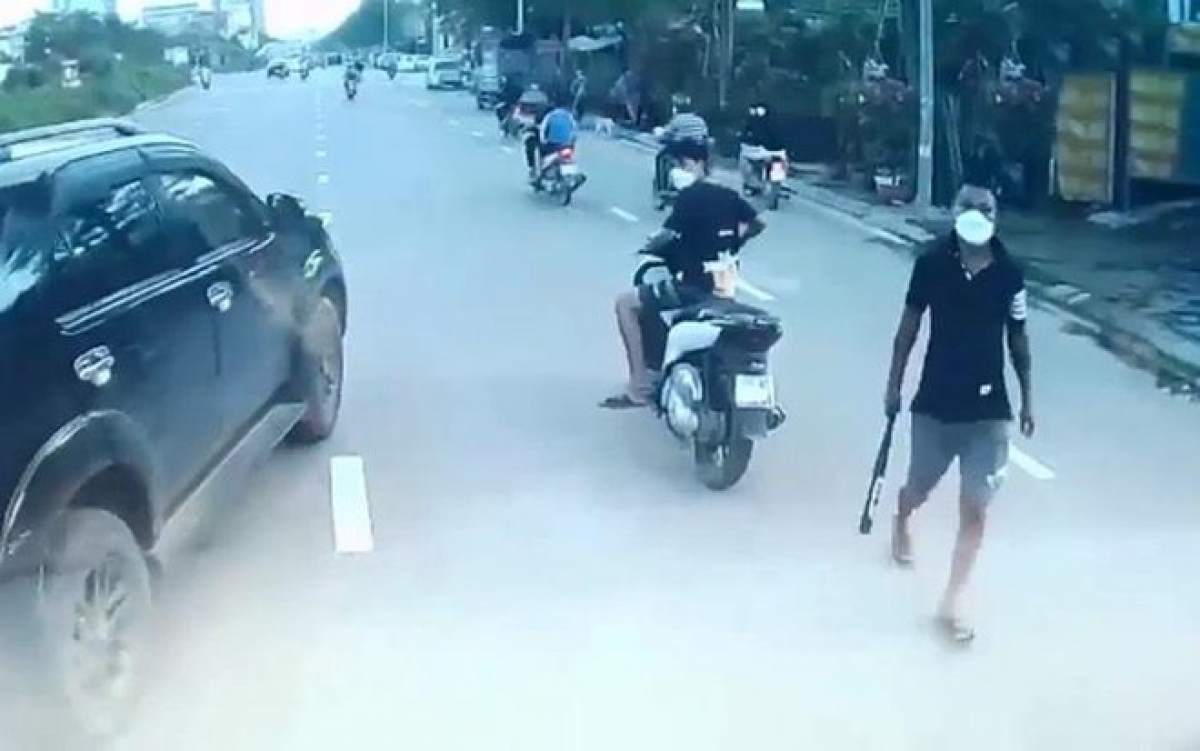 Images of subjects using weapons to stop cars
According to investigation documents, Nguyen Thi Lan Huong established Lan Huong Company, specializing in trading and trading of construction materials in the two districts of Tay Ho and Bac Tu Liem, hiring workers to transport construction materials and waste by vehicle. Homemade tricycles and minivans in the construction of adjacent villas, apartments.
In the process of doing business, Huong "black" has raised many juniors belonging to rogue elements to protect business activities, transport waste and construction materials. If there are other units in the area to execute or clean, transport in construction works, Huong's "junior" group will threaten and prevent.
Recently, in the area "managed" by Huong, there have been a number of trucks carrying construction materials from elsewhere, competing for clues to sell materials, clean up and transport construction waste with Huong's company. Seeing that, Hoang Trung Thanh, Huong's juniors stood up to receive it to "solve".
On August 9, when it was discovered that there was a construction site that was removing waste that was not handled by the crew of Huong company, Vo Khanh Linh (born 1996 in Vong Thi, Buoi ward, Tay Ho district, Hanoi) staff Huong's manager informed Hoang Trung Thanh. When meeting Thanh and his accomplices, Linh showed this object the location of the villa where the team was cleaning construction scraps.
The "juniors" of Huong "black" including Thanh and Dang Van Thanh brought weapons including baseball bats, knives, drivers of motorcycles and cars with Fortuner brand, control plate 30F-080.94 to The gate area of ​​​​the Skylake villa area to wait for a car carrying scrap, which the subjects believed to be robbing Huong's area would stop and threaten.
When the Hyundai truck, control plate 29C-888.72 was driven by Mr. Nguyen Van Tam (born in 1992 in Tho Xuong commune, Tho Xuan district, Thanh Hoa) from the urban area of ​​Xuan Tao ward to Nguyen Van Huyen street. Long, in Xuan La ward, Tay Ho district, Thanh and Thanh groups chased and used cars to stop Mr. Tam's car.
At the extended Nguyen Van Huyen Street, the subjects used motorbikes and cars to stop Mr. Tam's car, Thanh and Thanh got out of the car and walked, blocking the front of the car, banging their hands on the glass, cursing Mr. Tam. Frightened, Mr. Tam drove the truck over to run away.
Thanh and Thanh groups continued to chase and block the truck. Thanh and Thanh used baseball bats to smash Mr. Tam's car, breaking the lights and glass of the car and causing him to be scratched. Mr. Tam then went to the Tay Ho District Police to report.
Faced with the complex and dynamic nature of the subjects, on August 18, the Investigation Police Agency, Tay Ho District Police issued a decision to prosecute the criminal case of "Deliberately damaging property". . On August 26, by professional measures, the Criminal Police Department in collaboration with the Tay Ho District Police arrested Dang Van Thanh and Hoang Trung Thanh while the subjects were on the run. Extensive investigation and arrest of related subjects.