In June and earlier, Tamiflu drug on the market had a popular selling price of about 450,000 VND/box, by the first half of July it had increased to 520,000 VND/box. At some drug stores in Linh Dam urban area (Hoang Mai district, Hanoi), drugstores all "sold out" Tamiflu products and have not set a date for the drug to be sold. Some stores answered directly, the increase in drug prices was not due to the price increase of the supplier but due to the situation of wholesalers, affecting the market.
In addition, influenza A test kits are also widely sold on online drug markets with prices ranging from 70,000-80,000 VND/box. The owner of a drug store on Kham Thien Street (Hanoi) said that every day, this shop sells 40-60 test kits, even when they are out of stock.
Keep a close eye on your child's progress
Dr. Do Thien Hai, Deputy Director of the Center for Tropical Diseases (National Children's Hospital) recommends that parents should not arbitrarily buy Tamiflu for their children to use. "This is a drug used to inhibit virus replication, reducing the ability of the virus to adhere to the respiratory tract. However, a study at the National Children's Hospital during the 2009 influenza A/H1N1 epidemic showed that if used Using Tamiflu 48 hours after the onset of fever was no different from the group of patients who did not.A few years ago, at an influenza conference in Singapore, a report said that after five days of taking Tamiflu, there were still up to Nearly 60% of babies have influenza virus in their throat, after ten days there are still 30-40%," said Doctor Hai.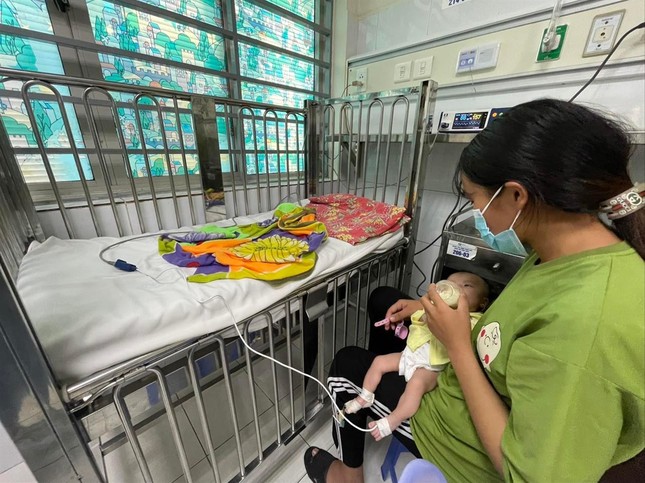 Children with influenza A are treated at the National Children's Hospital Photo: Ha Minh
According to Dr. Nguyen Trung Kien, Deputy Director of the Pediatric Center (Bach Mai Hospital): "Influenza is a common disease, 80-90% of flu cases are mild and can be cured on their own. Some cases Severe cases can cause complications such as convulsions, liver, kidney, lung damage, rapid death due to respiratory failure and myocarditis.Children under 5 years old, especially children under 2 years old; people over 65 years old. Pregnant women are the subjects most susceptible to influenza virus attack. In addition, people with chronic diseases such as diabetes, cardiovascular disease, anemia, immunocompromised …".
Doctor Truong Huu Khanh, former Head of the Department of Infection – Neurology (Children's Hospital No. 1 in Ho Chi Minh City) said that this cannot be considered a new flu or a strange flu. The large number of influenza A patients identified comes from two reasons. First, the natural immunity in the community is low because children in the past two years rarely get sick, and many families do not get flu vaccines. Second, in the past, the test kit was not used as widely as it is now, so it may not "unmask, just name" cases of influenza A.
"Don't worry too much about influenza A, but treat this disease like when a child has a fever, a common upper respiratory tract infection. Parents need to monitor, if the child is awake, the disease can go away on its own. If coughing a lot. If you have a high fever, you must go to a doctor for examination. Influenza A or not influenza A does not matter, in the end, you still have to closely monitor the child's disease progress and follow the doctor's prescription for medication," Dr. Khanh analysis.
Doctors also recommend that people get a seasonal flu vaccine every year for people aged 6 months and older; Most strains of flu have vaccines. Besides, limit contact with flu patients or suspected cases when not necessary. When you have symptoms of cough, fever, runny nose, headache, fatigue, you should immediately go to a medical facility for timely examination and treatment.
Doctor Hai emphasized, in fact, not all patients with flu also take Tamiflu. If the flu is mild, it is not necessary to take this medicine, it will go away on its own. Moreover, the use of Tamiflu is only effective if the diagnosis of influenza is detected early in the first 48 hours, according to the doctor's prescription because this drug is usually used only for cases of acute viral pneumonia or for people with severe pneumonia. diabetes, the risk is increased. After 48 hours, flu patients are mainly treated to reduce fever and care to prevent complications. Tamiflu is not for general use because most people get the flu on their own. The doctor also warned people to be very careful because the drug has side effects. Epidemiologists share the opinion that buying test kits for home testing should not be abused because it is not necessary. "The important issue when a child has influenza A is to pay attention to reducing the child's fever, cleaning the respiratory tract, limiting adult contact with the baby so that the baby has a higher superinfection. Along with that, adequate supplementation is necessary. nutrients to increase resistance in children", Dr. Hai recommended.