On September 13, the NDTV site reported that Dr Govind Nandakumar was stuck in traffic on the Sarjapur-Marathalli road while on his way to Manipal Hospital in Bengaluru (India) on the morning of August 30 to perform cholecystectomy. emergency endoscopy.
Realizing that the delay could be harmful to the female patient, Dr. Nandakumar got out of the car and jogged 3km to perform important surgery.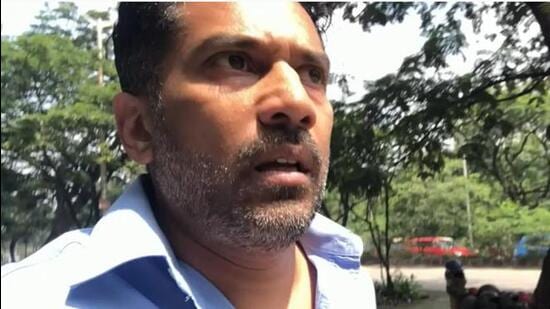 Image cut from the clip posted by Dr. Nandakumar himself during jogging. Photo: NDTV
Dr Nandakumar said he commutes daily from the center of Bangalore to Manipal hospital, Sarjapur, in the southeast of Bangalore.
"That morning, I left home early to be on time for surgery. The whole team was ready to start as soon as I got to the hospital. But looking at the heavy traffic, I decided to leave the car with the driver and run towards the direction. hospital without thinking twice," he said.
Dr. Nandakumar added: "It usually takes 30-45 minutes from my house on Cunnigham Road to Sarjapur. There was a traffic jam that morning. When I checked on Google, it showed 45 minutes to complete the section. this route, while it usually takes only 5-10 minutes.
"So I decided to make the most of my time. Due to regular exercise and jogging, I completed the 3km distance in about 15 minutes," he said.
The surgical team has anesthetized the patient, and is ready to proceed as soon as Dr. Nandakumar arrives at the hospital. Without delay, the doctor changed into surgical clothes to begin the operation.
The surgery was successful and the patient was discharged on time.
According to information from the hospital, Dr Govind Nandkumar is the person in charge of the Gastroenterology Department at Manipal Hospital. His patient that day needed urgent surgery due to a gallbladder problem for a long time.
Heavy rains over the past few weeks have caused flooding and traffic jams in the city of Begaluru. Videos have surfaced on social media showing vehicles stuck for a long time on the Bengaluru-Mysuru highway, and pedestrians struggling to walk on the road.
In some areas, stranded residents were evacuated with the help of boats.
Bengaluru is famous for its traffic jams. Therefore, the story of a doctor who made an unusual decision to save his patient's life is spreading widely on social networks and is an inspiration to everyone.