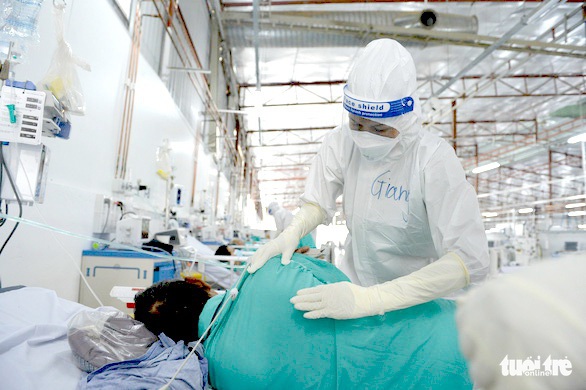 Medical staff working at Phuoc Loc field hospital (Nha Be, Ho Chi Minh City) the epidemic period in Ho Chi Minh City is still complicated – Illustration: TU TRUNG
In July 2021, starting the social distancing at the highest level in Ho Chi Minh City, my wife and I, a company employee, stayed in a motel room of nearly 10m.2almost closed in the house because his wife is pregnant.
At the end of July, I found out I had COVID-19. SAfter more than 10 days of treatment, I became seriously ill and had to seek help and find a hospital for treatment.
On the way to the hospital D. by taxi, looking through the car window, in the middle of a rainy night, the city is empty and cold, only ambulances pass each other, I can only hope. Hopefully nothing will happen to me, my wife and family.
Arriving at the hospital, I was in the emergency room, seeing a horrifying scene beyond imagination. Hospitals are very hot – working doctors, nurses, nurses running constantly in hot protective suits. The cases were spread out all the way to the corridor of the emergency room.
That night, I was given oxygen, intravenous fluids, chest x-ray and could not sleep. Every once in a while, doctors and nurses are busy shouting to rush to the emergency room for severe cases who are breathing heavily and have low SpO2.
That night several beds were pushed out and their faces covered in the emergency room. I sleep with people who have died of COVID-19.
The next morning, a few doctors brought in medical wraps, disinfectant sprays, put people who died due to COVID-19 inside and wrapped them to avoid infection to take them to cremation.
Then the doctors continued to run and run, with the number of hospital admissions increasing continuously. Next to me, a doctor about 60 years old who was just admitted to the hospital suddenly had difficulty breathing, his body was uncomfortable, and he was screaming. They immediately ran to pat the back, put the patient on his stomach to let the patient try to breathe. The red ventilator, with a tube like a washing machine drain, was pulled out to prepare.
Doctors constantly encourage patients to try to breathe deeply to maintain self-breathing so as not to have to put on a ventilator. Oh, fortunately I was able to breathe on my own, gradually and had to lie on my stomach to breathe on my own.
After two nights in the emergency room of hospital D, I was informed that I would be transferred to Oncology Hospital 2. As soon as I arrived there was shocking news.: my wife is positive, is having difficulty breathing and has to have a caesarean section when she is almost 7 months pregnant. My family was just established at the beginning of the year, now each person has a hospital, the situation is dangerous and unpredictable.
After the cesarean section, my wife was in a coma and could not be contacted. After giving birth, the child was transferred to the emergency pediatric hospital, I don't know what the situation is.
After the shocks and worries, I told myself to be strong, not to give up, and to pray. I ate every meal the hospital gave me, worked hard to do lung support exercises so that I could quickly remove the oxygen mask.
After 4 days, I was able to give up oxygen and transferred to Thu Dung 11 Hospital, was given a 5 liter water bottle, a folding bed and stayed with 6 other people in an apartment. 5 days later, I was discharged from the hospital.
Returning to the small motel room at the end of August, I tried to find out information about the situation of my wife and children, but everything was just vague. I have never felt so helpless: Outside, all roads are blocked, my wife and children are in the hospital but do not know the situation and cannot enter, parents and relatives are also helpless because they cannot enter the epidemic area.
In the second week since my wife's surgery, I was informed by Children's Hospital 1 that the baby was transferred to the recovery area, being treated for many complications of premature babies. The baby was too small, had to lie in an incubator and the doctors could not say anything in advance.
At the same time, there was news that his wife had become seriously ill as a result of a cytokine storm, her lungs were white and she had operated at 100% of her high-dose ventilator capacity.
In that moment of life and death, a miracle appeared, coming from the COVID-19 Center – Military Hospital 175. ECMO was almost the last remaining lifeline for my wife, performed by Military Hospital 175. Currently, with a critical situation, will do our best.
By mid-September 2021, Children's Hospital 1 announced that my baby was able to absorb milk and gain weight. The first hope flashed. On the other side, the mother is still in a coma and continues to take ECMO.
By the end of September, my baby had gained enough weight to go home. We look forward to continuing miracles for the mother.
At the end of November 2021, after a long time my wife struggled with ECMO treatment and complications, the doctors of Military Hospital 175 announced that my wife was awake and could be discharged. The second miracle appeared.
Lucky to have the help and dedication of the doctors and nurses that helped my family miraculously survive the COVID-19 pandemic. I would like to thank all the doctors, nurses and volunteers during the recent epidemic.
Don't let the scandals in the supply of medical supplies wipe out their contributions.
Thank you!
Together Youth give thanks
In 2021, tens of thousands of doctors, nurses, medical students from universities, medical soldiers … from all regions have come to the southern provinces and cities, including Ho Chi Minh City, to join the local fight against COVID-19 pandemic. In tight protective suits, tight masks, many patients do not know their faces day and night for treatment and care.
A lot of emotions, nostalgia, and many thanks were left unsaid when the patient was discharged from the hospital, when the doctors, nurses… left when the pandemic was less stressful.
Youth Online We invite you to send our gratitude to the white-robed angels, share your memories, emotions, and memorabilia during the days when you or your loved ones were treated for COVID-19. Articles and photos should be sent to: [email protected]
Youth Online thank you.