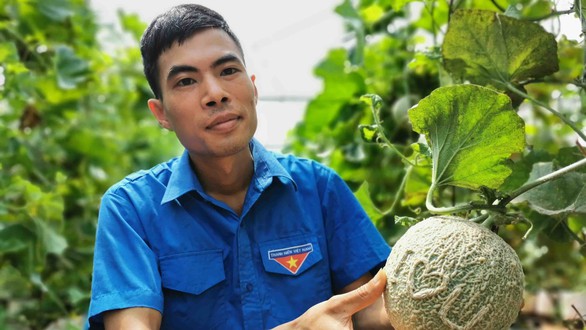 Mr. Nguyen Xuan Tien, director of Phuong Tien Youth Cooperative, succeeded with the hi-tech melon growing model – Photo: VU TUAN
From the very place where the land was plowed by bombs and mines in the past, the young man worked hard to cultivate and cultivate green melon gardens, each "picking sweet fruits" earning hundreds of millions of dong/year.
"In this region, the climate is mild, and the melons are sweeter and more crunchy than the varieties grown elsewhere." Bringing guests into the garden, Mr. Nguyen Xuan Tien (31 years old, director of Phuong Tien Youth Cooperative, Vi Xuyen district, Ha Giang province) introduced the results after six years of growing a hi-tech melon model on difficult land. .
Turn sideways to high-tech agriculture
Graduating from the University of Mining – Geology, realizing that the demand for clean food is increasing day by day, Mr. Tien decided to turn direction and choose his hometown to start a business.
With the support of seeds and fertilizers as well as sharing of experience and technical guidance from friends and "melon tycoons" in Ho Chi Minh City, he boldly invested more than 500m2 The first net house in Phuong Tien commune to plant varieties of melons and pear melons.
"The early days of farming were very hard, every day I was guided by my friends on crop techniques, but I only grew melons in the "rote-learning, stereotypical" style. Experiment after each melon crop to adjust fertilizers and plant varieties appropriately" – Mr To share.
From the old land of Vi Xuyen plowed by bombs and shells, and barren mountainous land, the 9X young man has applied new planting technology with an automatic irrigation system, providing nutrients for plants with a system. Management system, operated by computers and smart phones, thanks to which Tien's hi-tech melon farming model won the first crop.
"The first crop, no one planted melons on this land, so I made a very high profit. I saved money to expand more net houses and rewarded myself with a trip to Ho Chi Minh City" – Mr. Tien remembers again.
From the success of the first job, each year he continued to boldly expand by 1,000m2 net house area in Phuong Tien and an additional 2,000m2 net house in Phong Quang commune (Vi Xuyen district) to try to grow cantaloupe and white jade melon varieties.
On average, every 60 days of harvesting a melon crop, each net house harvests 2 tons of melons/month, the selling price ranges from 30,000 to 40,000 VND/kg, earning hundreds of millions of dong each year.
At first, Mr. Tien also went out to do marketing, offering melon products and packing products to send to Hanoi to sell.
By the second year, the merchants were familiar with the melons, the melon model also gave a more stable yield and quality, so 100% of the harvested melon output was consumed in Ha Giang.
From 2018 up to now, customers have come to the melon barn of Phuong Tien Youth Cooperative to pick them in the garden.
youth connection, improve the production
After six years of pioneering hi-tech melon cultivation in Ha Giang, many families have followed the model of young Nguyen Xuan Tien, promoting agricultural production and economic development.
But after two years of difficulty because of the COVID-19 epidemic, many garden owners have changed to "purple", and Mr. Tien said his house is "still pink but has not changed color".
During the journey of starting a business, Mr. Tien also encountered many difficulties. He remembers that in 2017, heavy rains and floods occurred in Vi Xuyen district, causing heavy damage to agricultural production.
In which, his entire net house for growing melons collapsed, that year lost the melon crop. After the flood, Mr. Tien left his hometown to go to Binh Thuan to work as a manager for a melon granary, but only a month later he decided to return to his hometown and start rebuilding from scratch.
"The net house collapsed, but I still decided to start over, that day it was risky" – he asserted. Thanks to the "dangerous blood", so far, the high-tech melon growing model of young Nguyen Xuan Tien has given a stable income, the melons can be grown as much as they can be sold.
"The output is high, I can't do it alone, I decided to establish a cooperative to connect the youth in the village to build high-tech agriculture in my homeland" – Mr. Tien expressed.
In 2018, the cooperative was born with the participation of seven members, each of whom is in charge of a job such as taking care of production, supporting the business segment, having a member supporting the marketing segment, and creating content on the internet. Facebook by "livestream cutting melon in the garden".
Currently, the high-tech agricultural model of Phuong Tien Youth Cooperative is considered as a starting point model in Ha Giang.
Every melon crop, Mr. Tien opens the door to welcome young people to visit, learn and share his entrepreneurial experience with young people. "The most important thing is confidence, with confidence you can do anything" – he asserted.
Mr. Tien said that in the coming time, the cooperative will continue to expand investment in net houses, research and grow pink pepper banana varieties and confidently go abroad.
Confidently choosing his own path with melon varieties on the borderland helped young Nguyen Xuan Tien "pick sweet fruits". He shared, if you are determined to start a business, have a viable idea, create a project.
"Young people are all very good now, it's just a "dose" or not, but the "dose" must be within their ability. For example, if you have 1 billion dong, the "dose" is in 500 million dong, and 500 million dong is left to spend. come back when you fail. Think small first, then you'll grow up when you're old enough" – Mr. Tien shared his experience.