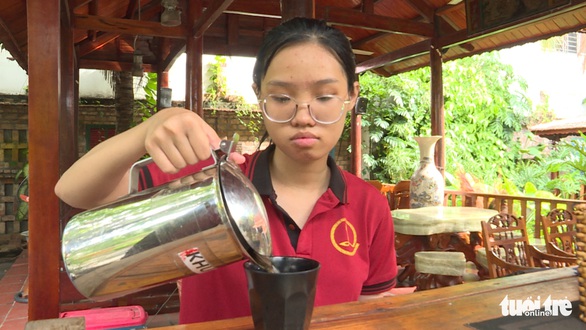 Ho Thi Bich Tram works as a waitress at a coffee shop in Tuy Hoa City (Phu Yen province) to earn money to cover the upcoming first days of university – Photo: DUY THANH
These days, when friends of the same age buy necessary furniture and tools to wait for the day to enter the university lecture hall as a new student, Ho Thi Bich Tram (18 years old, former student of Nguyen Hue High School, Tuy Hoa City) , Phu Yen province) works hard every day as a waiter for a coffee shop to earn an income to support the dream of continuing to read books.
Orphaned from cradle
"After graduating from high school, I applied to work as a seasonal employee of this cafe immediately with the hope that after 2 months, I would accumulate a few million dong, have more money to go to university. Every day I work from 14:00 to 22:00. , contract salary 3 million VND/month" – Tram said.
Working part-time at a coffee shop has been a familiar job of Tram since 10th grade until now. On holidays, Tet, when many people have fun going out and relaxing with their family, those are also the time when she works more "enthusiastic" because she is paid higher than usual.
"If I work part-time and have a little income, my grandmother will be less worried. If I don't worry, my grandmother will live longer" – Tram confided.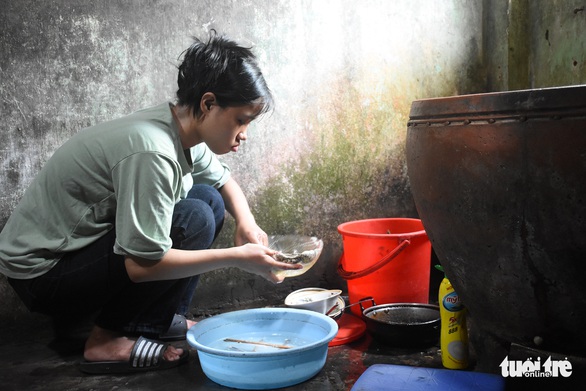 After work at the cafe, Tram does housework in the house – Photo: DUY THANH
The narrow fourth-level house in a small alley in Ward 2 (Tuy Hoa City) is where Tram and her grandmother Nguyen Thi Ngoc Lien, now 84 years old, live. The furniture in the house is old, nothing of value, only the certificates of merit on Tram's academic achievements are new and sparkling. Mrs. Lien has difficulty walking because of her old age, weak health and many diseases, but she has been a support for Tram since she was a child until now.
"Tram was born at the end of 2004 and at the beginning of 2006, ie just over 1 year old, an orphan of both parents, so poor. I have to be both a grandmother and a mother for my grandchild until now," said Mrs. Lien.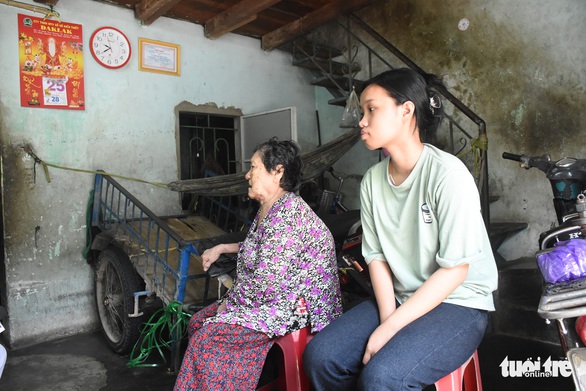 Two grandparents in a narrow, old house – Photo: DUY THANH
Most of Tram's aunts and uncles are married and live separately. The Tram brothers grew up with the love and protection of their grandparents and poor uncle who ran a cyclo in the same house.
Now, the main income of the two grandchildren is from the hundreds of thousands of grandmother's allowances for poor households and the elderly. Every morning, grandma or grandchild goes to receive rice for charity, sometimes without breakfast but for lunch to reduce spending…
Do not surrender to fate
Tram is small, sick, and severely nearsighted, but her thoughts and determination are great. "Seeing the difficult situation of my grandmother and me like that, I was determined to study and learn. I have to stand on my own two feet to take care of myself because no one can help me for the rest of my life" – she insisted.
Tram said that except for the 11th grade, due to lack of concentration, she was an advanced student, the rest were awarded the title of excellent students. She was extremely happy when she just received the acceptance letter for her favorite major, which is biotechnology, from the University of Science and Technology of the University of Danang. Before that, when reviewing her academic records, she also entered the biotechnology department of Da Lat University.
Comforting her grandmother, but when talking to us privately, the 18-year-old female student could not hide her anxiety. For many years, for many days, Tram only ate one meal a day. "I don't want to eat much" – Tram broke down.
On the threshold of university, Tram confessed that if she spends time working part-time, she earns 2-3 million dong a month, "no matter how much rice and fish sauce" it is, it is difficult to cover the life of a female student. accommodation staff in big cities. But the biggest difficulty in the immediate future is how much it costs to enter the first term of the first year of university.
"Tuition, insurance, textbooks, rent, etc. will probably cost nearly 20 million dong. Grandma and I have saved some money, but it's not enough. The cost of this first phase is a big challenge. big" – Tram confessed.
With a "vaccine" available to overcome difficulties and high determination, Tram will fulfill her dream of going to university to stand on her own two feet. But in order for your legs not to be unsteady in the first steps into the university lecture hall, Tram really needs help and support right now.
Overcoming adversity and guilt, the desire to rise up

Ms. Le Hoang Thao Ly, homeroom teacher for all 3 years of Ho Thi Bich Tram's high school at Nguyen Hue High School, commented: "Tram is an orphan of both parents, the situation is very difficult, but she is a diligent student. , is an example of perseverance to overcome difficulties.
I studied while working, helping my elderly grandmother.
Tram always strives to excel in learning with the desire to access knowledge. Especially, Tram overcame adversity and guilt to integrate with friends, actively participating in school movements. I hope Tram will be empowered so that she can go to university, change her life, and have a bright future."