The leaders of the European Union (EU) met in Brussels – Belgium on June 23 and 24, with one of the important agenda items being to accept Ukraine as an official candidate for the election. block membership.
This is seen as a symbolic move amid the ongoing Russia-Ukraine conflict because it will take years – perhaps more than a decade – for Ukraine to join the EU.
Speaking ahead of the conference, Mr. Clément Beaune, Minister for European Affairs of the French Government, said that Ukraine's bid to become an EU member could take a long time, despite the support of other countries. the leader of this block.
Radio interview Europe 1 (France), Mr. Beaune stressed that Ukraine would have to follow the same strict rules as any other country applying to join the EU. According to the official, the conflict first needs to end and Ukraine to rebuild the country, as well as meet its economic and democratic requirements. In addition, the country will have to reform the rule of law and fight corruption.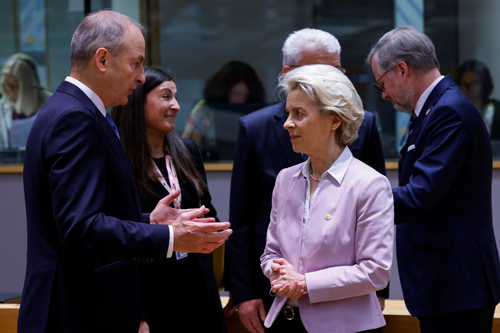 The scene of the EU – Western Balkans Summit on June 23. Photo: REUTERS
The issue of expansion was also discussed at the EU – Western Balkans Summit on June 23. The meeting comes as Western Balkan leaders complain about the slow pace of integration between the EU and the region.
Another top discussion topic at this EU Summit is economic concerns, such as high inflation, escalating energy prices, food shortages… Russia's supply cuts since last week then has raised concerns that Europe will have difficulty in storing gas to meet its heating needs in winter.
According to EU regulations, member states must have a plan to prevent and respond to a gas crisis, including three phases of "early warning", "alarm", "emergency". The "early warning" phase focuses on monitoring supplies, while the "alarm" phase theoretically allows companies to shift rising costs onto industry and households, thereby helping to reduce costs. demand. The "emergency" phase allows governments to force industry to limit operations to save gas.
Frans Timmermans, the EU's climate policy official, said on June 23 that more than 10 EU countries are affected by Russia's move to cut gas. According to him, the risk of a complete disruption of gas supplies is greater than ever, especially when some EU members have activated measures of the "early warning" phase.
Germany alone on June 23 raised the gas warning level by entering the "alert" phase but has not given the green light to transfer rising costs to industry and households. Germany implemented the first phase of its emergency plan in March.
Before the Russia-Ukraine conflict broke out on February 24, Russian gas accounted for about 40% of the EU's total consumption. Facing a drop in supply from Russia and rising gas prices, some European countries have increased the use of coal power plants while insisting this is only a temporary step and will not affect their targets. to combat climate change.