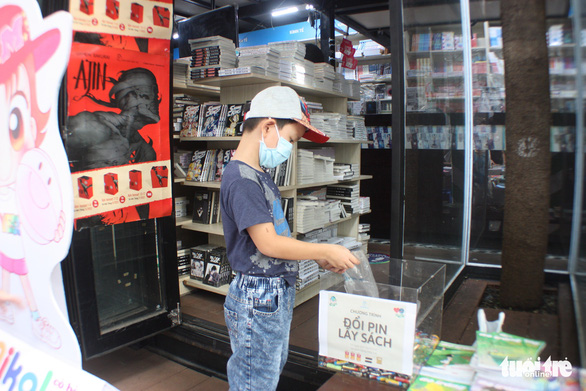 Battery exchange for books at Nguyen Van Binh book street – Photo: LUUYUYEN
As noted by Youth Online, the battery exchange book store attracts a large number of people. After only nearly 2 hours of implementation, 200 books were exchanged, nearly 1,000 batteries were collected.
Each customer who comes to exchange books brings about 10 batteries of all kinds. As a rule, with 3 old batteries, everyone will receive 1 book immediately. Some of you even collect batteries from the whole neighborhood to exchange books to make a common bookcase.
Ms. Tran Kim Phuong, an employee of the bookstore, said that after 2 days of organizing, the program gave away more than 1,000 books and collected more than 3,000 batteries. "After collecting the old batteries, the organizers of the program will bring them to a gathering place for treatment, in order to protect the environment," Phuong said.
As one of the earliest visitors to the booth, Ms. Pham Tuyet Tram (District 10, Ho Chi Minh City) shared: "Today I brought more than 20 batteries to exchange for books. Before, I used to throw batteries away, but When there is a program to exchange batteries for this book, I feel quite happy, because I can dispose of waste in the right place, without causing danger to the environment."
Nguyen Ngoc Thien (3rd year student, Hutech University in Ho Chi Minh City) said: "This program is very meaningful, on the one hand, it raises awareness about the environment, on the other hand, it can spread the reading culture to everyone. I hope there will be more meaningful activities not only on environmental protection but also many other issues in society."
The event not only attracts young people, but many "young" customers also follow their parents to exchange batteries for books. Huu Phuc (7 years old) and his mother brought more than 100 batteries to the booth. Her mother said that when she has old batteries, she often puts them away, when she hears there is a program to exchange batteries for books, she takes Phuc away to help him approach the reading culture as well as form a sense of environmental protection.
Event Swap batteries for books organized with the hope that young people and children form the habit of sorting and handling batteries and electronic waste in a scientific way instead of throwing it in the trash. This is also an activity for people to read more books and create good habits for life.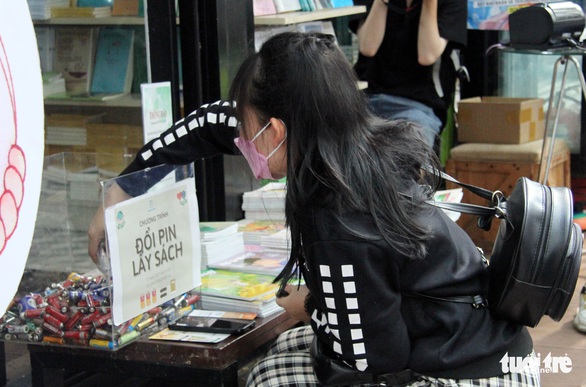 3 batteries can be exchanged for 1 book – Photo: Luu Duyen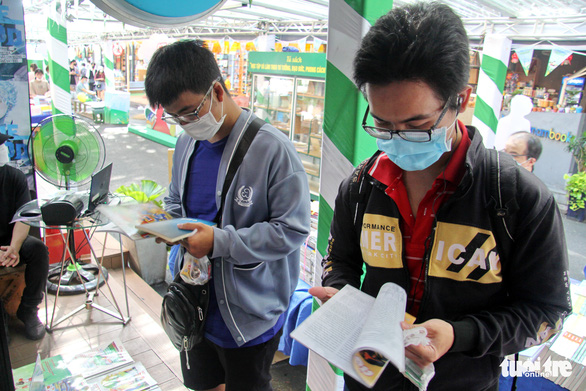 The activity helps to improve reading culture and creates a sense of environmental protection – Photo: Kieu Hanh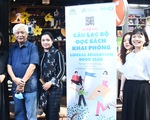 Reading books helps to change thinking and way of life