After completing the two trips Tracking the Tay Tien army and going through the forest of Ngoc Son – Ngo Luong nature reserve, we realized that Rush is a true SUV.
Often when it comes to a model for long journeys, people will talk about a high-rise SUV with a powerful and powerful propulsion system and the most optimal off-road equipment, but we chose Rush to do it. make these trips.
Of course, worries are many because after all, Rush is still just a single-wheel drive vehicle, but can it overcome many steep slopes, muddy roads, gravel, steep passes, even road through the old forest. But after completing the two trips Following the Tay Tien army and crossing the Ngoc Son – Ngo Luong nature reserve, we realized that the Rush is a true SUV that can explore many regions of the country with you. .
Those were the hot days of May, we looked back to the way that the Tay Tien army in the past marched from Hanoi to Hoa Binh, along the Da river to Rut stream, then Mai Chau, Muong Hich with "Tigers tease people at night", cross the sacred forest of poisonous water, go through Pha Luong "whose house is raining far away" to Sai Khao "the fog covers the tired army" and Muong Lat, cross the border between Vietnam and Laos to Sam Nua to fight to protect the frontier.
The Rush car accompanied us to find the old places, although many roads are now submerged under tens of meters of water of the Da River when Hoa Binh hydroelectricity blocked the dam, the old forest roads have also been restored. much different even without a trace. But there are still dangerous passes, steep slopes with sharp turns, muddy even off-road… sometimes making it difficult for us and the Rush.
After that, nearly 1,000km had passed, and the tracks of Rush's wheels were imprinted when we reached the Ten Tan border gate close to the Vietnam-Laos border, where the car had to stop because it could not cross your country to go all the way. of his father over 70 years ago marched here, but it was enough for us to know what kind of car the Rush was.
Right after that, we once again took the Rush to the challenge on the road through Ngoc Son – Ngo Luong forest in Hoa Binh province. A road that is only for trucks carrying forest products of the people, the road surface is deep grooves created by this vehicle and if the wheel is placed in the wrong position, you will have to call for help, there is no other way. .
An interesting and challenging forest road when just wide enough for a car to pass through, of course, at this time, the rear-wheel drive system with better thrust, ground clearance and large exit angle are beneficial. The huge advantage of Rush that other cars in the same segment do not have has helped us a lot. Mud trails, deep holes and steep slopes were left behind when the group reached Lung Van land – the roof of the Muong country.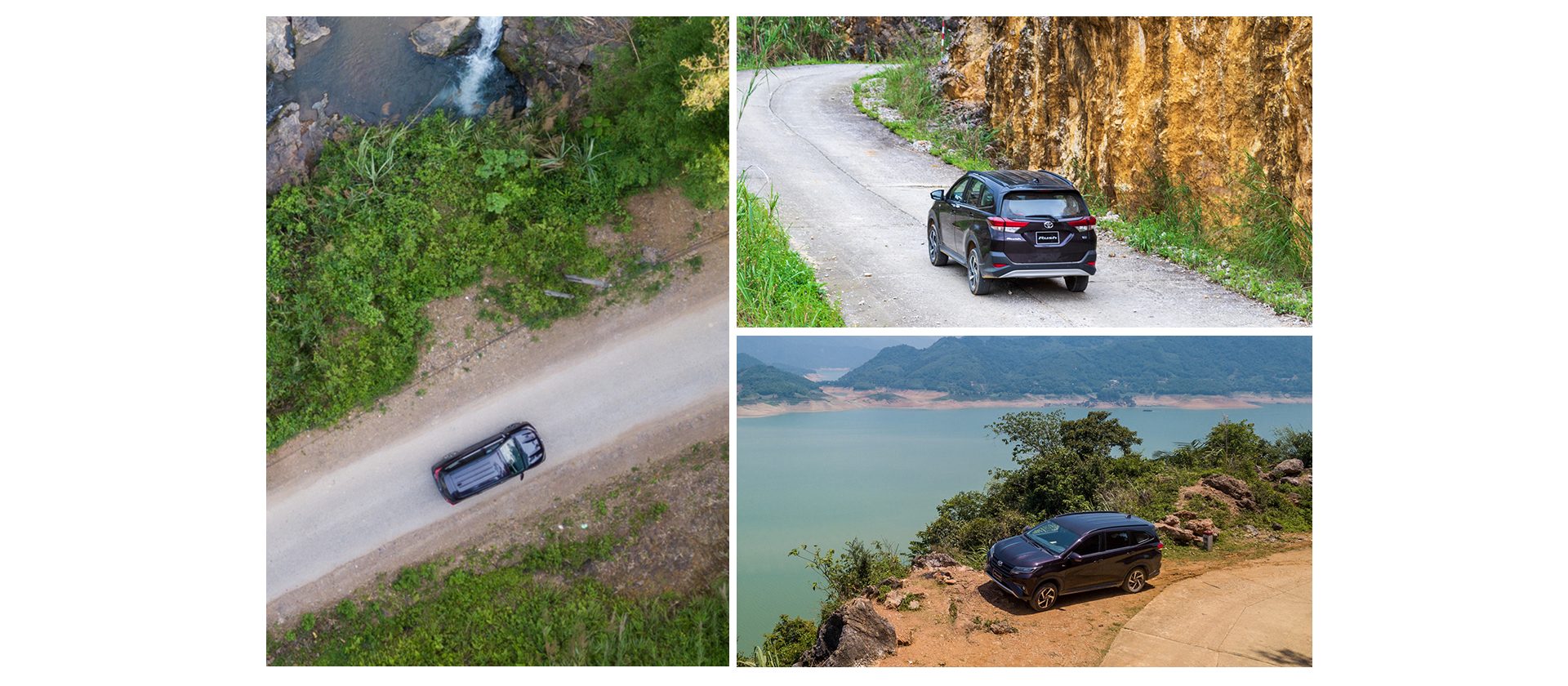 Those two journeys were enough for us to understand Rush more thoroughly, understand why Rush is so pragmatic, and so popular with people in Malaysia, Indonesia, and the Philippines. Because for them, the car is a mere means of transportation, so it must be as versatile as possible, durable, fuel-efficient but with a large payload, carrying many people with the cheapest possible cost – Rush fully satisfy those requirements of consumers.
When introduced in Vietnam, Rush was also immediately welcomed to customers who know about cars as well as know their own car buying purposes.
Compared to existing competitors in the same segment in Vietnam, Rush is completely different in nature from the chassis system, rear suspension and transmission. Rush's chassis system is a built-in-ladder frame, so it is both sturdy, stable, and solid, but the weight is light to help the vehicle withstand loads and twist better. If the opponent's rear suspension is just a torsion beam like on popular A and B cars, Rush is a multi-link dependent, it is the rear suspension system that helps Rush firmly on steep terrain. hilly, smooth on off-road.
In particular, Rush's powertrain is a hard-drive rear-wheel drive like on pickup trucks. At this time, the front wheel of Rush is only responsible for guiding, not both guiding and transmitting traction like on front-wheel drive vehicles. This type of propulsion system makes Rush more powerful, more load-bearing as well as durable and requires less maintenance.
On the outside, Rush is also cared for with LED front lights that automatically turn on and off, electric folding rearview mirrors with integrated turn signals, overhead brake lights, fish fin antenna, sensors and reverse camera. , rails waiting for roof racks…
Spacious interior for 7 seating positions, 3-spoke leather-wrapped steering wheel with function keys, push-button start with smart key, automatic air conditioning with rear vents, multi-entertainment system Connecting Apple Carplay / Android Auto smartphones, and dozens of convenient storage niches… The spacious luggage compartment space as well as the flexible folding of the seats help customers to store many items of various shapes and sizes. ruler.
In particular, Rush owns the leading safety features in the segment when achieving 5-star safety certification of Asean NCAP with a series of active / passive safety systems such as ABS, EBD, BA brakes, body stability. VSC, A-TRC traction control support, HAC hill start, 6 airbags… All of these have made Rush a more practical vehicle than ever, a vehicle that can carry heavy loads, overcome all terrains in addition to the comfort and convenience of the interior space as well as outstanding safety equipment.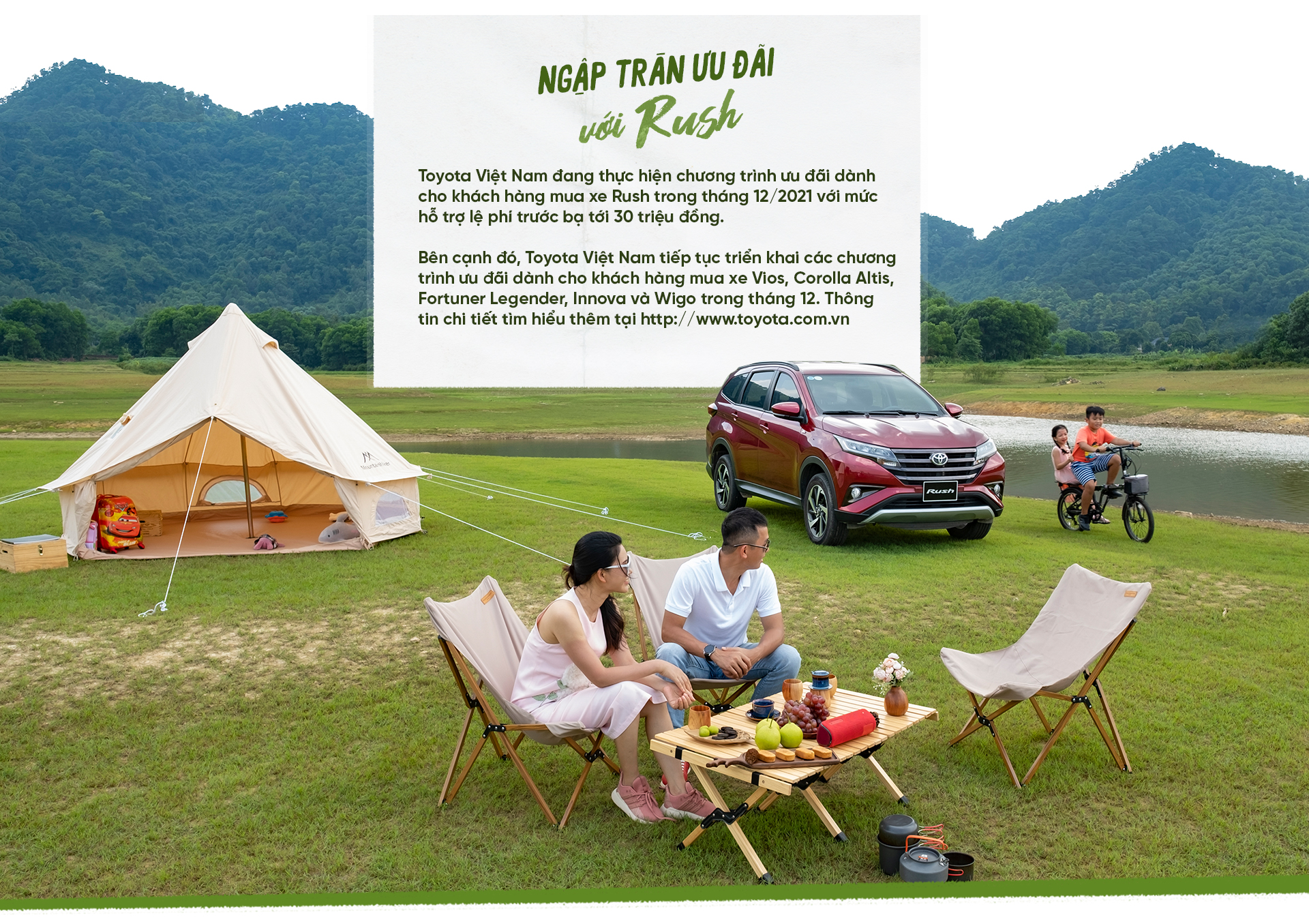 .