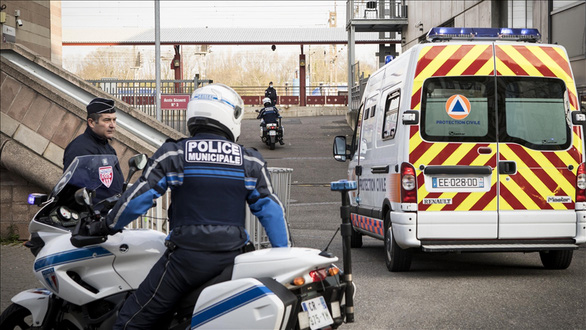 More than 20 police were dispatched to the scene of the factory explosion – Photo: AA
Authorities in the Dordogne province said the fire broke out after several explosions on the afternoon of August 3 (local time). All factory employees were promptly evacuated.
A press release from the police said the situation was under control and there was no risk of fire spreading, but local authorities were still asking people to stay away from the area.
French Interior Minister Gerald Darmanin said resources had been mobilized to handle the incident, including 50 ambulances, two helicopters, 20 police and about 50 firefighters.
Meanwhile, the local hospital has developed an emergency plan to treat eight people injured and 35 people who suffered smoke inhalation in the explosion. One seriously injured person is in critical condition.
Euronco is a major player in the field of defense and manufactures explosives for military ammunition.
Eurenco's Manuco factory has been operating in the city of Bergerac since 2013. According to the newspaper The Local of France, Euronco's factory is listed as "high Seveso disaster threshold".
The Seveso disaster was an accident that occurred at a chemical plant north of Milan in Italy in July 1976, causing 6 tons of toxic chemicals to leak into the environment, causing serious environmental damage. and the health of local people.
Currently, France has 705 factories listed on the "high Seveso disaster threshold" list and another 607 factories on the low threshold.
In 2019, there was a fire at the Lubrizol factory in the city of Rouen, causing 8 people to be hospitalized. The plant is also listed as a "high Seveso disaster threshold".