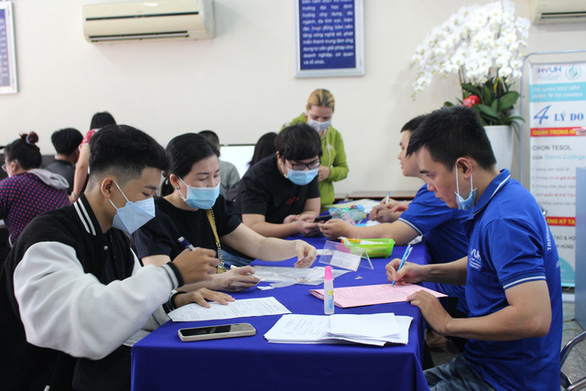 Candidates complete admission procedures at Hung Vuong University in Ho Chi Minh City on September 20 – Photo: HVU
According to the information posted in many places, Hung Vuong University in Ho Chi Minh City announced the recruitment of 2,045 additional positions. While the total target according to the school's enrollment scheme is also 2,045. Thus, in the first round, the school did not have any successful candidates.
However, according to the list of successful candidates for the first round announced by this school, there are hundreds of successful candidates.
In which, the information technology industry has 79 successful candidates, law 30, travel service management 27, marketing 52, business administration 61, finance and banking 40, accounting 40, English language 71 …
Ms. Nguyen Thi Mai Binh – in charge of the school's training and student affairs department – said that right after the "virtual" filter, the school determined the benchmark and had 385 successful candidates.
However, compared to the target, the school still lacks much, so it has announced additional admission. The school provided information about the total target of 2,045, not the school that added this indicator. In fact, the school recruited more than 1,600 additional targets.
"As of the morning of September 28, the number of candidates confirmed to be admitted to the school was 376, and about 10 students have not yet confirmed their admission. The number of admitted candidates is also significant, information that the school could not recruit any candidates in Phase 1 is incorrect," Binh added.