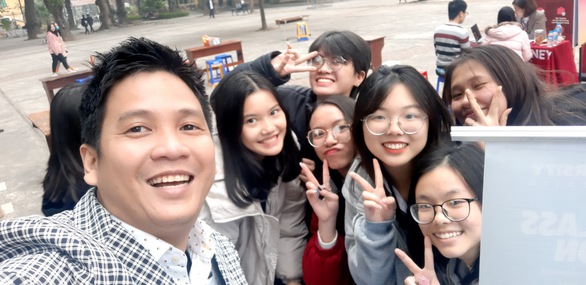 Dr. Nguyen Vinh Quang took a photo with a group of students from Chu Van An High School (Hanoi) – Photo: Q.NGUYEN
The forum closed with perspectives from educators and psychologists.
● Master of Education Administration NGUYEN VINH QUANG (Founder of the career guidance organization Mr.Q, received a certificate of merit from the Australian Education Promotion Agency in 2021):
"Parents do not "upgrade" knowledge, children will gradually move away"
According to marketing research organization Decision Lab, about 71% of Gen Z (individuals born between 1995-2010) spend more than an hour on social media every day.
In addition, the impact of COVID-19 and social distancing makes Gen Z's habit of using social media more and more frequent.
As a parent myself, I cannot forbid my child from accessing social media because it is a trend, children who do not know the "breath" on social networks will easily be left behind compared to their peers.
Personally, I think it's very understandable that young people get caught up in clips, pictures of beautiful young people, or show off their bodies on social networks. Due to the limited survival experience and seeing the actions of the "surface" characters on social media are welcomed and applauded, it will make you think right away that it is a desirable thing to do.
The second factor is that some social networks have the feature of making money, even significant income while not all of Gen Z's material needs – the generation that likes to assert themselves – are approved by their parents.
And it is not difficult to realize that today's children grow up less and less interact with their parents because they cannot find a common voice.
For example, a few days ago, I had a conversation with a 9th grader when he went to exchange with schools, he revealed his passion for games.
Normally, all adults would wince upon hearing this, but I confided that thanks to playing the game, I felt relaxed after a tight schedule, and made friends with international friends from Indonesia and Korea. National… whereby the ability to use English is improved.
I want to become a game programmer because I play well and discover the flaws of the game, it is a beautiful dream, a legitimate ability that not many adults will sympathize with at first. I wish the person to hear that burning passion was her father, not me.
● Master – Doctor CKI NGUYEN Trung Nghia (psychiatry unit, internal neurology department, Hoan My Saigon Hospital):
"Helping children understand their true worth"
Personally, I don't think it is a good idea to condemn the young people looking for hot pictures and clips on social networks because we adults still like to enjoy the beauty of our bodies sometimes. It's a personal preference that deserves respect.
What should be worrisome is when children spend too much time surfing social media and then become frustrated and unhappy with their current life due to their low self-esteem when compared to shimmering, beautiful individuals online (which I don't know if it could be a trick, using an editing application…).
It will be even more remarkable when children mistakenly think that just having sensational looks and actions will make them famous, and it will be scary if children think that the number of likes and followers on social networks is synonymous with their own worth.
From a neuroscience perspective, we humans have specific systems like square groups of neurons that are in charge of finding what is similar in behavior, appearance, and feelings to other individuals in a community to help us live better, integrate into the community.
Thus, it can be said that imitating and comparing oneself is an instinct that is hard to avoid in young people. This is becoming more and more popular with the pressure of technology making information and images of people around more accessible than ever. The lives of many people in general and young people in particular are more stressful and tired because of this.
Talking about the solution from a psychological perspective, the above problem comes from how well young people understand themselves. We need to help them keep questioning whatever behaviors, thoughts, and feelings they may have. For example, we prompt them to always ask themselves what are they doing and what are they doing for, the ultimate goal?
It is necessary to help them realize that if they are only dressing well to please others but deep inside they are tired and unhappy, then they should stop. Because the people who always praise their looks on that social network, are they sure that they really love them and will always be by their side when needed like a relative?
When they know to wonder where their true worth lies, the meaning of life and existing relationships, lasting beauty and inner peace… then the need to chase after the aura will decrease.
Dr. Nguyen Vinh Quang believes that the problem will be partly solved when parents both take note of the financial need (of course, it must be legitimate) from their children, while playing the role of friends and spending time talking. and really listen to you.
The last important thing is that parents and schools need to try to "upgrade" their technology knowledge, be ready to become their "student" when needed because when they see the openness and demand from adults, they will You will feel comfortable sharing your joys and problems.
"The more time and spiritual values ​​children receive from the real world, the more children will gradually limit their time for social media or the virtual world," said Mr. Quang.