In a dignified and emotional atmosphere, comrades and comrades reviewed the learning, working and fighting process of martyr Nguyen Dinh Phuc and expressed their feelings, deep condolences, and bid farewell. doctor.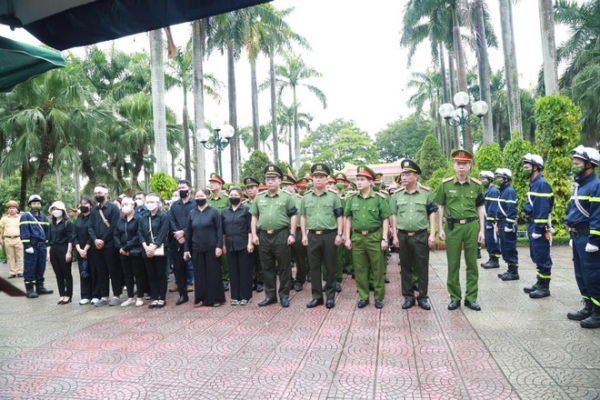 The martyrs rest in the infinite mourning of their comrades and people
Martyr Nguyen Dinh Phuc, born on May 17, 2003, was born in Ky Long ward, Ky Anh town, Ha Tinh province. Although the family situation was very difficult, anchored, his father died early, but the martyr was always independent, helped his mother in work and always tried hard to fulfill his dream of becoming a soldier of the People's Police.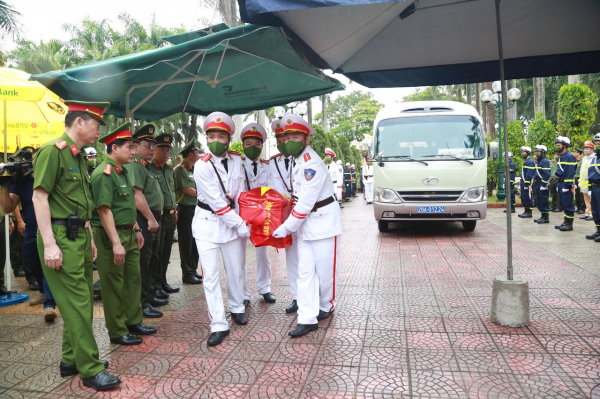 In February 2022, the martyr asked to reserve his academic results while studying in the first year of Hanoi University to volunteer to register to perform the police service and then accept his duties at the Fire and Rescue Police Team – National Police Department. Cau Giay district, Hanoi.
The martyr has shown himself to be a soldier with solid political courage; always try, explore, learn; overcome all difficulties and hardships; willing to accept and successfully complete assigned tasks, trusted and loved by superiors and teammates.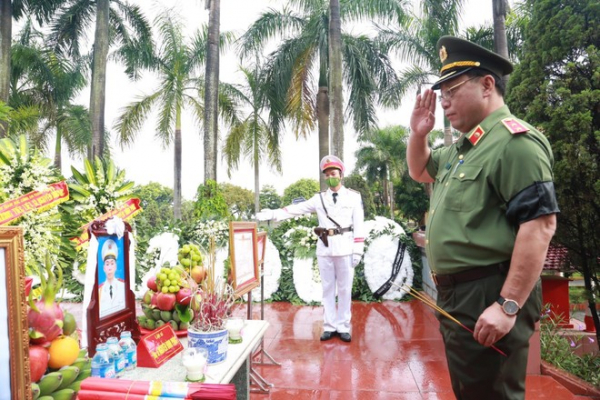 Receiving information about the fire occurring in Quan Hoa ward, Cau Giay district, on August 1, martyr Nguyen Dinh Phuc and his teammates quickly arrived at the scene. With a brave spirit, not afraid of danger, martyr Nguyen Dinh Phuc and Senior Lieutenant Colonel Dang Anh Quan, Captain and Lieutenant Do Duc Viet, officers of the Fire and Rescue Police Team – Cau Giay District Police performed their duties. scouting service, organizing fire fighting, guiding 8 people in danger to get out safely. When going to the 4th floor of the building to continue searching for victims, the ceiling collapsed, killing all 3 comrades.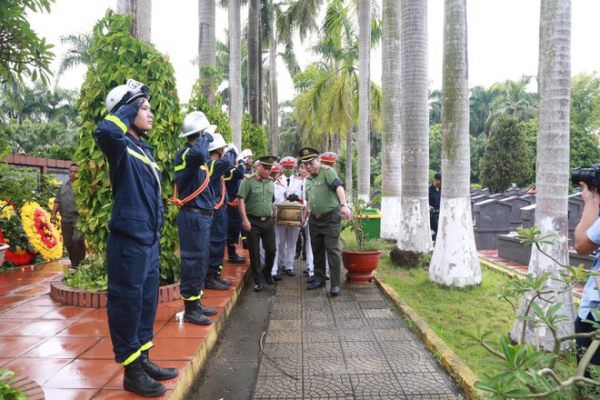 Martyr Nguyen Dinh Phuc was posthumously awarded the First Class Victory Medal by the President; The Prime Minister grants the "Fatherland attribution" Degree; The National Committee for Disaster Incident Response and Search and Rescue Posthumously awarded the Certificate of Merit; The Central Committee of the Ho Chi Minh Communist Youth Union posthumously awarded the "Brave Youth" Badge.