MOTHER AND SISTER MENTAL, THE STRONG BOY WITH HUNDREDS OF STRENGTH BUT I WILL NOT LET YOU OUT OF SCHOOL
Nguyen Van Hien (SN 1994) in team 14, Yen Loc, Y Yen, Nam Dinh grew up in a purely farming family. He has one brother and one sister. Hien's past and present is a series of sad and gloomy days that there is no way out.
I still remember the date of my father's death – April 26, 2011. At that time, Hien was studying in grade 12. That day was like the beginning of sadness, darkness and difficulties for the whole family.
"That day it was sunny, my father went to threshing rice. I came home from school and rode a bicycle to help my father. Dad told me to stop, let him carry the rest. That night, my father suddenly complained of a headache, then his limbs became paralyzed and he could no longer move. I massaged my limbs, asked my father how he felt, his father only said one sentence "If I die, you will suffer", and then my father will never wake up again. Hien recalled.
When he was 17 years old, the poor student had to take his father's car to the emergency room by himself, and then he pressed the pain to his father's eyes.
His father died early, his mother had just given birth to a baby, and his younger sister was still young, so Hien had to quit school to build and earn money to help his mother.
But suffering does not let go. After the death of her father for nearly 2 years, Hien's younger sister, Nguyen Thi Hang (SN 1997), suddenly fell ill with schizophrenia.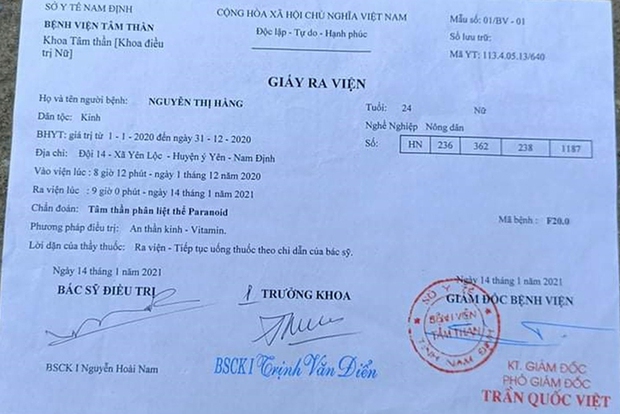 Every day, Hien goes to work to earn money while taking care of his sister in Nam Dinh Psychiatric Hospital.
Recently, Hien was building in Hanoi when his aunt from his hometown reported the bad news.
"My aunt called me and told me that my mother was sick and could not eat. I quit all work and asked for a leave to take my mother to the doctor. The doctor concluded that she was paranoid."
In the summary of the inpatient medical record from Nam Dinh Psychiatric Hospital, it is clearly stated that patient Bui Thi Thuy (SN 1973, Hien's mother) often had headaches, dizziness, anger, irritability, and anxiety all the time. afraid, or walking in confusion, fleeing to the corner of the house, the corner of the kitchen.
The patient talked alone without knowing the topic, always thinking that someone was watching and trying to harm him. Patients often lose sleep, sometimes sleep only 1 or 2 hours at night, sleep is not deep, eat poorly…
"For a while, my family continuously encountered unhappy things. My grandmother had a stroke and passed away, a year later my father also died suddenly, then my sister became mentally ill, now even my mother has a mental illness. ", When listening to the doctor read her mother's medical record, Hien seemed to completely collapse.
The builder's job is hard, the income is not much. Currently, Hien has to pay for medicine for his mother and mentally ill sister, and to pay for his brother's education in grade 8. That's why he rarely returns to his hometown. , both save travel costs, and take advantage to make money.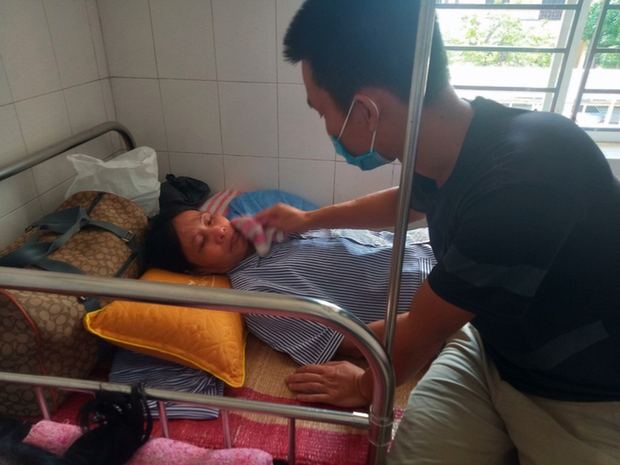 It is known that Hien's youngest brother, Nguyen Van Toan (SN 2008) is quite good, studies well, every year receives a certificate of merit, even a scholarship.
Mr. Dang Vu Khanh – head of village 14, Yen Loc: "Ms. Thuy's family is the most miserable in the region, everyone knows it for many years. Currently, Hien is the main worker, taking care of his mother and sister's mental illness and taking care of his school fees. the youngest is in 8th grade."
But since his mother got sick, he constantly asked his brother to let him drop out of school to earn money.
"The youngest brother often says, 'I'm going to drop out of school, then I'll let you help me out with you, but our family is too poor. It's too hard for me alone'. But I can't let him drop out of school. , no matter what, we must learn to relieve suffering"- Show share.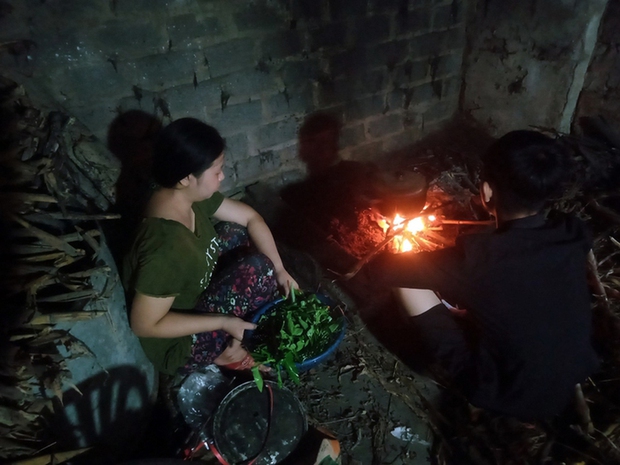 After school, Toan went home to prepare food for his sister who was mentally ill.
MULTIPLE SUPPORT FOR VU TO FIND NEW HAPPINESS, BECAUSE YOU DON'T KNOW WHEN THE SUFFERENCE ENDS
Talking about his own life, Hien used the word 'luck' because someone took it and now the couple has a 2-year-old daughter.
Even before they got together, Hien also told his wife about the family situation. But the wife at that time was a very sympathetic and loving girlfriend, so she decided to get married.
Hien's wife, from the Thai ethnic group in Dien Bien, went to Hanoi to work. They met and fell in love while working together.
Perhaps the most regretful thing about Hien is that he can't be by his side often, taking care of his wife and children. "Life is too hard, many times I also told my wife to find new happiness, but according to me like this, the suffering will never end. When the suffering is over, it will probably be the end of life. At that time she was silent. , didn't say anything," Showing his own story.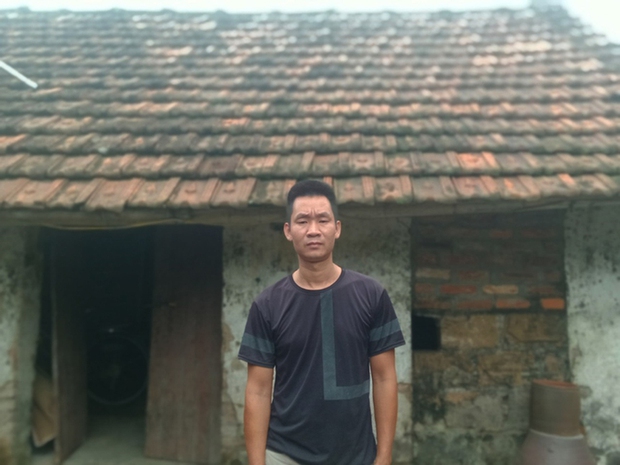 Currently, Hien's wife and daughter are staying at her grandmother's house in Dien Bien. The couple's plan is that, after weaning the child, they will find work together in Hanoi.
During the conversation with us, Hien talked a lot about the responsibility of being a son and being the eldest brother in the family. This guy always thinks 'try, try'.
"Although I know that the road ahead is still very difficult and difficult. But I will try my best so that in the future no matter what happens, I myself will not have to worry. I just hope that my sister has a daily pill to help with her illness; mother has money for hospital treatment; the youngest can continue to go to school."
Three brothers Hien, Hang, Toan in front of an old house that was built decades ago.
We sincerely hope that Hien, his mother and brothers will have a good relationship and meet many good people to help.
All donations, please send directly to the address: Nguyen Van Hien, team 14, Yen Loc, Y Yen, Nam Dinh.
Account number: 109876828134. Vietinbank North Nam Dinh branch. Account holder Nguyen Van Hien.
Hien phone number: 0779256676.