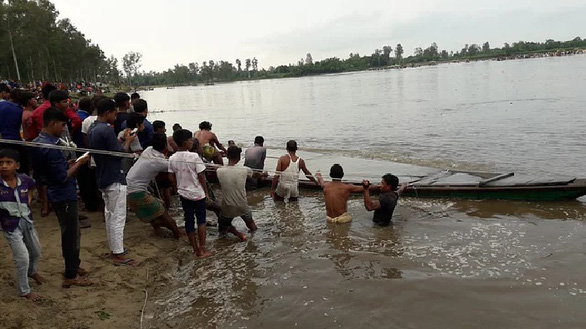 Local people participate in a rescue operation on the Karatoya River on September 25 – Photo: DAILY BANGLADESH
The ferry sinking occurred on the Karatoya River in Panchagarh district, northern Bangladesh on the afternoon of September 25.
According to Jahurul Islam, an official in Panchagarh district, there are 12 women and eight children among the bodies recovered so far.
Currently, the operation to rescue the missing people is still continuing with the participation of local people.
Reuters news agency quoted Islam as saying that the exact number of people missing was unknown, but more than 70 people were on the ferry.
Meanwhile, police said about 30 people were still missing while some passengers were able to swim to shore. Body identification is underway.
The ferry crashed while taking devotees to a Hindu temple.
By page Daily Bangladesh, The ferry began to sway not long after leaving the dock. The driver is said to have tried to bring the ferry back to the dock but was unsuccessful.
Hundreds of people die each year in ferry accidents in Bangladesh because of lax safety standards, given the country's low-lying terrain and interlaced river system.
At least 26 people were killed last April, after an overloaded ferry collided with a cargo ship and sank in the Shitalakhsya River, outside the Bangladeshi capital Dhaka.