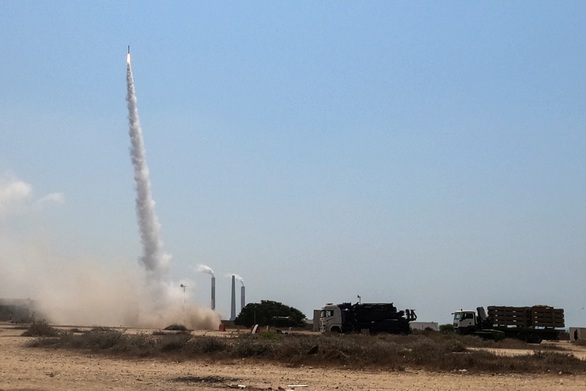 Israel's "Iron Dome" missile defense system fires to intercept a rocket launched from the Gaza Strip towards Israel on August 6 – Photo: REUTERS
According to AFP news agency, the tense situation in the Gaza Strip prompted Russia to call for maximum restraint from all sides. Violence there has escalated to its worst level since the Israeli-Palestinian conflict in 2021.
Russian Foreign Ministry spokeswoman Maria Zakharova said Moscow was monitoring the situation with "deep concern".
"We call on all parties concerned to show maximum restraint. The recent escalation was caused by the Israeli military's attack on the Gaza Strip on August 5, and Palestinian groups responded with carry out large and indiscriminate shelling of Israeli territory," Zakharova said on August 6.
Tensions in the region escalated after Israeli airstrikes on targets in the Gaza Strip on August 5 left at least 10 Palestinians dead and 80 injured.
Among the dead was Taysir al-Jabari, commander of the Saraya al-Quds armed wing of the Palestinian Islamic Jihad (PIJ). According to Reuters news agency, The PIJ is a militant group allied with the Hamas movement.
Israel said it was forced to launch a "pre-emptive" offensive against the PIJ because it was planning an attack after days of tension along the Gaza Strip.

On August 6, Israel continued to attack the Gaza Strip with deadly air strikes. Meanwhile, Palestinian militants retaliated with a barrage of rockets fired towards Israeli cities.
According to Reuters news agency, Palestinian militants fired at least 160 rockets across the border, causing air raid sirens to sound and people running to bomb shelters in the city of Modiin (central Israel) in the middle of Tel Aviv. Aviv and Jerusalem.
In May 2021, an 11-day conflict between Israelis and Palestinians in the Gaza Strip devastated the densely populated strip of land.
Balloons spark tension in Gaza