Doctors from the Department of Plastic and Aesthetic Surgery, Post Office Hospital (Hanoi City) said that they had just received a 38-year-old female patient for examination and treatment in a state of erection on both breasts, the left breast was already swollen. There are signs of necrosis about to burst, the right breast begins to show signs of skin necrosis.
On clinical examination, the doctor noticed that the patient's chest area was deformed, there were many hard areas to touch, the chest skin was thin, sticky and red. Previously, the patient was injected with fillers of unknown origin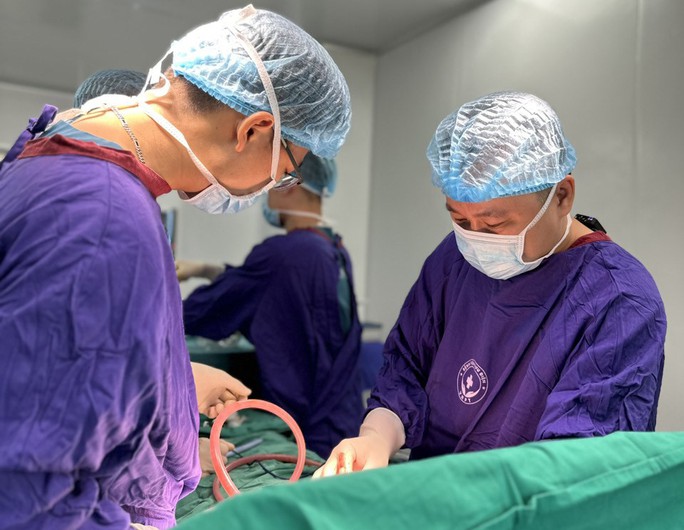 The doctor treats the injury to the patient who injects filler for breast augmentation
The patient said that she had read an advertisement online about a painless, non-surgical breast augmentation before, so she went to a spa in Hanoi to "upgrade" her breasts after two births. Here, after being consulted, she decided to spend more than 20 million VND for breast augmentation with filler injections.
"At first, I noticed that my breasts also changed, but only a month later, my breasts began to show signs of pain and erection, so I had to constantly take antibiotics because every time I stopped taking the medicine, my breasts became swollen and painful," the female patient shared. with the doctor.
The patient said that she had injected fillers for 5 months and the swelling, pain, and redness appeared increasingly severe for about 1 month now.
Doctor Hoang Manh Ninh, Head of Plastic and Aesthetic Surgery, Postal Hospital, said the results of chest MRI and examination showed that the patient had an abscess and necrosis of breast tissue on both sides. Because the patient's chest had an abscess, the doctor had to intervene to remove and inject pus to clean the organization, remove inflammation, necrosis and filler of unknown origin.
On the afternoon of September 27, the patient was operated on to treat the lesion. The intervention lasted 1.5 hours. The patient is currently being monitored at the hospital. However, according to Dr. Ninh, with cases of complications caused by filler injection, it is often necessary to follow up for a long time to be able to assess whether it is stable or not.
According to Dr. Ninh, injecting filler is effective quickly, but only suitable for small areas such as nose, chin, cheeks, lips, ears…, not suitable for buttock and chest augmentation. Particularly, the breast area is a sensitive place, when injecting filler in large quantities, it can cause embolism, infection and affect the milk glands.
In addition, if the client injects filler of unknown origin, it can have many serious consequences such as arterial occlusion, hemorrhage, necrosis causing deformity, even permanent damage to some functions and death.