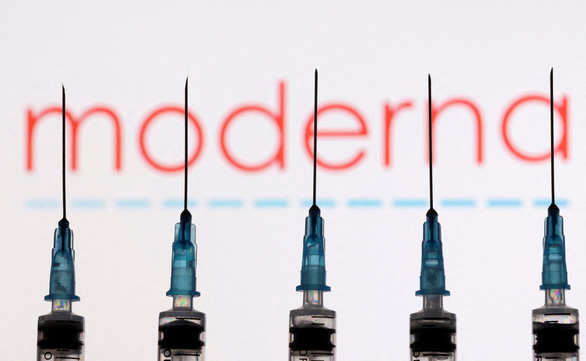 Pharmaceutical companies are in competition to adapt COVID-19 vaccines against new variants – Photo: REUTERS
According to Reuters news agency on August 15, the UK's Medicines Regulatory Authority (MHRA) has approved a new COVID-19 vaccine produced by US company Moderna as a booster shot.
This vaccine has been redesigned to be able to both work against the original strain recorded in 2020 and target the Omicron variant (BA.1). According to Reuters, the UK is the first country to approve this type of 2-in-1 COVID-19 vaccine in the world.
The MHRA's decision was based on clinical trial data showing that the vaccine induces a "strong immune response" against both Omicron (BA.1) and the SARS-CoV-2 virus (original version). The vaccine also induces a "good immune response" against the currently predominant Omicron subtypes BA.4 and BA.5.
The UK's Joint Committee on Immunization (JCVI) is expected to make recommendations soon on how the 2-in-1 vaccine should be administered in the UK.
"The first generation of COVID-19 vaccines in use in the UK continue to provide vital protection against COVID-19 and save lives," MHRA chief executive June Raine said. know in a statement.
However, Ms. June Raine described Moderna's new vaccine as giving Britain a sharp weapon to fight the virus for a long time as they mutate.
There are still debates about whether it's too early to adjust the vaccine. In Europe, the European Medicines Agency has said it is ready to accept a vaccine adapted against the original strain and Omicron for a booster injection campaign this autumn.
However, in the US, authorities want vaccine manufacturers to add two extra strains of Omicron to the new vaccine to increase long-term protection.
Demands from governments are pushing pharmaceutical companies like Pfizer, Moderna into new competition. It is a race to see which company will create a vaccine that can fight against many variants of SARS-CoV-2 at the same time.