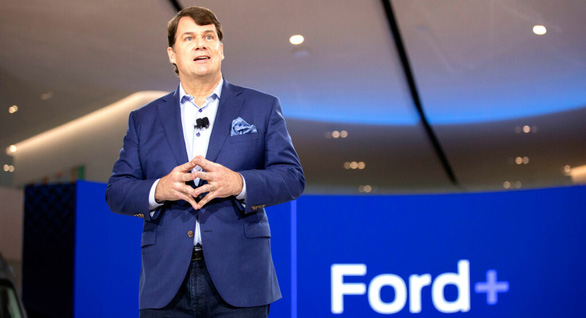 Ford is being criticized by US users quite fiercely for letting dealers push prices up too high – Photo: Carscoops
Two factors that he thinks need to change immediately are the sales and advertising systems. "The car price is fixed without deviation, 100% of the process can be done online. Dealers do not need to store their own vehicles, assembled cars will be delivered directly to users from the factory" is important. Ford leader's point.
"I think the dealer system (of Ford – PV) can do this, but the new standard will be very different, different from what we have now."
The Ford CEO also commended Tesla and Chinese automakers for the above direct customer approach, saying that this approach helps them save a lot of money on warehousing. Before, Detroit Free Press quoted Ford estimating that for each vehicle shipped, it lost more than $2,000 in storage and advertising costs.
A Ford kiosk in the US – Photo: Carscoops
The fact that the F-150 Lightning and Mustang Mach-E were so successful without much advertising made the Ford CEO believe that they shouldn't spend a lot of money on promotional elements (such as the show during the Super Bowl stoppage time). crowd), but should use the money to build closer relationships with users, thereby convincing them to return to Blue Oval to buy their next car.
"We spend $600 to $700 on advertising for each vehicle, while the amount spent on improving the aftermarket user experience is zero," he admitted. In addition, ensuring the quality of vehicles from the factory also promises to help the company reduce repair or recall costs in the long run.
With the model targeted by CEO Jim Farley, their dealers will focus on specialized services rather than "just a place to sell cars".