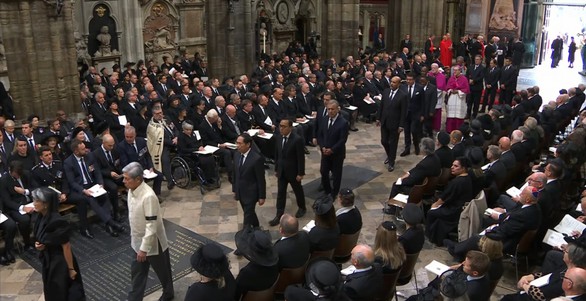 Foreign Minister Bui Thanh Son (middle) at the funeral of Queen Elizabeth II – Photo: SKY NEWS
According to information from the Ministry of Foreign Affairs, Minister Bui Thanh Son attended the ceremony to pay respects to the Queen's casket, the welcoming ceremony for representatives of countries chaired by King Charles III at Buckingham Palace on the evening of September 18 and the reception ceremony for the Queen's coffin. It was chaired by UK Secretary of State for Foreign Affairs and Development James Cleverly at Westminster Abbey on September 19.
Within the framework of the national funeral of Queen Elizaberth II, Foreign Minister Bui Thanh Son had a meeting with King Charles III, Prime Minister Lizz Truss and many new cabinet members of the British Government.
Minister Bui Thanh Son sent condolences from the Party, State and Government senior leaders to the King, members of the Royal Family, Government and People of the United Kingdom.
The Minister highly appreciated the Queen's great role in the development of prosperity and status of the United Kingdom; emphasizing the Queen's precious support in promoting Vietnam – UK cooperation; We hope that the Royal Family and the British Government will continue to lead the UK in developing and supporting the promotion of the bilateral strategic partnership, in the context that the two countries will celebrate the 50th anniversary of the establishment of diplomatic relations in 2020. 2023.
Minister Bui Thanh Son also had exchanges and contacts with a number of leaders of countries attending the Queen's Funeral.
Queen Elizabeth II has the longest reign in UK history (70 years, 1952-2022). The Queen passed away on September 8, 2022 at the age of 96, at Balmoral Palace, Scotland.
With the Queen's role and great contributions to the prosperity of the United Kingdom throughout its history, the United Kingdom holds a 10-day national mourning period (September 19 – September 19) right after the Queen's arrival. The emperor died and held an official funeral on September 19 at Westminster Abbey, London, UK.
The Queen's funeral began at Westminster Abbey at 11am (17h Vietnam time) with the participation of about 2,000 people.
After the end of the funeral, the Queen's coffin was moved to Windsor Castle, and then to St George's Chapel, her final resting place. The funeral ceremony starts at 4 pm (22 pm Vietnam time), lasts about 45 minutes.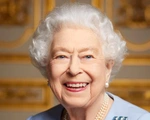 Britain bids farewell to the Queen on September 19