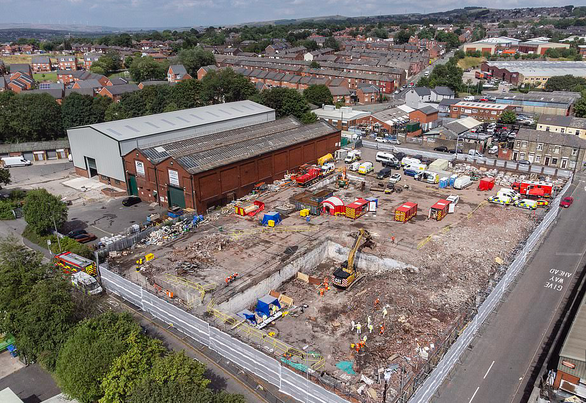 The scene of the fire is being fenced off to search for missing people – Screenshot of Daily Mail newspaper
On August 6, the Foreign Office provided more information to the press about the incident, two days after the UK announced that it had found a third body at the scene of an abandoned factory fire in Oldham in May 2022. .
Earlier information in the British media said that four bodies suspected of being Vietnamese were discovered at the scene. According to the newspaper Manchester Evening Newswhere the fire was suspected by authorities to be a cannabis farm.
British police said this factory before the fire was an abandoned place and on August 4, only 3 bodies were found. It is not clear whether the above bodies are three of the four Vietnamese reported missing in the UK.
However, according to the Foreign Office, the British police officially asked the Vietnamese side to assist and coordinate in identifying and verifying victims with specialized techniques.
According to the Ministry of Foreign Affairs, after finding the families of four Vietnamese citizens reported missing, the Vietnamese Embassy in the UK provided the local authorities with necessary information for verification.
On August 4, British police said they had contacted relatives in Vietnam of the four missing people and announced their identities and travel and contact history while in the UK.
The four missing Vietnamese include: Chu Van Cuong (39 years old), Nguyen Van Uoc (31 years old), Nguyen Van Duong (29 years old) and Le Thanh Nam (21 years old).
According to British police, Mr. Chu Van Cuong came to the UK from June 2019 and remained in regular contact with his wife and children until before the fire occurred on May 7.
Nguyen Van Uoc's wife also said that she had not heard from her husband since May 7. In the call home on May 7, Mr. Uoc said he was in the factory.
Nguyen Van Duong came to England about 12 months ago and the last contact with his family was about 3 months ago. Duong told his family he was living in an "abandoned house" and was looking for work.
Le Thanh Nam also called home on May 4, saying that he was in "a derelict house" and still looking for work after arriving in the UK in January this year.
The Vietnamese Embassy in the UK and the Consular Department affirmed to closely monitor the case and actively coordinate with the authorities of the two countries to promote the process of victim identification.
In case the above bodies are confirmed to be Vietnamese, the Embassy and Consular Department will arrange the post-mortem and request the British side to soon investigate the cause of the incident, ensuring the lawful rights and interests of the public. people.