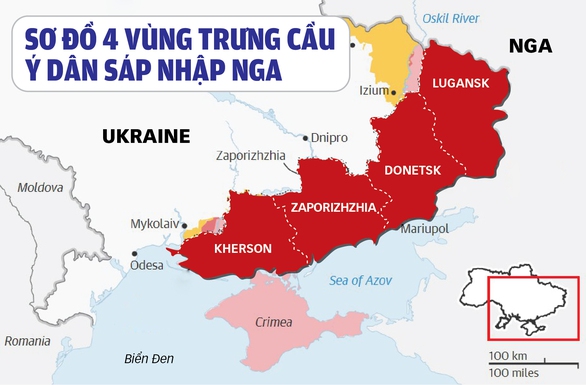 Source: Guardian – Institute for the Study of War (ISW). Synthesis: Minh Khoi – Graphics: TUAN ANH
The Kremlin has so far made it clear that it will support the annexation of regions in Ukraine to Russia, even though Western countries have said they do not recognize the referendum result.
The merger means that any military action against those areas is considered an attack on Russia. This is a signal that the war may develop unpredictably in the near future.
At this moment, we are really at war with the West, with NATO.
TASS news agency quoted Russian Defense Minister Sergei Shoigu as saying on September 21.
15% of Ukraine's territory
Earlier this week, the two People's Republics of Donetsk and Lugansk announced they would hold a referendum on joining Russia from September 23 to 27. The two regions Russia is partially controlling, Kherson and Zaporizhzhia, will also vote at the same time, in which Zaporizhzhia will have the results right on September 28.
These regions make up about 15% of Ukraine's territory. Russia controls about 60% of Donetsk and 73% of Zaporizhzhia.
People in these regions will vote to answer a "yes" or "no" question to the secession of Ukraine and the annexation of Russia. Russia's Central Election Commission will also support the referendum. Russia will open dozens of polling stations in Russia to those who have been evacuated from the four regions, as well as send supervisors and support equipment, Tass news agency quoted Nikolay Bulayev, vice chairman of the commission, as saying. for those points.
Dmitry Medvedev, former president and now vice-chairman of Russia's Security Council, made it clear that Moscow could use nuclear weapons to defend the aforementioned territories if it chose to merge.
"Not only the mobilization of troops, but any Russian weapon, including strategic nuclear weapons and weapons based on new principles, can be used to defend these regions," the news agency said. Reuters quoted Mr. Medvedev as saying on September 22.
Ukraine and the West have repeatedly criticized the referendums as fake votes and, of course, will not recognize the referendum results. United Nations Secretary-General Antonio Guterres also expressed concern that a country's threat or use of force to annex another country's territory violates the UN Charter and international law.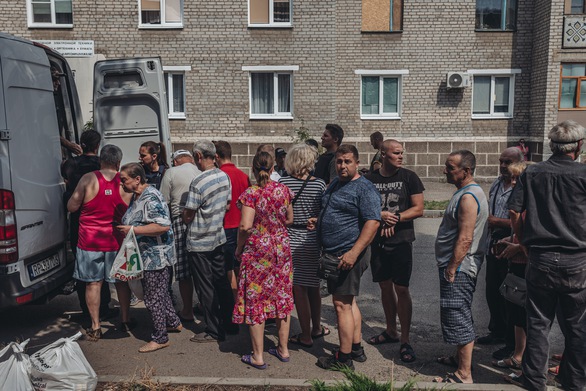 People wait in line to receive humanitarian aid in the city of Bakhmut in the Donetsk region in Ukraine on August 13 – Photo: AFP
Escalation of war
According to analysis by Western media, the annexation of Ukrainian territories will give Russia more reason to respond strongly after stepping back on the battlefield in recent weeks. And this is a signal that the war will escalate. On September 21, Putin announced a partial military mobilization to add about 300,000 soldiers with combat experience.
Putin explained that Russia is facing "almost the entire military apparatus of the West" and that the goal of the military operation in Ukraine is "to liberate the entire Donbass territory". Russian Defense Minister Sergei Shoigui said the mobilization of troops was aimed at ensuring control of the newly annexed territories.
According to Western military analysts, this will not create an immediate change on the battlefield because it will take weeks, or even longer, to mobilize and train ready soldiers.
The escalation of the war risks a military confrontation between Russia and NATO, a prospect that US President Joe Biden says could lead to World War 3. The West insists that it will support weapons for Kiev and agreed to draft new sanctions against Russia.
"Putin has bet on escalation. These referendums are clearly Russia's ultimatum to Ukraine and the West," said Tatiana Stanovaya, an expert at the R. Politik Analytical Organization, on Radio al. Jazeera.
The negotiating door is closed
Addressing the United Nations General Assembly on September 22, Ukrainian President Volodymyr Zelensky ruled out the possibility of negotiations with Russia. "They said they were ready to negotiate, but they announced military mobilization, announced a referendum," Zelensky said.
In contrast, Tass news agency quoted Leonid Slutsky, Chairman of the State Duma Foreign Affairs Committee (lower house) of Russia, as saying that the negotiation process has been irretrievable and will become more hopeless after the annexation of regions in Ukraine.
But some still believe that Russia's current goal is to press for a peace agreement, not with Ukraine but with the West. "If there is any negotiation, it will be with the West, not Kiev," said Andrei Kortunov, director of the Institute of Russian International Affairs Council.
The Ukraine issue heats up the United Nations
The United Nations General Assembly session in New York (USA) is taking place and issues surrounding Ukraine are discussed a lot.
According to Tass news agency on September 22, in a speech, the new British Prime Minister Liz Truss announced that Britain would continue to support Ukraine until it won. Ukrainian President Volodymyr Zelensky also delivered a video address to the United Nations General Assembly on September 21, mainly criticizing Russia's military campaign in Ukraine. The Russian delegation was also present in the meeting room when Mr. Zelensky spoke.
Meanwhile, the foreign ministers of the European Union (EU) countries held an emergency meeting at the end of September 21 in New York. The EU's high representative for foreign and security policy, Josep Borrell, said the bloc was considering new sanctions against Russia.
In addition to the Ukraine issue, tensions between the US and Iran also attracted attention at the meeting. The two sides clashed over security and human rights issues on September 21, when Iranian President Ebrahim Raisi asked the United States to make commitments to restore the 2015 Iran nuclear deal, and US President Joe Biden declared. Tehran's father will never have an atomic bomb.
PEACE