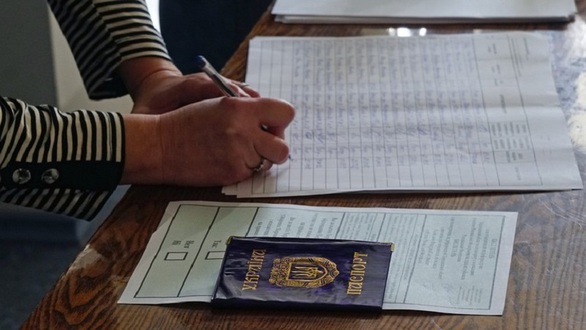 Register to vote on the referendum on annexation to Russia at a polling station in Kherson region, Ukraine – Photo: SPUTNIK
The self-proclaimed Donetsk People's Republic (DPR) and self-proclaimed Lugansk People's Republic (LPR), Kherson region and part of Zaporizhzhia region in southern Ukraine voted to join Russia in referendums held by held from September 23 to 27, according to Radio Russia Today.
In Lugansk, more than 98% of voters support annexation to Russia, according to the count after counting all the votes. Donetsk gave similar results with more than 99% support. Both Kherson and Zaporizhzhia regions also completed the vote count late on September 27, with the results of 87% and 93% respectively in favor of merging with Russia.
Earlier, in a meeting with officials broadcast on television, Russian President Vladimir Putin said that "saving the people of the territories where this referendum is taking place comes first, and is the focus of the attention of the whole society and our whole country."
Putin also reiterated Moscow's position that the referendums are ultimately meant to protect local people and bring peace to the region.
The Russian leader has said that Moscow will support any outcome, and will welcome the regions if they vote to join Russia. Moscow has also signaled that if the four territories above agree to join Russia, it will treat any attack on these areas as an attack on Russian territory, and will respond in self-defence.
The process of merging new regions into Russia will take some time because it needs to be approved by the Russian parliament and the president. However, last week Kremlin spokesman Dmitry Peskov said he "believes the process will be fast enough".
Ukraine and its allies say they will not recognize the results of these referendums. Ukraine and the West consider all Ukrainian territories controlled by Russian forces as illegal occupation.
On September 27, Ukraine's President Volodymyr Zelensky said Kiev would protect its citizens in Russian-controlled areas, calling the referendums "a farce", according to AFP news agency.
Zelensky also said that the completion of the referendum means that Kiev will not negotiate with Moscow.