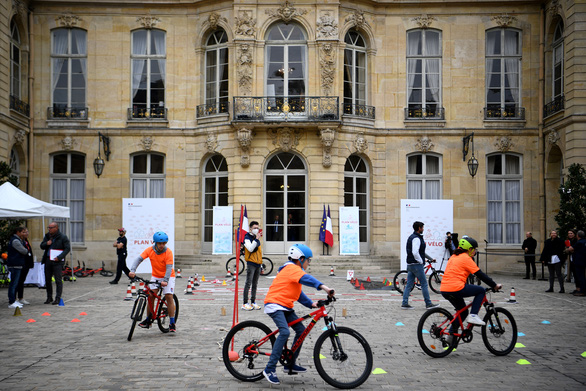 An event encouraging children to cycle is held in Paris on September 20 – Photo: AFP
Prime Minister Elisabeth Borne, who initiated the plan when he was transport minister, said on September 20 that France will spend an additional 250 million euros ($247 million) in 2023. The money will be used for development. adding bike lanes, building rider-friendly infrastructure, projects that encourage residents like teaching elementary school students to ride bikes.
"We want to make bicycles a real means of transport, not just for relaxing," French Transport Minister Clément Beaune told the newspaper. The Parisian. He explained it is also important when the government is having to support a lot of car drivers and subsidize fuel prices.
At the start of this plan in 2018, France spent 350 million euros ($346 million) and then added 150 million. The government says the plan has achieved great success, building 14,000km of bike paths, helping more than 170,000 young people learn to ride a bike, and the bike will be the best-selling vehicle in France by 2021.
Prime Minister Borne said France will emphasize the importance of bicycles when hosting the Olympic and Paralympic Games in 2024.