Senjoy playing games in class
One hour of Math class for 2nd grade students, primary school in Hanoi, the teacher passionately lectured, many students raised their hands to speak, no one knew in the back corner of the class, Minh Khoi hid his hand under the computer desk drawer. .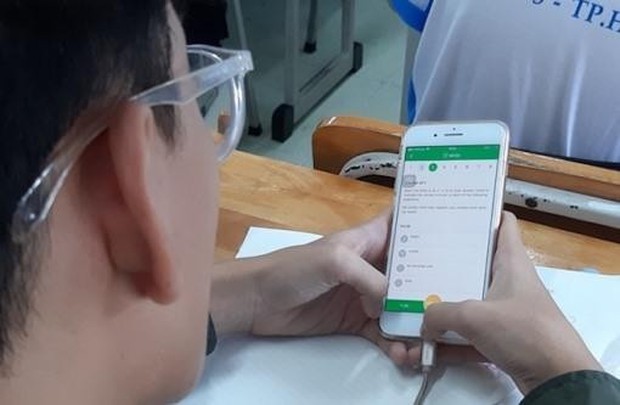 How much time students use cell phones in class for learning purposes is a difficult question to answer.
At the beginning of the school year, Khoi's parents bought their children a "brick" phone and were quite reassured because the device only had the function of listening, calling and texting. However, in it, Khoi can play a video game called "snake". I hung my head down and played passionately until the end of the time without knowing what the teacher was teaching. On the podium, the teacher is also busy lecturing, asking questions and interacting with many other students. A class of more than 50 students, it is difficult for the teacher to observe and pay attention to every child.
Ms. Thu, Minh Khoi's mother complained: "At home, my children don't concentrate on studying. Parents are busy with work, often come home after 7 pm. Therefore, the family has to hire a tutor to accompany their child to study every night at a low price. 200,000 VND/session. There is no tuition fee to attend a public elementary school, but the family has to spend up to 6 million VND on tutoring a month. do not complain", Ms. Thu said.
At the beginning of the school year 2022-2023, Gia Hung, a fourth grader this year at another primary school in Cau Giay district (Hanoi), asked his mother to let him use a phone with the reason: "The whole class has almost all phones. already. Many of you can also buy iphone, samsung to take pictures, go online to play while waiting for your parents to pick you up so you don't get bored". Gia Hung's mother had to use a lot of arguments to convince her son to become a "rare case" in the class that did not use phones in elementary school.
Ms. Nguyen Thu Ha, whose children are in primary and secondary schools in Hanoi, said that up to this point, she still has not allowed her children to use mobile phones for many reasons, of which the biggest concern is the fear that her child will become addicted to the device. electronics, distract from learning. Even though I know, when I give my child the phone, at the end of the day, it will be more convenient for me to call and know where my child is at school to pick him up.
Many days, when I am out of school, I wait for my parents for too long, I go to the football field or some corner with my friends, I find myself sweating. One day I looked for my child for more than 30 minutes, went around the school yard, and finally had to ask the teacher at the office to call the speaker to announce. Learning from experience, she told her children, after school only play in a certain area to wait for their mother to pick them up.
"I am determined not to give my phone to my child even if he asks for it. At home, my child can use the computer to study online or find materials for learning, even listen to music and play entertaining games under the supervision of children. parental supervision," Ha said.
Mom shocked because 6th grader watched adult movies
Handing over the phone to her child early, Ms. Dang Thi Van An in Ba Dinh district (Hanoi) was still shocked when she discovered that her children were watching adult movies. The information was only revealed when by accident, she read the text of her son's messages with friends in a closed group. "My son in 6th grade with me is still very young and innocent. The whole family of 4 still sleeps in 2 beds in the same room, so I couldn't believe that my children could learn and watch adult movies by themselves. I was shocked, I didn't know how to open my mouth to talk to my child," An said.
Ms. An said that the first phone her son used was in 3rd grade. At that time, she changed her phone, so she gave her son the old phone with a simple thought and at the end of the day called to pick up the child for convenience. Sometimes when I check, I see nothing suspicious on the phone, so I don't mind. Until 5th grade, I was given a fairly new smartphone. The phone becomes your child's own personal object and has its own set of passwords.
In grade 6, the middle school teacher began to complain about the lessons, when the child fell asleep, showed signs of fatigue, and lay down on the table while the teacher lectured. The teacher called and asked if the child did not cooperate, did not remember the lesson learned. Teachers ask families to tutor and have solutions to support children's learning better.
When the child sleeps, I secretly read the messages and the history of the website I use, I watch adult movies on many pages. In the private chat group with friends, I did not hesitate to swear, share the story of having a girlfriend and holding hands and kissing after school. Worried that her child would fall in love, An "taught" a tantrum and punished her by confiscating her phone. However, using electronic devices for a long time, after being confiscated, children were taciturn, opposed, closed the door of the room, did not communicate with their parents. One day, I sneaked to the internet room outside to go online to talk and play games.
"Stunned, stuck and did not know how to solve my problem, I went to a psychologist to ask for advice to save my child. If I leave it like that, I will be spoiled," An shared.
Article 37, Circular 32 of the Ministry of Education and Training's Charter of Middle and High Schools also stipulates the behaviors students are not allowed to do, including the content: "Using mobile phones and other devices while studying on the Internet. class is not for learning and is not authorized by the teacher".
Handing over phones to children from elementary and middle school is probably what many parents are doing. The Ministry of Education and Training also does not "forbid" the use of mobile phones by students at school. The Circular even allows students to use cell phones for classroom learning if allowed by the teacher, so many students have more excuses as well as the need to use phones.
However, in fact, students use phones for what purpose, for how long is very difficult for parents to control.