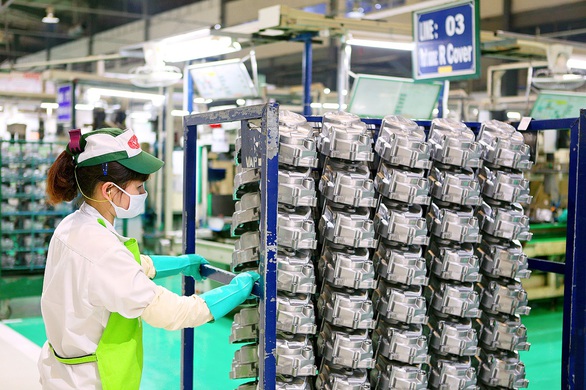 Geleximco is a member of a joint venture to invest in a factory manufacturing auto parts, motorbikes in Vietnam, in Hung Yen – Photo: GL
But so far, the leadership has not decided, so the group is not sure which car company will cooperate with to manufacture and assemble cars, he added.
Like Youth Online Recently, Geleximco Group signed an agreement to lease 50 hectares of land and infrastructure in Tien Hai Industrial Park, Thai Binh province of Viglacera Corporation to invest in and build a factory for manufacturing and assembling cars.
Geleximco automobile manufacturing and assembling factory in Thai Binh has a total investment capital of 800 million USD, divided into 2 investment phases.
Phase 1 of the project has an investment of about 300 million USD, is expected to be built in the first quarter of 2023, put into operation in the third quarter of 2024, with an assembly output of about 50,000 cars/year.
In the second phase, Geleximco will expand its investment in an automobile assembly plant with an additional investment capital of about 500 million USD. The expansion of investment in this phase of the factory is expected to be put into operation from 2030, with an assembly output of about 100,000 cars/year.
Previously, Geleximco had a joint venture with Honda Motor and a number of other enterprises to invest in a factory producing Vietnamese auto and motorcycle parts (VAP) in Nhu Quynh town, Van Lam district, Hung Yen province.
And if Geleximco cooperates with Chery to build an automobile assembly plant in Tien Hai, Thai Binh, this will be the first Chinese car assembly project in Vietnam.
Chery is currently China's largest automobile exporter, in the first 7 months of the year, Chery Group exported a total of 198,859 cars. Up to now, Chery car company has registered the copyright of 3 models in Vietnam including: Omoda 5, Tiggo 3X Plus, Arrizo 6.
Coinciding with Geleximco's plan to assemble cars in Tien Hai, Thai Binh, in early September 2022, a representative of Chery Automobile said that the company wants to sell cars assembled in Vietnam, the plan to sell the first product is expected. expected in 2023.
Before Chery, many Chinese 4-seater car brands such as: BAIC, Hong Ky, Brilliance…, were sold in Vietnam through domestic distributors. The showroom system of Chinese automakers is only concentrated in Hai Phong, Hanoi and Ho Chi Minh City.