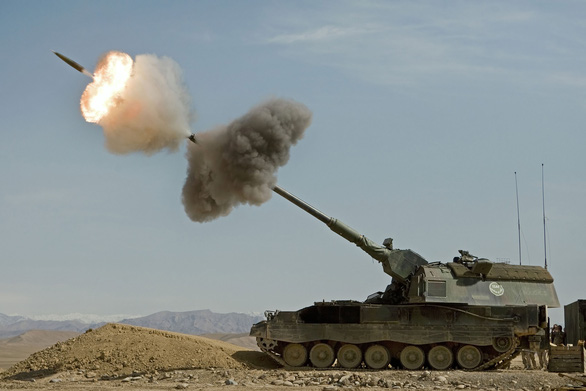 German self-propelled gun Panzerhaubitze 2000 – Photo: Wikipedia.org
Reuters news agency quoted Ukraine's Defense Minister Oleksii Reznikov as saying that the German batch of Panzerhaubitze 2000 self-propelled howitzers had "finally" reached Ukrainian soldiers, also the first batch of heavy weapons Germany delivered to Kiev.
The Panzerhaubitze 2000 is the most powerful gun in Germany's arsenal, capable of hitting targets up to 40km away, according to Radio DW (Germany).
Germany's Change
Mr. Reznikov thanked and took the opportunity to praise his German counterpart Christine Lambrecht. "Panzerhaubitze 2000 has finally joined Ukraine's 155mm howitzer stockpile," he wrote on Twitter, calling it "an example of international cooperation in support of Ukraine".
In the list published by Germany above, in addition to the self-propelled artillery system, there are also 14,900 anti-tank mines, 500 STINGER anti-aircraft missiles and 2,700 anti-aircraft missiles, according to the German Defense Ministry.
Along with light weapons and other equipment, Berlin provided Ukraine with 16 million rounds of ammunition, 100,000 grenades, 175 trucks, 23,000 mortars, 10,000 sleeping bags, 1,200 hospital beds and 100 tents. . Notably in this list, there are 30 Gepard tanks and 3 MARS II missile launchers but have not been delivered.
The new move reflects the change in attitude of the German Chancellor Olaf Scholz's administration, after a lot of criticism about Berlin's failure to act quickly and decisively enough to support Ukraine sooner and more.
Due to its dependence on gas from Russia as well as restrictions since World War II, Germany initially only supported Ukraine with non-lethal weapons and equipment.
The Ukrainian government has repeatedly called on the West to increase military aid over the past time, when the situation on the battlefield is proving unfavorable for them.
Russian forces are slowly but surely pushing toward western Ukraine, after seemingly taking control of most of the Donbass region. Kiev says it needs 1,000 howitzers, 500 tanks and 1,000 drones "immediately" to stop the Russians.
Mr. Scholz told the German parliament that the decision to supply Ukraine with heavy weapons was "right and necessary in the current situation". He affirmed that Russia must end the war and emphasized Ukraine's right to exist: "Everything we do is aimed at that."
Facing a recession
However, if the war drags on, the losses to Germany itself will also grow larger. The German Association of Industrial Manufacturers (BDI) on June 21 forecasted the risk of recession if Russia stopped supplying gas completely.
The EU currently imports 40% of its gas needs from Russia, and for Germany alone 55%. The BDI reduced its forecast for Germany's economic growth in 2022 from 3.5% to 1.5% when the war broke out. They now add that a recession will be inevitable for Europe's largest economy if Russia stops supplying gas altogether.
That's why German Economy Minister Robert Habeck last weekend announced that Germany would have to limit the use of gas for electricity production and return to using more coal "during the transition period", that is, before there is a switch to clean energy sources.
Mr Habeck warned that the coming winter would be "quite severe" if Germany did not take action to deal with the fuel shortage. "It's bitter, but reducing gas consumption is almost imperative now," said Habeck, a Green Party member of the governing coalition.
Last week, Russian state-owned gas company Gazprom announced that it would further limit supplies through the Nordic Line 1 system – which carries gas from Russia to Germany via the Baltic Sea – "for technical reasons", namely due to technical reasons. delay in receiving equipment from German company Siemens Energy. Mr. Habeck denied that claim and said Moscow acted for political reasons.
However, Gazprom CEO Alexei Miller said Russia will play by its rules after the company has halved its supply to Germany.
"Our product, our rules. We don't play by the rules we weren't written to," Mr. Miller said at the St. Petersburg, still known as Russia's Davos, took place last week, according to The Moscow Times.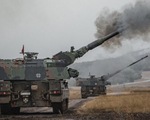 Germany sends first batch of heavy weapons to Ukraine

H. MINH