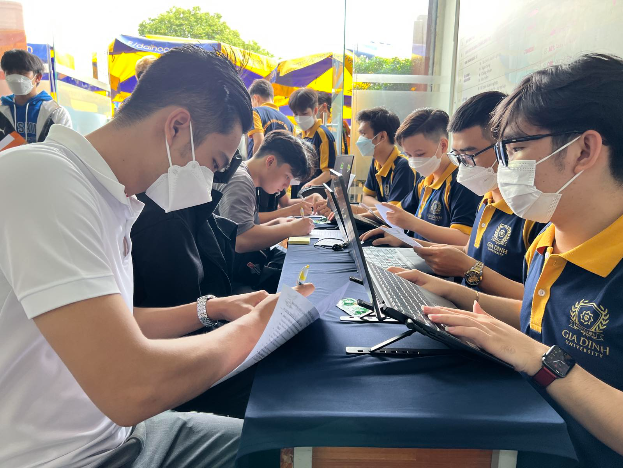 New students apply for admission to Gia Dinh University on September 22, 2022. Photo: Female Nguyen
20% off when paying full course fees
In 2022, the tuition fee for Gia Dinh University's mass program ranges from 7.5 to 12.5 million VND/semester depending on the major and does not increase during the study period. In particular, to welcome new students, GDU also applies many "terrible" incentive programs.
When applying for admission, students who pay tuition fees for 8 semesters will receive a 20% discount – equivalent to VND 20 million. That is, for majors with a tuition fee of 12.5 million VND/term, the full course fee is 100 million VND, reduced to 80 million VND.
For 5 majors of talent program (Information Technology, Business Administration, International Business, Marketing, English Language); New students who pay the full course fee will receive a 20% discount – equivalent to 40 million. At this time, parents and new students only pay 160 million VND for the whole course.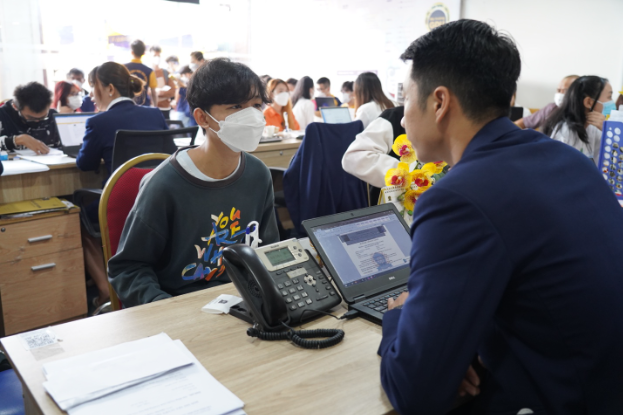 Experts from Gia Dinh University guide new students to complete admission procedures. Photo: Female Nguyen
Ms. Nguyen Thi Hau – parent of new student Huynh Nguyen My An – who was admitted to the English language major of the mass program said: "The family is very surprised by this offer of the school, because of its financial support for the family. I have a lot of family. I will pay tuition fees for the whole course so that my children can study with peace of mind. I don't think it will be reduced to 20 million dong."
In addition, also with this tuition incentive, when parents and new students pay the tuition fee for 1 year, they will receive a 10% discount on the 1-year tuition fee, and the 2-year tuition fee will receive a 12% discount on the 2-year tuition fee. The preferential policy is applied by GDU until the end of October 31, 2022.
5 reasons for candidates to choose Gia Dinh University
With a training program with many advantages, reasonable tuition fees, 3-year duration and many useful experiential activities, Gia Dinh University is attracting more and more talented candidates for 5 reasons.
Firstly, multi-disciplinary training
GDU enrolls 17 majors for mass training, of which 3 new majors are opened, including: E-commerce, Public Relations, Tourism and Travel Service Management.
In addition to the mass program, the school opens more talent training programs to provide quality human resources for the labor market, meeting social needs with 5 majors including: Information Technology, Business Administration Business, International Business, Marketing and English Language.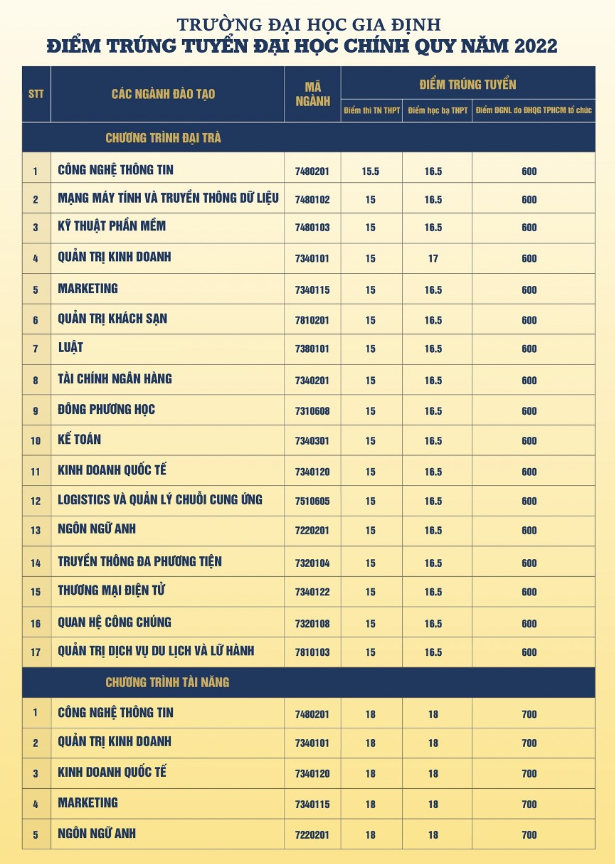 Second, the tuition is cheap
GDU's tuition fee ranges from 7.5 to 12.5 million VND/semester depending on the major and does not increase during the course of study. This cost is considered quite cheap and accessible to the majority of students.
Answering the question of what is "cheap", does cheap come with quality, MSc Trinh Huu Chung – Vice President of Gia Dinh University said, "cheap" here is in relation to school. university fees in Ho Chi Minh City, not in the correlation between the cost of students and the quality of training and educational services.
"We determine such a low tuition fee because we want to not let tuition become a barrier for anyone. At the same time, thanks to the association and cooperation of businesses, the school is also supported by units to maintaining a suitable tuition fee for students helps reduce the financial burden on families," shared Mr. Chung.
Third, graduate after 3 years
GDU's training program is only 3 years, including 8 semesters, with the aim of shortening the study time to increase job opportunities. Instead of spending 4-5 years studying, you can shorten the learning process to go to work and seize career opportunities, gain a lot of work experience. Students have the advantage of both time and practical experience, contributing to increasing their competitiveness compared to their peers.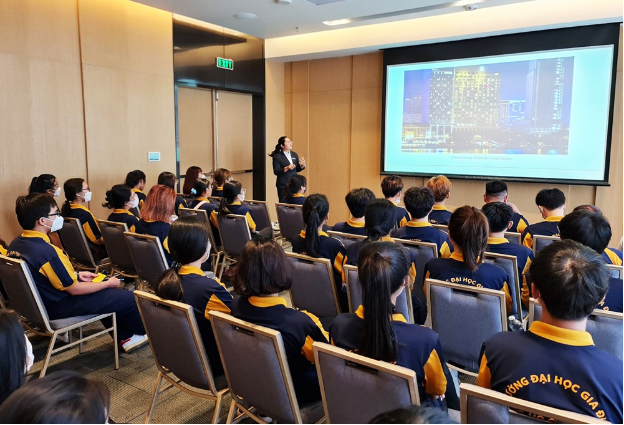 GDU Hotel-Restaurant first-year students study at a hotel belonging to Marriott International Group.
Fourth, the "real combat" lecturer
A special feature at GDU is that the teaching staff are also business owners, who can both teach and support conditions for internships, internships and scholarships for students, so training costs are reduced while students have access to reality very early. The courses held at the enterprise not only help students approach but also practice their profession and practice skills. The school's practice is carried out through practical lessons, experiences, field trips, and internships at enterprises. Gia Dinh University students can participate in internships and internships right from the first year.
Fifth, experiential activities
GDU organizes many activities to help students have the opportunity to experience and hone soft skills through clubs, seminars, workshops, programs with the sharing of guest speakers in the industry, in the profession.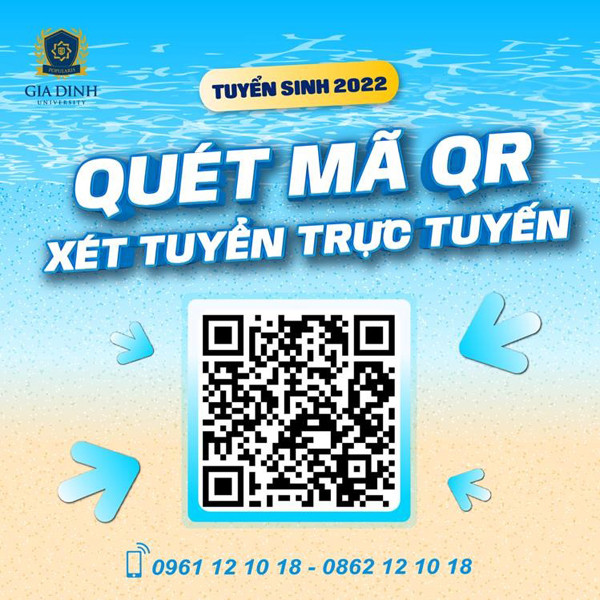 Some pictures of activities at school: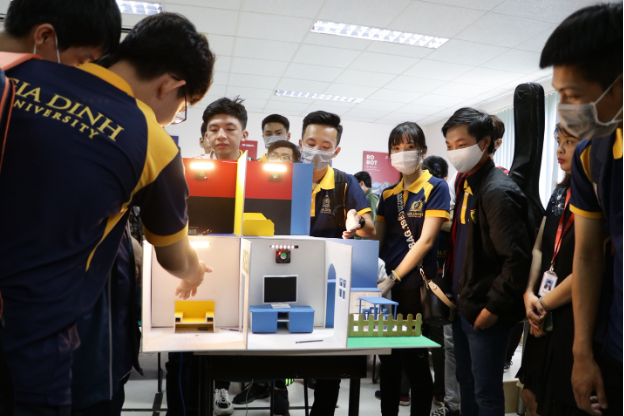 Students participate in internships at enterprises.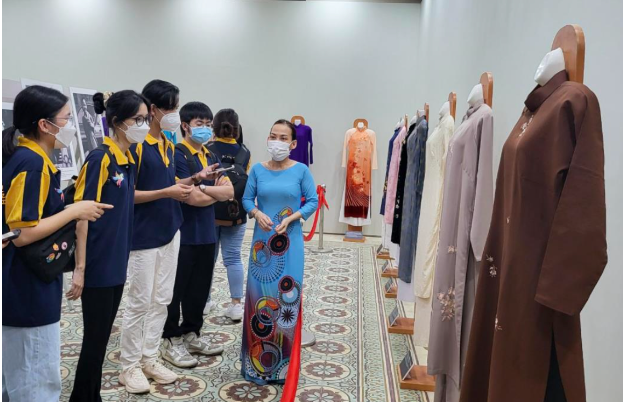 An experiential lesson at the GDU student museum.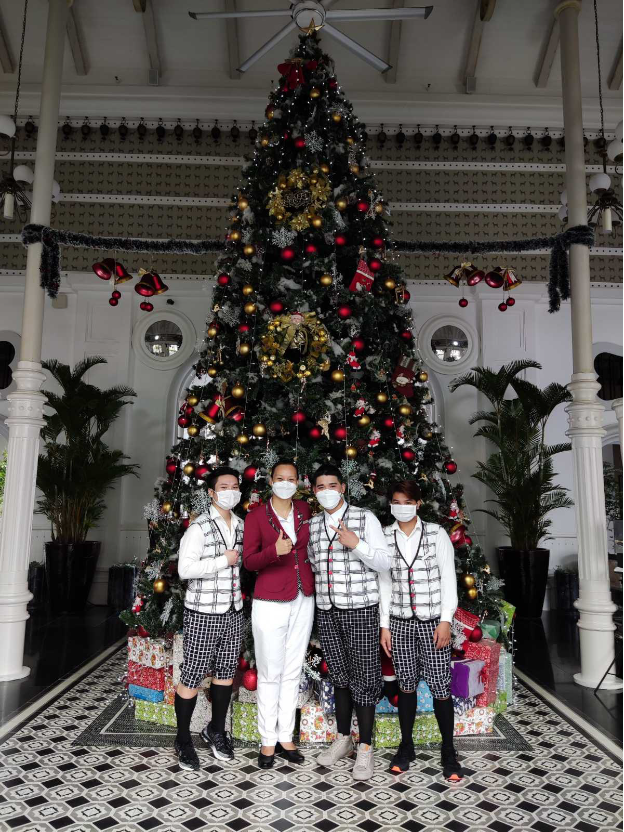 GDU students get to experience work at JW Phu Quoc hotel.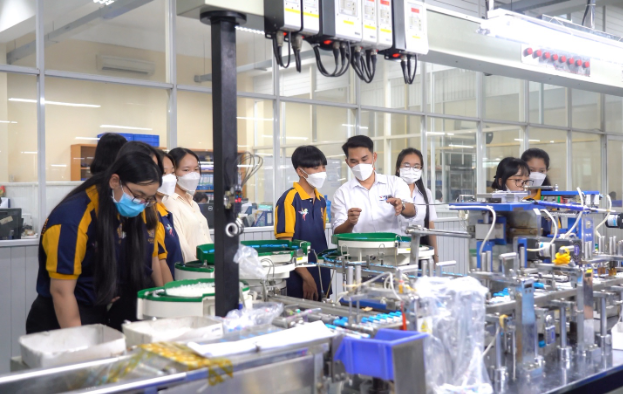 GDU students in a training session at Thien Long Group Joint Stock Company.