Goalkeeper Nguyen Thanh Binh of SHB Da Nang Club suffered a very serious injury in the match against Viettel Club. During the stoppage time of the match, from Hoang Duc's long pass, Van Hao escaped and collided with Thanh Binh who was rushing to stop the opponent. The referee then determined, Thanh Binh fouled Van Hao and gave Viettel 11m.
The medical department gave first aid and brought the player to the hospital while the game was still on. A member of the football team on the banks of the Han River confirmed that Thanh Binh is likely to have broken bones. "We hope Mr. Binh's injury is not so serious. There will be specific results later in the evening."the player said.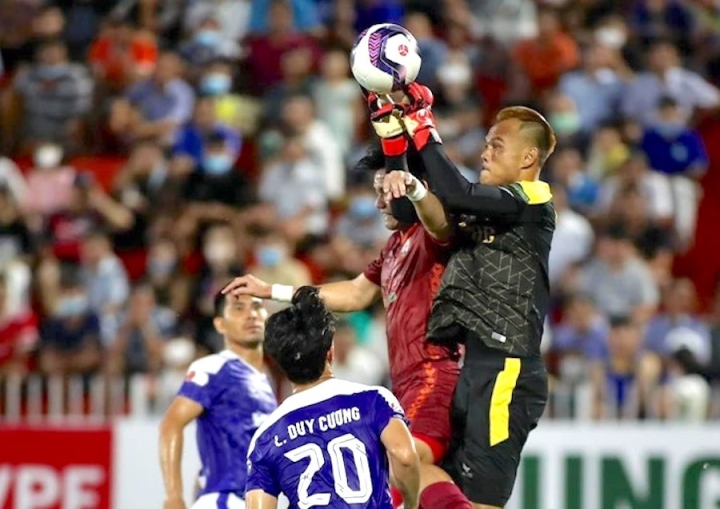 Thanh Binh suffered a serious injury.
With his severe injury, Nguyen Thanh Binh definitely has to say goodbye to the 2022 season. Even, he needs 6-8 months to recover and may miss the part of the V-League 2023. In position the keeper, Da Nang Club still has Tuan Manh who can bring credibility. After Thanh Binh left the field, Tuan Manh was chosen to replace him. This goalkeeper could not prevent Hoang Duc's penalty kick.
This is a match that Danang Club played unsuccessfully. The home team could not penetrate the opponent's defense for 90 minutes. In the second half, Viettel Club took the lead thanks to a goal from Geovane Magno and a goal from Hoang Duc to set the score 2-0 for the visitors.
Coach Phan Thanh Hung still has a lot of work to do when the Da Nang club in the recent period sublimated thanks to the running of young players. Dinh Duy, Van Huu, Van Long or Phi Hoang can play sublime in some moments. But for them to be stable for a long time is not easy.