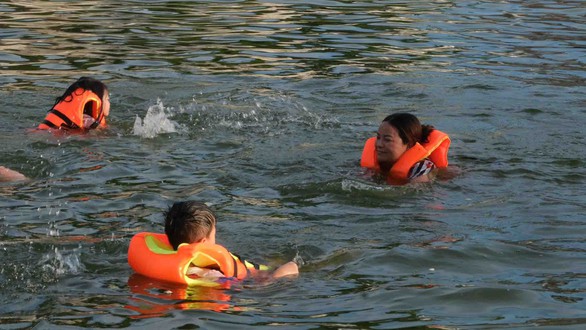 The children practice swimming in the summer and are always watched by their parents – Photo: HA THANH
At the natural "swimming pools", the children tightened their life jacket straps, jumped into the pond from the shore and enjoyed playing in the cool water, under the supervision of their parents.
My house is near ponds, rivers and streams, so I have to teach them to swim so that they can protect themselves and avoid drowning.
Mr. Do Dang Tuan
Teach each other how to swim
Around 4 p.m. at the "swimming pool" of Minh Hoa village (Minh Khai commune, Hoai Duc district, Hanoi), children in the village invite each other to swim. People here share, actually, this "swimming pool" was formerly a renovated pond, thereby creating a space for children to come and practice swimming in the summer.
This year, at the age of 6, Do Van Dai can swim thanks to the guidance of his brother Do Van Minh (13 years old). When taking Dai to swim, Minh taught him how to float and breathe, and then taught him swimming movements. In particular, both do not forget to wear life jackets to keep themselves safe.
"I like summer because I can go swimming with my brother" – Dai excitedly expressed.
Mr. Do Dang Tuan (52 years old) observes each child playing in the pond. Since the village pond has turned into a "swimming pool", he said, many children have come to participate. Therefore, parents always take turns to be on duty, instructing safety skills for their children.
There is no condition to take his children to the artificial swimming pool, so for the past 3 years, Mr. Tuan has been patiently teaching his daughter to swim in this pond area.
"My house is near ponds, rivers and streams, so I have to teach him to swim so that he can protect himself and avoid drowning. At first he was very scared because the pond water was deep, but after being taught and learned by his father, he knew the skills. I'm used to it, every day I ask my parents to come here to bathe," Mr. Tuan confided.
Do Thi Thuy Dung (7th grader, daughter of Mr. Tuan) said that she knew how to swim "temporarily" and now confidently guides new swimmers. Dung shared, before entering the water, the children in the village together do warm-up exercises to minimize the risk of cramps.
"If anyone has not worn a life jacket, I will remind her to wear a life jacket for safety. Swimming in the pond or encountering situations where people dump sewage and trash, so it is not hygienic. We hope There is a spacious and clean swimming pool to comfortably swim in," Thuy Dung said.
Let me always in sight
Looking at Duong Lieu commune (Hoai Duc district, Hanoi), people proudly share about the "natural swimming pool" in the pond of Thien village that "was broadcast on television". On hot days, this is a familiar place for children and people to take a bath to "cool off".
Turning her eyes to the child who was engrossed in the water, Ms. Nguyen Thi Bich Lien (team 10, Duong Lieu commune) repeatedly instructed her children to push their hands and feet and swim towards their mother.
"Last year, I also often took my son to the pond of Thien village to play. When I saw the brothers bathing here, I asked my mother to let me swim, but at that time he was still a child, so I did not agree. Now he is older and can fit in a life jacket, I let him go to swimming lessons right away," Lien said.
In suburban areas with many lakes, rivers and streams, what parents are most worried about in summer days is drowning that can happen at any time. When swimming in the pond of Thien village, the children are given life jackets and taught to swim by their parents, while constantly observing them to ensure that they are always within sight of their parents.
To ensure safety, Ms. Nguyen Thi Long (35 years old) carefully registered her son for a swimming lesson before taking him to bathe in the village pond. When the child is strong, no longer afraid of water and knows basic swimming techniques, the new mother agrees to go with her child to bathe in the pond.
"Every afternoon, I take my children to swim, but I force them to wear life jackets and instruct them to adhere to the skills. After each swim, I see that the children eat and sleep healthier, are trained, and improve their physical fitness. but stay away from the phone, the TV is very happy "- Ms. Long confided.
In 2016, people in Duong Lieu commune (Hoai Duc district, Hanoi) renovated and cleaned up garbage in the pond of Thien village. The pond is about 7,000m2 wide and becomes a free swimming pool for everyone. Since having "natural swimming pool", the swimming movement in Duong Lieu commune has been expanded, so drowning has also decreased.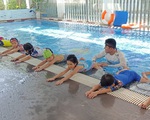 Teach your children to survive in the water before teaching them to swim