Quiet ride
During the journey, encountering a chauffeur who talks a lot can be an unpleasant experience for many customers. Even because of the unnecessary noise, the driver is underrated or receives negative feedback.
To bring a new experience to customers and drivers, Technology car company Grab said it will test the "Silent ride" feature in Vietnam from June 27.
Accordingly, "Silent ride" is a feature selected by passengers with the desire to limit exchange and contact while using Grab's transportation services. When a passenger chooses to use the "Silent ride" feature, the driver partner will see the content in the GrabChat section of the ride, specifically: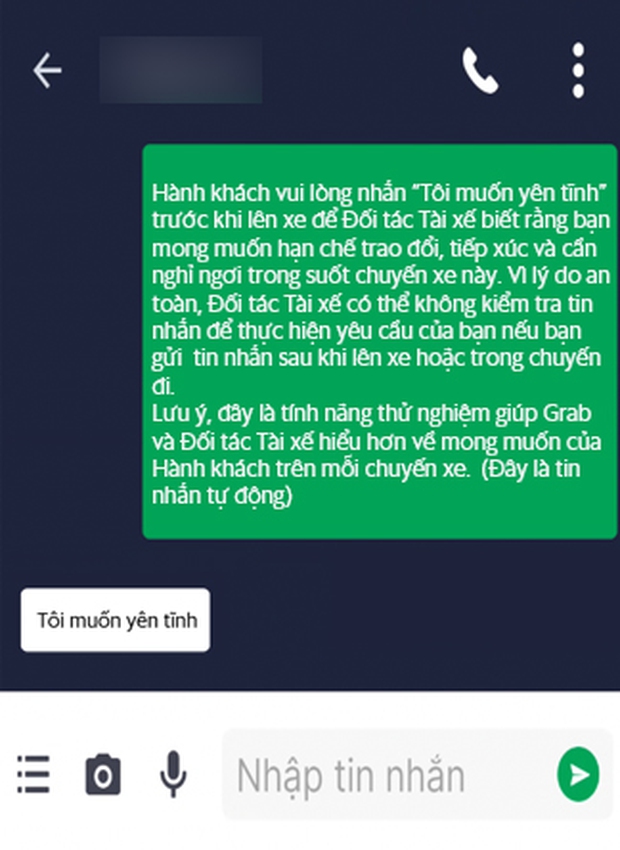 If the driver receives a reply from a passenger with the content "I want to be quiet", this feature will start to be applied, the driver will follow the customer's request.
However, drivers can still exchange with passengers some necessary information to serve the trip such as: basic greetings, confirmation of trip information, reminders to ensure safety or Verify passenger information, destination and route of the bus (if necessary).
"Coming home from work tired, the drivers keep asking all kinds of things"
Immediately after the information about the "quiet ride" of Grab about to be deployed was shared, it caused a stir among netizens. In particular, customers who regularly use Grab's services also give conflicting opinions.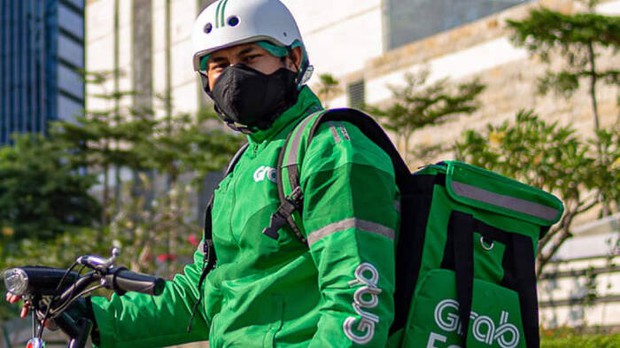 Many people think that Grab's "quiet ride" feature is quite reasonable to meet the diverse needs of customers because not everyone likes to chat and share information during the booking process. move. Many people also want drivers to focus more on driving to ensure safety.
"After many days of coming home from work, tired, but the drivers keep asking all kinds of things. If they don't answer, it's rude to answer and then keep asking. It's always stressful. I know they think talking a lot with customers will feel friendly. Gave 5 stars, but didn't know that many people would be annoyed"you DL share.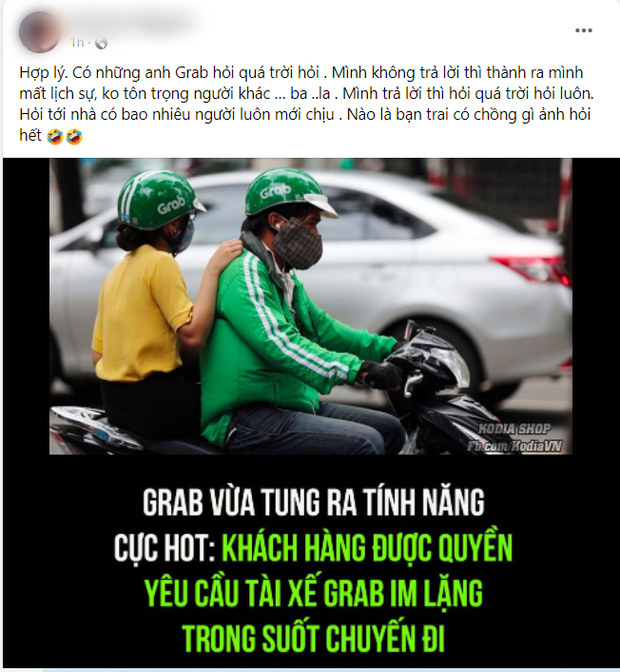 Also a person who does not like to communicate on technology trips, Mr. QP thinks that this feature is quite suitable, will meet the needs of those who do not want to be disturbed. "After a whole day of spinning, going back to Grab to go home, I just want to close my eyes and rest a little, but the driver talks a lot, even swearing is uncomfortable. A 1-star rating is a crime for the driver, but sometimes it has to be evil once to people learn from experience".
"This feature should have been implemented sooner. I know that drivers driving on the street sometimes need someone to talk to for fun, but I have to be subtle about who wants to talk or not. There was once. When I went to GrabBike, I met the driver who talked a lot, I was tired of wearing earphones to relax listening to music, but he kept talking, I kept talking about it wherever I went. I asked him in return. But he always boasted that his family had a large land, his son was good at this and that."a female friend recounts an unpleasant experience of meeting a chauffeur who talks a lot.
Another friend also said that this new feature will contribute to helping the driver be more proactive in communicating with passengers, avoiding uncomfortable feelings for those who prefer quiet. "If you don't talk, tell the driver with a bullet-shaped face to talk and ask a few questions, then tell a lot of things, make a lot of noise. Having this feature is also good, knowing who likes to talk, communicating is not only necessary to press the button like that. is a dedicated driver."
Being a very clear driver is still being treated like a robot?
In addition to comments responding to Grab's new feature, some also think that this "quiet ride" feature may add more pressure on drivers. Even many people think that it is not really necessary, because communicating with the driver during travel also makes them more alert and comfortable during working time.
Although I don't like chatting with drivers on trips, one account also thinks that this feature is somewhat wrong, "I'm an introvert and don't like talking to strangers, but why bother with this. The kind of Grab driver who is human and has the freedom to speak like everyone else, now naturally goes to work at a very clear job. You're still being treated like a robot, why don't you press the silence button. In general, if you don't want to talk, say a few kind words to each other, but I don't support this case at all."
Even many people frankly think that this feature is not humane to the driver, because communication and chatting is the freedom of each individual. "Even though I'm an introvert, I personally don't like this feature and probably won't use it on every trip because it's a bit inhumane for Grab's partner drivers. If you don't like communication, can gently say "I want to be quiet", "I'm a bit tired, please keep quiet for a bit"… instead of having to be mechanical with the features. I've heard on every Grab ride, it's very old. Maybe when I go to Grab, I like to go with the elderly, run slowly but be safe. Listening to them talk, time passes very quickly."TLAM commented.
Although Grab's "quiet ride" feature has not been officially implemented yet, it is currently receiving attention and lively discussion on social networking forums. In general, the majority still support this feature because it will clearly see the needs of the customer from the beginning, avoiding awkwardness for both parties. Maybe in the near future, the obsession about the driver turning on loud music, asking guests a dozen stories about husband and wife and children will also be in the past.
https://kenh14.vn/hanh-khach-di-grab-duoc-quyen-yeu-cau-tai-xe-im-lang-tinh-nang-duoc-nhieu-mong-doi-du-co-tranh-cai-20220616174757671.chn